Dec. 18, 2019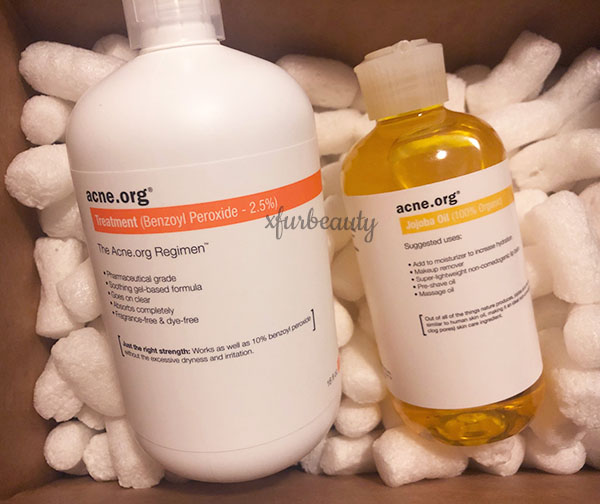 I cleared my skin in 3 weeks.
…and I couldn't be happier! I struggled with congested skin for the past 2 months. I thought it would take at least 2 full months to reach this level of clearness. I guess not! 🙂 I feel like a totally different person! 🙂 My skin feels super smooth and soft to touch. I'm enjoying it very much. When I wake up in the morning to wash my face, I'm just like, WOW! This is amazing. It feels great to have healthy-looking skin with NO ACNE!
It has boosted my confidence greatly. 👍
I couldn't ask for anything more. It took only one single skin care product to get rid of my acne — Acne.org BP Treatment Gel (excluding face wash & facial steaming + mask). Currently, I'm running low on the BP Treatment Gel, so I placed another order on it. I can't wait for it to arrive. You know what? I don't mind being on BP for the rest of my life if it helps me to maintain this clear complexion.
I used to despise BP for making my skin appear sallow and how it prolongs post-inflammatory hyperpigmentation. Thinking about the sadness I went through when I had terrible acne compared to what my skin looks now, I don't care anymore. Acne scars fade within time. I rather have 'no acne' then worry about some acne scars. I'll be patient and let them fade away on their own. The few acne scars I had during the summer has already faded by now. Let's leave it alone and let time take care of them. 🙂
Wearing makeup again…
So lately, I'm thinking about introducing makeup back into my daily beauty routine. The holidays are coming up. I want to look 'put together'. Whenever I don't wear makeup for a while, I get really excited about wearing makeup again. I know I don't need makeup, but I miss it. I miss wearing eyeliner, blush, and mascara. The only foundation I will be using is my beloved BB Cream — Dr Jart+ Silver Label Rejuvenating BB Cream, since it doesn't cause acne issues. I'm going to try it.
Gotta watch what I eat too.
Too much salty foods in my diet causes my skin to breakout in pimples. It dehydrates my skin. Also, too much dairy is bad for my skin. The foods I eat can either improve or ruin my skin. These two foods are low in my diet for a good reason. Let's keep it that way. I'm not saying that salt is unhealthy, but tons of foods nowadays are too high in sodium, which can lead to other health problems too (high blood pressure, for instance). Dairy has always been an offender. I don't eat much dairy anyways. I can't remember the last time I did.
I'm enjoying life.
I'm back to my self again. For me, when my acne gets out of control, it makes me feel self-conscious. I hate spending so much time applying foundation and knowing that my skin is going nuts underneath. I don't become self-conscious if it's a pimple or two though. That can be tamed. So life is good right now. It's crazy how just two months ago my skin was at its worst in many years. It affected me so much. I can't believe I let it get to me, but that's what happened. Now, it's like I never had acne!
Read more about my skin care routine below. If you're struggling with acne, you can beat it too! If you have any questions, feel free to ask!
My Skin Care Routine for Acne Skin
My Story: My Neverending Battle with Acne
I'm still on for my 1 month update! Look forward to it! 🙂
Categories:
Tags:

Acne Care, Acne Prone Skin, Acne Skin, Acne Skin Care, Acne Treatment, Acne.org BP Treatment Gel, Anti Aging, Anti Wrinkle, Antiaging, Antiwrinkle, Argan Oil, Blackheads, Clear Skin, Does it Work, Eye Care, Face Wash, How To Beauty, Life, Lifestyle, Moisturizer, Niacinamide, Niacinamide Serum, Pimples, Serums, Skin Care, Skin Care Routine, Skin Care Tips, Skincare, Sunblock, Suncare, Sunscreen, Tips, Trader Joe's, Trader Joe's Face Wash, Vitamin C, Vitamin C Serum, What I Use, xfurbeauty, xfurbeauty blog, Younger Looking Skin