Jun. 15, 2020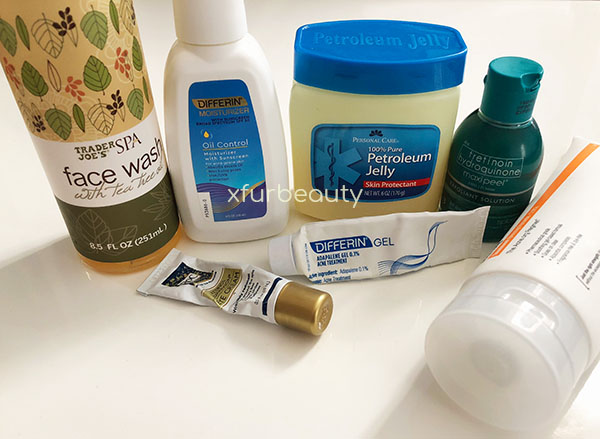 Welcome to my 2 week update on Tretinoin! I hope my experience is helpful to anyone that's reading! 🙂
Day 8: Skin feels a tad dry. Dead skin cells are coming off every single day! 🙂 I'm seeing improvements by the day! Large pimples are still red, but they are getting smaller when the dead skin cells peel off. Smaller pimples are drying up. I can actually extract them easily. My skin is flowing in the right direction. I'm thinking about adding Alpha Skin Care AHA Serum in once a week in the morning soon. I don't know yet. I don't want to dry my skin out even more. It's very tempting though. 😛 It also seems like the Tretinoin has boosted the effectiveness of my actives in the morning. I can feel them tingle on my skin. This includes my 'gentle' AHA from Cos De BAHA too.
Day 9: My skin is still flaking off, especially around my mouth area. Along with that, closed comedones are pushed to the surface. I still have a long way to go. I must say, my BB Cream and other makeup products glide on smoothly. I'm already receiving compliments on my skin! 🙂 🙂 🙂
Day 10: I woke up with a pimple on my chin. WTH. lol. A few new pimples popping out of nowhere. *sigh* It's neverending. 🙁 I hope it's the Tretinoin that's doing it and not the comedogenic ingredient in this cream. So I'm not dealing with post-inflammatory hyperpigmentation. It's red marks I'm dealing with when a pimple is in the process of healing. It's been really easy covering them up until they fully heal compared to PIH. I hope they fade away soon. My Cos De BAHA AHA Serum is beginning to tingle a lot more than before. My skin feels more sensitive as the days go by. I'm really enjoying the fact that my skin is glowy! People are noticing! 😁😁
Day 11: The pimples that I had yesterday are gone. The healing process has been much faster than ever before! It doesn't take weeks for pimples to heal. Less than a week!! My skin is looking sooo good! I'm just going to say it, it looks way better than someone that has naturally good skin! The softness of the skin, the texture, smaller pores, acne scars are fading very quickly, skin looks smooth + glowy. I don't think I'll ever stop using it!!
😀😀😀!!!
And I'm not even 2 weeks in!!! YAY! 🙂
Day 12: 2 new tiny pimples. The rest of my face has cleared up. What I've been dealing with is itchy skin. It's not that dry and there's no burning sensation…it's just itchy skin. Maybe I'll achieve clear, smooth skin in 1 MONTH!!?? I'm sooo excited!!! 🙂
Day 13: I've been dealng with itchy skin like I said yesterday. I decided to stop using the Cos De BAHA AHA Serum and Andalou Naturals Vitamin C Blemish Balm on my face. I'm stopping the Cos De BAHA AHA Serum because I think it could be irritating my skin now, since Tretinoin has made my skin more sensitive. I am stopping the Vitamin C Blemish Balm because it feels too silcone-y for my skin right now. I feel like it's trapping oil underneath my skin and making my itchy skin worse. Let's see if my skin feels better after doing this. Yes, I will continue to use my Dr Jart+ Silver Label BB Cream. I need all the SPF I can get! 😀
Day 14: It's the last day of week 2. I'm still getting the occasional tiny pimple, but that's it. No cysts. Red marks are fading. Skin looks more even, brighter, softer, smoother. Such a dramatic change compared to last week! 😀
Now let's move on to Week 3!!! 👍
My Tretinoin Experience:
Beginning My Tretinoin Journey 🙂
My Tretinoin Journey: 1 Week Results!!
Categories:
Tags:

Acne, Acne Prone, Acne Skin, Acne Skin Care, Acne Skin Care Routine, Clear Skin, Experience, Life, Lifestyle, Oily Skin, Results, Retin A, Review, Skin Care Routine, Thoughts, Tret, Tretinoin, Tretinoin Journey, Tretinoin Log, Week 2, Week 2 Results