Sep. 4, 2020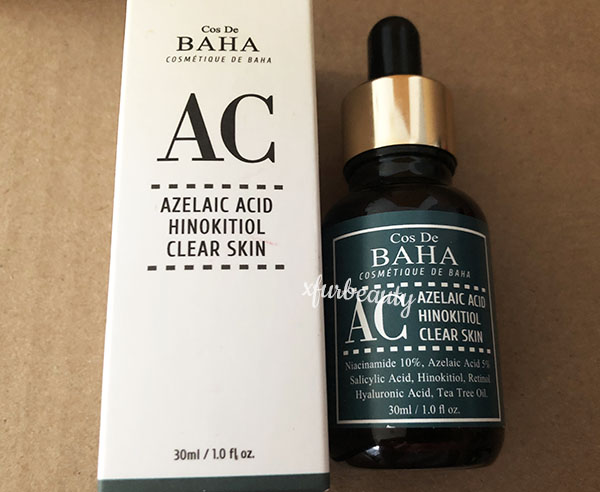 Hey everyone! 🙂 I officially started my Tretinoin Journey once again earlier on the week. This time around, I have the gel version of it. I am not using the 0.05, but the 0.1. I'm using a stronger strength. 0.05 was OK from what I remember. My skin is pretty tough, and it needs something stronger. 0.1 seems to be the better choice. During the waiting time, I went on a BP Journey and eventually moved on to using Cos De BAHA Acne Serum + my other serums with positive results. I'm happy that my skin didn't go downhill. It improved during that time. Well, once I went on the Cos De BAHA Acne Serum anyways. I'm very thankful for that serum. It helped my skin. I will continue to use it when I'm on my Tretinoin Journey (if it doesn't irritate my skin). I'm so excited! Let's begin!
*WEEK 1 RESULTS!!*
Day 1: Just in time! My BP Journey is over! Now I'm starting Tret! Yay! I'm crossing my fingers 🤞🏻 that it will work out in the end and onwards into the future! 🙂 When I applied the gel onto my skin the night before, the gel felt warm on my skin. It didn't sting or irritate my skin at all. No burning sensation. Nothing. I know what to expect, but I don't know if it's going to happen. I woke up with skin that appears smoother. I'm still dealing with some bumps, but they are in the process of clearing up by using other skin care products. I did develop a new pimple near my ear. wth. lol. That's the only new pimple. It's not even noticeable, so it's whatever. haha. It's only the first day of Tret, so there's not much to report. I really hope that it works. Let's see what the next day brings!
Day 2: When I applied the gel to my face at night, my skin turned reddish. It felt warm, but it didn't burn my skin. No irritation or anything like that. I'm not sure why I love the warming effect that it gives my skin, lol. It feels nice. Maybe it tells me that it's working? haha. This morning my skin looked smoother. It has this 'buffered' look to it. I love it. As for acne, no new pimples. A lot of clogged pores moving up to the surface quickly!!! Much faster compared to using BP. YES!! That's a good sign that Tret is working!!! It's only DAY 2 too!!! 🙌🏻 I had some skin peeling off near previous pimples. Andddd I'm applying loads of SPF on to prevent my skin from burning. 😁😁😁
Day 3: It's Day 3, and I can see/feel the effectiveness of Tret. My skin peeled by the end of the night — my nose, cheeks, chin, jawline, forehead…everywhere! The skin came off effortlessly! My skin looks slightly reddish, but it's not too bad. I can feel that my skin is more sensitive than usual. That means I have to change up my skin care routine. In saying that, I have to decrease or drop some skin care products out of my routine and add more moisturizing products in. I choose to decrease my use of these skin care products. If my skin becomes even more sensitive, I'll stop using them for the time being.
I'm decreasing my use of…
I'm thinking only 2-3 times a week.
I won't be using this for a while:
I have a new face wash, which is more gentle. It is Acure Brightening Cleansing Gel. It's working well (as I know of right now, lol).
What I've added:
I've added some moisturizing skin care products into my skin care routine. These skin care products…they're something I wouldn't have used if I wasn't on Tret…since they do contain heavier ingredients (oils). But, I need all of the moisture I can get to heal, repair my skin when it's peeling.
Am I breaking out? Yep. I can see tiny pimples in random places AND pimples that have been living underneath the surface of my skin moving up to the surface! They are coming to a head and healing much, much faster! Before this, they were just lingering around and making my skin look gross. I'm so happy that they are coming out and eventually healing! I've been dealing with them for such a long time! It's about time!!
So I'm seeing noticeable results! I'm very happy about that! So excited for tomorrow. 🙂
Day 4: After today, I decided to stop using Cos De BAHA Acne Serum, Alpha Skin Care Intensive Renewal Serum, and Differin Dark Spot Correcting Serum. I can just imagine how my face would be on fire if I continued to use them. Take note that Differin Dark Spot Correcting Serum contains alcohol. That's a big no-no when the skin is peeling. Honestly, I don't use skin care products with drying alcohol ever. This is my first in ages, and it will be my last…
My skin is definitely more sensitive today after all of that peeling from yesterday. I do notice some more dead skin hanging off of my face this morning. I left them alone. No scrubbing. I noticed some more pimples too, but they are healing much faster. A bunch of pinkish acne scars. Some scabs. *sigh* It's the initial breakout stage or what people call 'purging'. I hope it only lasts a month or two or even less. From what I remember, it took me 2-3 months to heal completely on Differin. With Tretinoin (a stronger retinoid), it should be much faster. 😛
As for my morning skin care, moisturize, moistrize, and more moisturizing! The best skin care products in the AM for me would be the oils — jojoba oil and brightening glowing serum. They calm my irritated skin down and keep it from looking inflamed.
Wow, the texture of my skin looks sooooo nice!! I'm dreading the breakout, but at the same time, I'm dreaming about what my skin will look like in the near future — clear, no comedones, smooth, and radiant!! 😃
Day 5: Wow, last night all of the dead skin that was attached to my face came right off! My skin is clearing up at a very fast rate! I'm sooooooo freaking happy! It looks smoother and so polished! Even though I have some pimples (including 3 nodules). Ugh! They hurt!!! The comedones are slowly healing. They are moving up to the surface and coming out! Yes!! I have red marks to fade though. BUT! I am very happy that my skin is improving. It's doing a much better job than BP and the Cos De BAHA Acne Serum! SO HAPPY!!
So this morning my skin felt more sensitive compared to days before. Everything I put on my skin burns a little bit. The burning sensation does go away, so I'm not too bothered by it too much. It is what it is. My skin did peel after all. My skin is vulnerable at this point. I decided to take a break from Tret tonight. Let my skin recover from all of that peeling that I have experienced. Once my skin cools down, I'll get back on Tret. 👌🏻 I will be moisturizing my skin. I thought I would use Acure Brightening Glowing Serum and Jojoba Oil only. That is not the case. I also added Argan Oil (from Trader Joe's). My skin is sooo dry! LOL. I need all the moisture I can get! And it seems like oils are doing a better job than facial creams. Well, I hope I don't breakout from the oils. haha. That would be unfortunate. My skin sure feels better though with them on!! Let's see what happens tomorrow morning…hmmm…hopefully no pimples. 😶
Day 6: Woke up this morning with skin that feels less dry and irritated. I had to slap on a moisturizing sheet mask and some Shea Butter last minute too. The oils were not enough! haha. Here's a roundup of moisturizers I'm using at night:
I noticed that the Acure Brightening Glowing Serum and TJ's Jojoba Oil isn't too moisturizing. Acure absorbed into my skin very well, while TJ's Jojoba Oil felt too waxy on my skin. It felt as if it sat on my skin the whole time. For that reason, I will only be using TJ's Jojoba Oil at night (not in the morning — doesn't absorb well). Argan Oil absorbed into my skin a lot better. Shea Butter was the best out of all of them. My skin felt calm, and it soothed it so well. I love it. Am I worried about breakouts from these oils/butter? Yes and no. My skin NEEDS to be moisturized right now. I think the ones I'm using are OK for this short time period I'm hydrating my skin until I start Tret again.
It's going to be another rest day tonight. Main goal: Replenish the skin and hydrate. =)
Day 7: Yesterday, I decided to stop using Trader Joe's Jojoba Oil. Jojoba feels too waxy on my skin. It doesn't feel like it moisturizes my skin at all. It just sits on top of my skin and hardly absorbs into my skin. With all of that moisture from the other oils and shea butter, wow, the dead skin cells came off so well. It felt nice removing them with my fingertips. They simply just came off effortlessly without any tugging or scrubbing.
Since my skin barrier feels good again. I'm going to start using Tret tonight again. I'll monitor my skin to see what it wants. 🙂
***
Whew!! That's my 1 Week Results! 🤗 I hope this was helpful to anyone starting Tretinoin or anyone interested in it. I'm ready for Week 2! See you all there! Thank you for reading! 😊😊😊
I was on Tretinoin Cream before. Read my experience here:
My Tretinoin Journey: 1 Week Results!!
My Tretinoin Journey: 2 Weeks In!
My Tretinoin Journey: 3 Weeks Results
My Tretinoin Journey: 1 Month Results!
My Tretinoin Journey: 1 Month + 1 Week Results
My Tretinoin Journey: 1 Month + 2 Weeks Results
My Tretinoin Journey: 1 Month + 3 Weeks Results
My Tretinoin Journey: Going off of Tret…
Check out my 30 Days of BP too:
Categories:
Tags:

Acne, Acne Log, Acne Marks, Acne Prone, Acne Scars, Acne Skin, Acne Skin Care, Acne Skin Care Routine, Anti Aging, Clear Skin, Experience, Journey, Life, Lifestyle, Oily Skin, Results, Retin A, Review, Skin Care Routine, Thoughts, Tret, Tretinoin, Tretinoin Gel, Tretinoin Journey, Week 1, Week 1 Results, Wrinkles