Oct. 18, 2020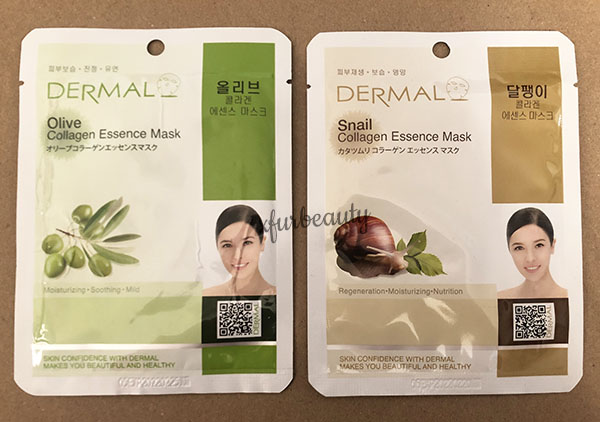 Dermal Olive Collagen Essence Mask (Moisturizing, Soothing, Mild)
Dermal Snail Essence Mask (Regeneration, Moisturizing, Nutrition)
Dermal Olive Collagen Essence Mask: I wasn't impressed by this sheet mask. It wasn't super hydrating or soothing. A bit boring and didn't deliver. I won't get it again.
Would I recommend? No.
Dermal Snail Collagen Essence Mask: Here's a snail mask! It's included in the whole package, so I had to use it. I didn't want to toss it out (what a waste). This sheet mask was moisturizing. I can feel that it gave my skin a deeper hydration.
Would I recommend? I myself wouldn't purchase it again. There are less cruel options out there.
For more reviews, go here.
Categories:
Tags:

Acne Skin Care, Acne Skin Care Routine, Asian Beauty, Asian Beauty Products, Asian Skin Care, Asian Skin Care Products, Beauty, Beauty Tips, Dermal, Dermal Olive, Dermal Sheet Mask, Dermal Snail Collagen Essence, Dermal Snail Essence Mask, Essence, Health, Healthy Lifestyle, Healthy Skin, Hydrating, Mild, Moisturizing, Nurtition, Nutrition, Olive, Olive Sheet Mask, Regeneration, Review, Sheet Mask, Sheet Mask Review, Skin Care, Skin Care Review, Skin Care Routine, Skin Care Tips, Snail, Snail Sheet Mask, Soothing