Jan. 9, 2020
Here's an update on my skin care routine. My skin is 100% clear. I just had to share! I'm letting you all on my skin care secrets on how I keep my complexion sooo freaking CLEAR! Here it is! 😀
Mornings:
Face Wash: Trader Joe's Spa Face Wash with Tea Tree Oil
I'm still sticking to Trader Joe's Spa Face Wash with Tea Tree Oil even though I have other face washes/scrubs sitting around. I won't repurchase the other ones. I'm just going to stay with my trusty Trader Joe's Spa Face Wash with Tea Tree Oil, since it works. It's also vegan and cruelty-free. ♥
Toner: Pixi skintreats Glow Tonic
I finally have a toner in my skin care routine! I usually don't. This tonic has been working for me! I went through the small initial breakout for a week. Once that was over, my skin looked better! I'm impressed! I'm happy that I gave Pixi skintreats Glow Tonic another try again.
Eye Cream/Gel: Eva Naturals Youth Restoring Eye Gel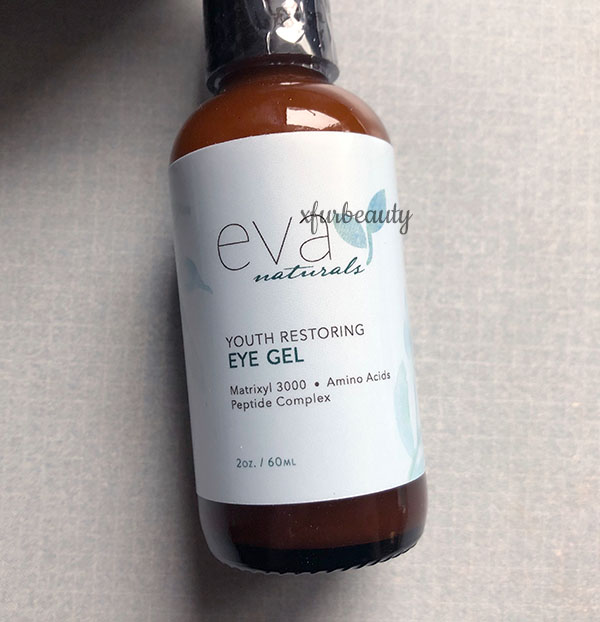 I decided to keep Eva Naturals Youth Restoring Eye Gel in my skin care routine. I loved how it slightly eliminated my dark under eye circles. It didn't cause me any skin issues. Awesome.
Serums:
That's a lot of serums, LOL. Keep in mind that serums are lightweight on the skin, so they soak into the skin quickly. My oily skin likes that kind of stuff. It's not too heavy or greasy.
Moisturizer: AHA+ Lotion (see photo below)
Yep, I started to use the AHA+ Lotion in the morning, and my skin has been tolerating it very well! It has made my skin look smoother, softer, clearer, and tons more glowy! I've received stares and compliments. People have asked me what I use on my skin for that radiant glow. 😀
Sun Protection:
I use my BB Cream. It contains SPF. It works for me. No complaints. I haven't found a sunscreen/sunblock that doesn't clog my pores. I'm not looking for one right now because my skin is oh-so-freaking clear! I don't want to disturb my skin either!
Nights:
Face Wash: Same face wash as the one I use in the morning. 🙂
Toner: Pixi skintreats Retinol Tonic
I use Pixi skintreats Retinol Tonic when I don't use BP. This tonic is lightweight and softens the skin. It leaves my skin feeling prepped for other skin care products. It feels nice. So far, I really like it.
Serums:
I use the same serums as I do in the morning when I don't use BP. The only difference is that I include this serum.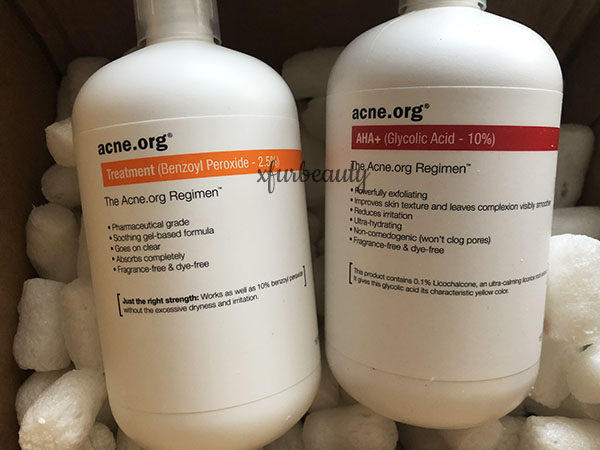 Acne Treatment: Acne.org BP Treatment Gel
This amazing stuff cleared my skin within 3 weeks! YUP! 3 WEEKS! I was sooo shocked. I suffered so much from clogged pores for months. All of a sudden, I started to use Acne.org BP Treatment Gel consistently. There you go, clear skin! I don't even look like the same person anymore. And, my confidence has skyrocketed! I am no longer self-conscious about my skin. Everything in life is just soooo amazing now. Couldn't be any better!
🙂🙂🙂🙂🙂🙂🙂🙂🙂🙂🙂🙂!!!!
Moisturizer: AHA+ Lotion
I use the AHA+ lotion on top of BP, but I also use it on days I don't use BP (when I don't dermaroll). I love this lotion. I wished I had it in my skin care routine ages ago! It has done wonders to the texture of my skin. It has really helped fade my acne scars. Love it!!
Other skin treatments I do:
I dermaroll twice a week and use my serums afterwards. No BP or AHA. It's all about letting the antioxidants work its way into the skin and reverse the signs of aging!
Day 1: First Night of Using Microneedle Derma Roller
I do a clay mask twice a week with facial steam to clear my pores. This is really good for oily skin people like me. I highly recommend it! Also, it's very relaxing to do a clay mask. You'll enjoy it sooo much!!
Review: Aztec Secret Indian Healing Clay
I use The Ordinary AHA 30% BHA 2% Peeling Solution 1-2 times a week. It's an OK skin care product. I'm not too ecstatic about the results I've seen. Meh. I'm not sure about keeping it in my skin care routine. The AHA+ Lotion has done so much more for my skin in a short period of time. :]
I use a sheet mask after I dermaroll to add extra mositure to my skin.
Sheet Mask: Herbal Infusion Rosehip Seed Extract Sheet Mask
I use a facial scrub. I have a couple sitting around. My main one is Acure Brightening Facial Scrub. A vegan and cruelty-free skin care brand. This is the only skin care product I like from this brand. I've tried their lotions and masks. Don't get them. Stick to the scrub. It's inexpensive and works!!
If you have any questions, just ask! Have a nice day! 😋
More posts on my skin care routine:
My Skin Care Routine for Acne Skin
My BP & AHA Skin Care Products are here!
BP Journey: 1 Month + 1 Week Results
BP Journey: 1 Month + 2 Weeks Results
Categories:
Tags:

Acne, Acne BP, Acne Prone, Acne Prone Skin, Acne Scars, Acne Skin, Acne.org, Acne.org BP Treatment Gel, Acne.org Skin Care, AHA Lotion, AHA Plus Lotion, Benzoyl Peroxide, Blemish Prone Skin, Blemishes, BP, Cos De BAHA, Cosmedica, Cosmedica Pure Hyaluronic Acid Serum, Eva Naturals, Eva Naturals Youth Restoring Eye Gel, Eye Care, Eye Cream, Eye Gel, Eye Skin Care Routine, Face Cleanser, Face Wash, Facial Cleanser, Glow, Glow Tonic, Hyaluronic Acid, Hyaluronic Serum, Life, Lifestyle, MA Peptide, MA Peptide Serum, Morning, Morning Skin Care Routine, Niacinamide, Niacinamide Serum, Night, Night Skin Care Routine, Oily Skin, Peptide, PIH, Pixi, Pixi Skin Care, Pixi skintreat Retinol Tonic, Pixi skintreats, Pure Hyaluronic Acid, Retinol, Retinol Tonic, Review, Serum, Serums, Simplified Skin, Skin Care, Skin Care Routine, Skin Care Routine Tips, Skin Care Serums, Skincare, Skincare Routine, skintreats, Tips, Toner, Tonic, Trader Joe's, Trader Joe's Skin Care, Trader Joe's Spa Face Wash with Tea Tree Oil, Vitamin C, Vitamin Serum, What I Use, Works, xfurbeauty, xfurbeauty blog, Youth Restoring
Jan. 6, 2020
Leave a comment
Here are my results after the first day of using the SDara Microneedle Derma Roller!
I woke up this morning and noticed that my skin looked brighter. The texture of my skin appeared smoother and more even-toned. My overall complexion looked really good. Pores looked smaller too. Wow, that's simply amazing! I've always wanted to minimize the size of my large pores. I really liked the results. I'm going to continue to use it once a week (as recommended). Using the dermaroller requires some 'skin care routine' downtime afterwards too.
So my skin does feel a little bit more sensitive than usual after dermarolling. Even though I don't have any redness in my skin, I can feel the sensitivity. There are skin care ingredients to avoid after dermarolling. They are AHAs, BHAs, anything that can irritate the skin. I don't use BHAs anyways, since they never truly worked me. All it did was dry my skin out with poor results. I won't be able to use my AHA+ lotion for a few days. Also, BP.
Here are the skin care products I'm using until then.
I'm sticking to skin care products like Vitamin C and anything with Hyaluronic Acid in it. Anything moisturizing that calms the skin down. Some people say to avoid retinol. My retinol serum doesn't irritate my skin. It's not a perscription cream/gel. I use it. I know that looks like a lot of skin care products, but my routine goes by very quick. I only need a few drops of each serum and gently press them into my skin. It feels like I have nothing on afterwards, since they sink into the skin soooo well! They are all hydrating. Also, last but not least, I use a sheet mask. Last night, I used Herbal Infusion Rosehip Seed Extract Sheet Mask. 🙂
If you're thinking about microneedling at home, go for it. I like what I'm seeing. Just make sure to follow the instructions.
UPDATE 01-08-20:
Here's an update on my Dermarolling experience. Surprisingly, my skin is back to normal. This is an 'at-home' treatment, so it's not going to be similar to a 'professional treatment'. I was able to use BP again the next day but at night. I was able to use the AHA+ lotion after skipping a day, so that wasn't too bad. But, I am thinking about using the dermaroller 2x a week instead of once a week, since my skin recovered this quick. And I'm really liking what it's doing to my skin. This is going to be very beneficial for my acne scars. I'm going to try it out and see how it goes. I'll make an update when it happens. 🙂
Day 1: First Night of Using Microneedle Derma Roller
Categories:
Tags:

Acne, Acne Marks, Acne Prone, Acne Prone Skin, Acne Scarring, Acne Scars, Acne Skin, Antiaging, Antiwrinkle, Beauty, Beauty Tips, Derma Roller, Dermaroller, Dermarolling, Fine Lines, First Time, Large Pores, Life, Lifestyle, Microneedling, Oily Skin, Oily Skin Care, PIH, Pores, Post Inflammatory Hyperpigmentation, Results, Review, SDara, SDara Skincare Microneedle Derma Roller, Skin Care, Skin Care Products, Skin Care Products Review, Skincare, Skincare Products, Thoughts, Update, Wrinkles, xfurbeauty, xfurbeauty blog