Sep. 14, 2019
I have a new BB Cream! It's called Skin79 Super+ Beblesh Balm. I chose the green one this time because the orange (what I used before) was a little dark for me. Green is supposedly the lightest shade.
BB Cream Benefits:
SPF 30 PA++
Lightly adheres to the skin to express smooth and bright skin
Silky fitting formula helps enhance skin adhesion to maintain long-lasting smooth skin
Contains fine porous powder to maintain refreshing and powdery skin
That's exactly what it says on the packaging as shown below with the ingredients. I hope this is helpful to anyone curious about what the ingredients are in this BB Cream. 🙂
Sometimes I miss the texture of Dr Jart+ Silver Label BB Cream, but I wanted to try something new. Something that gives me skin care benefits and matches (at least close) with my complexion. SPF 30 is better than no SPF at all.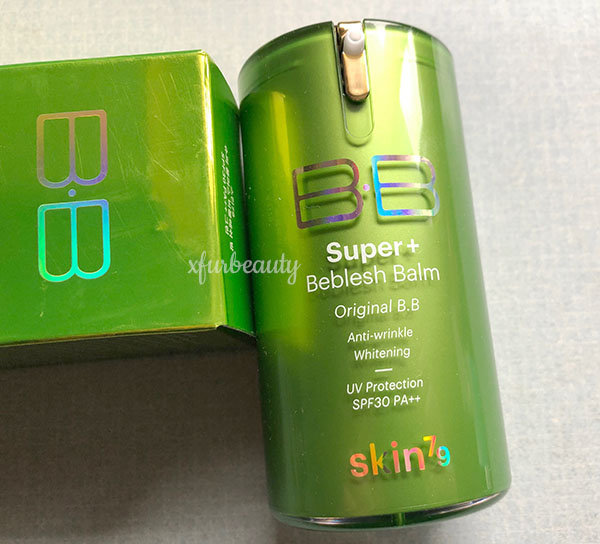 The BB Cream container is just like the 'orange' version. I'm not a big fan of this green packaging color, but it's very different. I guess different can be a good thing. What's more important is the product/cream itself. We'll see how this BB Cream goes. I'm having high hopes. I'm just glad I'm trying something new to see if it works or not. :]
What's your favorite BB Cream?
Love, Jen
Categories:
Tags:

Anti Aging, Anti Wrinkle, Asian BB Creams, BB Cream, Beauty Blog, Beauty Tips, Beblesh Balm, Green, Healthy Skin, Ingredents, Lifestyle, Makeup, Makeup Products, Skin Care, Skin Care Blog, Skin Care Tips, Skin79, Skin79 Green BB Cream, SPF, Super Beblesh Balm, Thoughts, UV Protection, Whitening, xfurbeauty, xfurbeauty blog, Younger Looking Makeup, Younger Looking Skin
Sep. 13, 2019
Leave a comment
Here's an update on elf Flawless Finish Foundation. I've used this foundation for about 1 month on and off. The first shade I used was called Lily (fairest fair with yellow undertones). I'm not using it anymore. It makes my skin too yellow. I'm currently using Swan (fairest fair with peach undertones). I really wanted to try Pearl (fairest fair with neutral undertones). That's if I'll ever get to that point. haha. Let's begin this updated review! 🙂
Shade: The elf Flawless Finish Foundation has a lot of shades to choose from. That's awesome. You're not stuck with 5 shades like the elf Acne Fighting Foundation collection.
Texture: This liquid foundation is lightweight. It feels like your typical liquid foundation. It's not thick.
Finish: It is semi-matte. It gave my skin a dewy appearance. Some people might like that, but I have oily skin. It just looks like my skin produced more oil.
Coverage: I would love to say that it's light-moderate or full coverage. It's not. It's has light coverage. I had to use more product to move up to moderate coverage, and that didn't work as I hoped for. Even with a makeup primer.
Fragrance: It has a subtle fragrance. Take it or leave it.
SPF?: None.
Breakouts?: I haven't noticed any.
Final Thoughts:
After using the elf Acne Fighting Foundation, elf Flawless Finish Foundation isn't as great anymore. There's no to little coverage when it comes to this foundation. I am getting tired of layering more and more foundation onto my skin. The color is decent, but I feel like I have to use more product than I should.
There's no SPF. I would like a foundation that contains SPF. I wear sunblock underneath my foundation, but I still want that extra layer of SPF on my skin.
It's cool that it's only $6, but it's not living up to my expectations. I think this is why I like BB Creams. They're an all in one type of product, and it's better to have something like that than just a foundation for coverage alone. I felt like I was missing out wearing a basic foundation without the extra benefits. BB Creams usually contain SPF too. I'll be on the search for a new BB Cream to try. Boy, my love for BB Creams are coming back. It was going to happen sooner or later. :]
I think this is the last time I'm going to purchase elf Flawless Finish Foundation. Love the price. It' not for me. I need more punches to my foundation if it's going to sit on my skin.
Those are my thoughts. Leave your own thoughts on the elf Flawless Finish Foundation in the comment section. 🙂
Love, Jen
Categories:
Tags:

Acne Skin, Beauty, Beauty Blog, Cruelty Free, Cruelty Free Makeup, Drugstore Cosmetics, Drugstore Makeup, elf, elf Cosmetics, elf makeup, Everyday Life, For All Skin Types, Foundation, Life, Lifestyle, Lightweight, Lily, Liquid Foundation, Makeup, Makeup Foundation, Natural, New Foundation, Oil Free, Oily Skin, Semi-Matte, Shopping, Vegan, Vegan Makeup, xfurbeauty, xfurbeauty blog