Jun. 18, 2020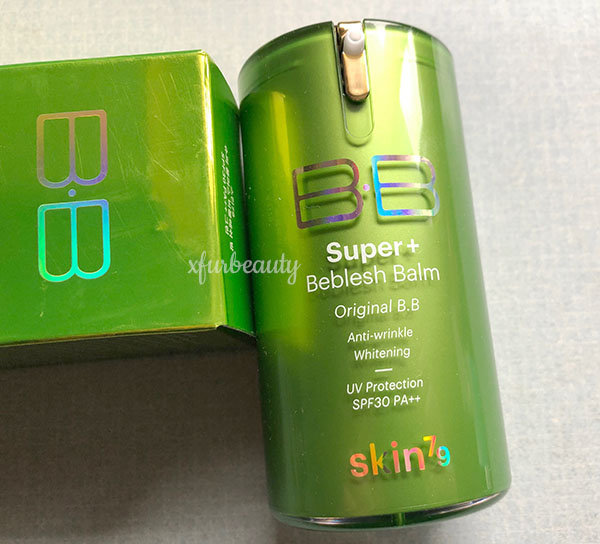 I decided to bring back a Skin79 BB Cream (the green one). From what I remember, the color of this BB Cream was suitable for my pale complexion. Contains SPF + skin care benefits. Coverage was not good, from what I remember. Anywho…I wanted to see if it'll work now…since my skin is looking better compared to when I first tried it. I've used it a couple of times already to do a quick review.
The shade of this BB Cream is very nice if you have pale skin. The cream has a fragrance to it. It fades away after a few hours. The texture is soft and creamy. It blends into the skin very well. I love the SPF that it contains. Good for those hot summer months. 🙂 Since my skin is nearly flawless and smooth, I thought I would give it another chance. Unfortunately, it didn't work out. Love the color. Love the skincare benefits. Love the SPF. But, this BB Cream melts off the face. Provides absolutely no coverage. It also gave me blackheads and hard comedones. Ugh. I stopped using it ASAP. The only BB Cream that works for me is Dr Jart+ Silver Label BB Cream. I'm not going to bother with anything else anymore. I'm done. haha.
Read more on Skin79 Beblesh Balm (Green) :
My New BB Cream: Skin79 Super+ Beblesh Balm (Green)
Updated Review: Skin79 Super+ Beblesh Balm Green
Categories:
Tags:

Anti Aging, Anti Wrinkle, Asian BB Creams, BB Cream, Beauty Blog, Beauty Tips, Beblesh Balm, Green, Healthy Skin, Ingredents, Lifestyle, Makeup, Makeup Products, Skin Care, Skin Care Blog, Skin Care Tips, Skin79, Skin79 Green BB Cream, SPF, Super Beblesh Balm, Thoughts, UV Protection, Whitening, xfurbeauty, xfurbeauty blog, Younger Looking Makeup, Younger Looking Skin
Jan. 31, 2020
Leave a comment
I decided to color my hair tonight. It's been a little over a month. My reason is that the color isn't as vibrant anymore. Growth is meh. I think I need to eat a little bit more healtheir for faster growth. I'm going to bring back drinking green smoothies again soon. 🙂
This is what the L'Oreal Feria Intense Deep Violet kit looks like.
It includes (from left to right):
Aromatic Shimmer Serum
Color Booster Ampli-Couleur
Shampoo
Power Shimmer Conditioner
Shimmering Conditioning Colour Gel
Shimmering Conditioning Developer Creme
Pair of gloves + instructions included
How to use:
Snap off the tip of the Developer Creme (6) and twist open the bottle.
Pour Colour Gel (5) into Developer Creme (6).
Pour Aromatic Shimmer Serum into Developer Creme (6).
Carefully open Color Booster Ampli-Couleur. Pour into Developer Creme (6).
Close the Developer Creme bottle.
Wear gloves, place finger over the open tip of the bottle, and shake. Shake the bottle away from your face.
Shampooing and Condtioning:
Shampoo twice and condition with the shampoo and conditioner provided. It is recommended to use dark towels.
My experience and Results:
I enjoyed using this hair dye. The kit was easy to use. The only issue I had was with the Color Booster Ampli-Couleur. I by accident stained my hands with them. But, fortunately, the stains came off after I showered. Be very careful with the Color Booster. It stains everything it comes into contact with! I love coloring my hair. My hair is always left soft and silky afterwards. It's also shiny in appearance. As for the results, it looks very similar to Garnier Nutrisse Hair Color Results (Spiced Plum), but I'm not sure. I'll do an update tomorrow. It's hard to tell right now. 😛 I really love the way it makes my hair feel! My roots are all touched up! 😀
UPDATE 020120:
Here's an update on my hair color. It's very similar to the Garnier Nutrisse Spiced Plum color. I would say that both of these colors from different brands are the same. I find that Garnier left my hair feeling more moisturized compared to L'Oreal.
UPDATE 020220:
I can confirm that my hair feels flatter and more dry with L'Oreal. Also, the color isn't as vibrant compared to Garnier. But, I did color my hair with Garnier twice. With L'Oreal, once. I think I like Garnier a little more though. It's more moisturizing.
Other posts on Hair Coloring:
L'Oreal Paris Feria V38 Intense Deep Violet
Categories:
Tags:

Beauty Blog, Conditioner, Deep Violet, Experience, Garnier, Garnier Hair Color, Garnier Nutrisse, Garnier Nutrisse Hair Color Results, Hair Care, Hair Care Routine, Hair Color, Hair Color Results, Hair Coloring, Hair Dye, How To, How To Results, Intense, Intense Deep Violet, L'Oreal Feria Intense Deep Violet, Life, Lifestyle, Loreal, Loreal Feria, Loreal Hair Color, Results, Shampoo, V38, xfurbeauty