Jun. 18, 2020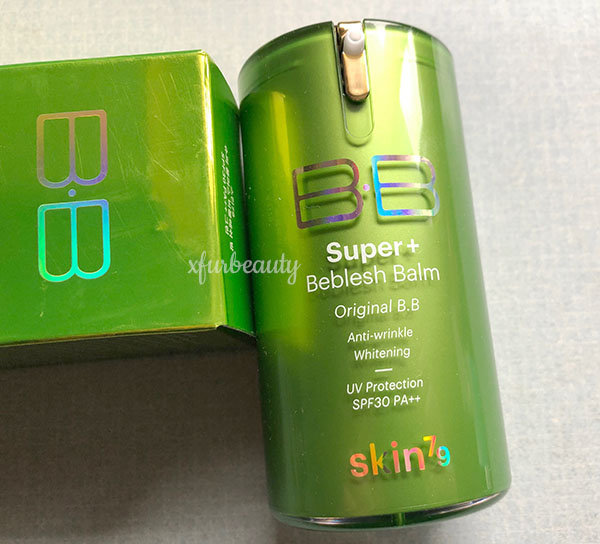 I decided to bring back a Skin79 BB Cream (the green one). From what I remember, the color of this BB Cream was suitable for my pale complexion. Contains SPF + skin care benefits. Coverage was not good, from what I remember. Anywho…I wanted to see if it'll work now…since my skin is looking better compared to when I first tried it. I've used it a couple of times already to do a quick review.
The shade of this BB Cream is very nice if you have pale skin. The cream has a fragrance to it. It fades away after a few hours. The texture is soft and creamy. It blends into the skin very well. I love the SPF that it contains. Good for those hot summer months. 🙂 Since my skin is nearly flawless and smooth, I thought I would give it another chance. Unfortunately, it didn't work out. Love the color. Love the skincare benefits. Love the SPF. But, this BB Cream melts off the face. Provides absolutely no coverage. It also gave me blackheads and hard comedones. Ugh. I stopped using it ASAP. The only BB Cream that works for me is Dr Jart+ Silver Label BB Cream. I'm not going to bother with anything else anymore. I'm done. haha.
Read more on Skin79 Beblesh Balm (Green) :
My New BB Cream: Skin79 Super+ Beblesh Balm (Green)
Updated Review: Skin79 Super+ Beblesh Balm Green
Categories:
Tags:

Anti Aging, Anti Wrinkle, Asian BB Creams, BB Cream, Beauty Blog, Beauty Tips, Beblesh Balm, Green, Healthy Skin, Ingredents, Lifestyle, Makeup, Makeup Products, Skin Care, Skin Care Blog, Skin Care Tips, Skin79, Skin79 Green BB Cream, SPF, Super Beblesh Balm, Thoughts, UV Protection, Whitening, xfurbeauty, xfurbeauty blog, Younger Looking Makeup, Younger Looking Skin
Jun. 3, 2020
Leave a comment
I have a new skin care product to share!! It's called Alpha Skin Care Intensive Renewal Serum. I used to be a loyal user of the Alpha Skin Care line. My favorite was the AHA cream. They still have the cream in their skin care line, but I lost interest because I wanted more out of a AHA skin care product. Fast forward to today. So recently, I noticed that they have a new skin care product — the AHA serum. I like serums over creams, to be honest. It feels more lightweight on my oily skin. It absorbs better and is more effective for my skin type.
Here are the benefits of this skin care product:
Reduces the appearance of fine lines and wrinkles
For all skin types
Free of oils, parabens, fragrances
Helps to support collagen production
Evens skin tone and texture
Leaves skin feeling soft and smooth
Gently release dead skin cells revealing fresh, healthy, younger-looking skin
I've had a chance to use it ever since I've gotten my hands on it. And, I'm really impressed. It contains 14% Glycolic Acid. The AHA serum I was using had 10% (Cos De BAHA). Using Cos De BAHA 3 times a night didn't make a difference in my skin. I increased it to 4 and eventually to 7. Using it mainly in the AM and sometimes at night when I'm not using BP. The results weren't that great.
With the Alpha Skin Care Intensive Renewal Serum, I noticed results the first night I used it, and I continued to use it in the AM and PM (when possible). From my experience, the Alpha Skin Care Serum is way better. I could see my skin peeling and stubborn clogged pores being pushed to the surface. My skin tingled after each application. I think it's time for me to shift gears — move on to a new AHA serum.
I'm still experimenting to see how I'm going to use the Alpha Skin Care Intensive Renewal Serum. But I know for sure that once I'm done with the Cos De BAHA AHA Serum, I'm dropping it from my skin care routine. An updated review on my results when I'm at least halfway done with the bottle or after finishing it! 🙂
Categories:
Tags:

Acne Prone Skin, Acne Skin, Acne Skin Care Routine, Acne Tips, AHA, Alpha Hydrox, Alpha Hydroxy Acid, Alpha Skin Care Intensive Renewal Serum, Beauty, Beauty Tips, Glycolic Acid, Intenstive Renewal Serum, Life, Lifestyle, Review, Serum, Skin Care, Skin Care Products, Skin Care Routine, Skin Care Tips, Thoughts, Update