Sep. 16, 2020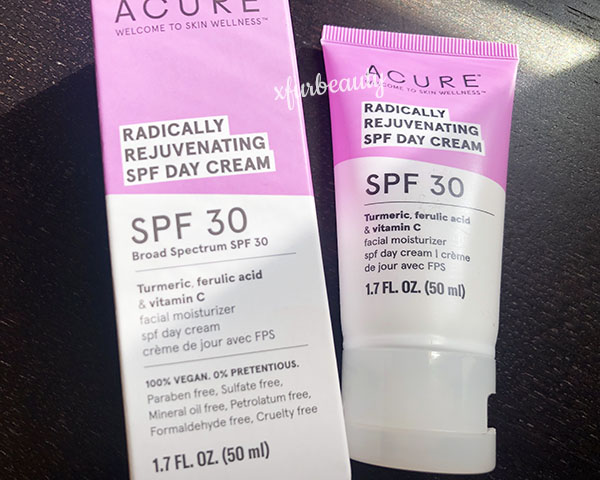 Here's my updated review on the Acure Radically Rejuvenating SPF Day Cream! I needed a sunblock, so I thought I would try the Acure Radically Rejuvenating SPF Day Cream out! It's vegan and cruelty-free. It contains beneficial skin care ingredients, such as turmeric, ferulic acid, argan oil, and vitamin c plus SPF 30…
So my thoughts have changed about this sunblock. I still like the fact that it contains zinc for protection, but I'm not a huge fan of the texture. It's so weird when I dispense it out of the tube. It looks like the contents have not been properly mixed. I even tried shaking the tube with the same results. Bad batch? I don't know. All I know is that I don't like what I see. Even though this zinc sunblock is much easier to apply compared to others I have tried, it's still not the best. It feels like I have to put so much effort into applying it to my face, which is very terrible. I don't want to tug on my facial skin and cause wrinkles. Also, it leaves a sticky residue behind. It literally sits on top of my face. At the same time, it doesn't keep the skin feeling moisturized. On the tube, it says 'facial moisturizer'. I thought it would be a good moisturizer. lol. Turns out it's not. 🙁 This sunblock/cream left my skin feeling dry throughout the day. When I reapply it, it just feels gross and sticky. I don't like the way it feels under my makeup either (when I wear makeup).
As for breakouts, it did contribute to acne. Unfortunately, the formula is not suitable for my skin type. Ahem, cococnut oil and shea butter. It's most likely the coconut oil. It clogs my pores. I wish it worked on my skin. I really needed an SPF to protect my skin from the harsh UVA and UVB rays. Well, that's too bad. Would I recommend this sunblock? It's not for oily, acne-prone skin. Skip it. Doesn't matter how 'nourishing' the ingredients are..
Read more about Acure Skin Care Products:
Acure Brightening Cleansing Gel + Review
Acure Brightening Day Cream + Review
Acure Brightening Glowing Serum + Review
Categories:
Tags:

Acne Skin, Acne Skin Care, Acure, Acure Radically Rejuvenating SPF Day Cream, Anti Aging, Day Cream, Ferulic Acid, Oily Skin Care, Rejuvenating, Review, Reviews, Skin Care, Skin Care Routine, Skincare, Skincare Routine, SPF, Sun Care, Sun Protection, Thoughts, Turmeric, Vegan Skin Care Products, Vitamin C, xfurbeauty, xfurbeauty blog
Sep. 7, 2020
Leave a comment
Here's an updated review on the Acure Brightening Day Cream. I've used this for nearly a week. I don't think it's too early to give my thoughts on it. Alright! Let's get started! 🙂
I really wanted this face cream to work. It has nourishing skin care ingredients. I needed a more hydrating moisturizer too considering that my skin is dry from acne treatments. But, it didn't work out for me. This face cream is too heavy for my oily, acne-prone skin. It's thicker than I expected.
Here's the ingredient list:
Water (Aqua), Carthamus Tinctorius (Safflower) Oil, Cocos Nucifera Oil, Theobroma Cacao (Cocoa) Butter, Cetyl-Stearyl Acohol, Glyceryl Stearate Citrate, Cetearyl Alcohol, Glyceryl Caprylate, Glycerin, Helianthus Annuus (Sunflower) Oil, Citrus Aurantium Dulcis (Orange) Peel Oil, Glyceryl Laurate, Olea Europaea (Olive) Fruit Oil, Citrus Nobilis (Mandarin Orange) Peel Oil, Sodium Levulinate, D-Alpha-Tocopheryl Acetate, Evening Primrose Oil, Calendula Officinalis Flower Extract*, Tocopherol, Potassium Sorbate, Aloe Barbadensis Leaf Juice*, Eugenia Caryophyllus (Clove) Bud Oil, Euterpe Oleracea (Acai) Fruit Extract*, Rubus Fruticosus (Blackberry) Fruit Extract*, Punica Granatum (Pomegranate) Extract*, Rosa Canina (Rosehip) Fruit Extract*, Calendula Officinalis Flower Extract*, Chamomilla Recutita (Matricaria) Flower Extract*, Aspalathus Linearis (Rooibos) Leaf Extract*, Centella Asiatica Meristem (Cica) Culture, Echinacea Angustifolia Meristem (Echinacea) Cell Culture, Marrubium Vulgare Meristem Cell Culture, Chlorella Pyrenoidosa Extract, Argania Spinsosa (Argan) Oil*, Xanthan Gum.
The two ingredients that stand out to me that could be potential pore cloggers are coconut oil and cocoa butter. Cocoa butter is very thick. It's known to be comedogenic. It's not suitable for acne-prone skin. Coconut oil is a hit or miss for people (so I have noticed). It's also known to be comedogenic. For me, it depends on the formulation. I usually do not use coconut oil-based skin care products unless the formula is lightweight. The Acure Brightening Day Cream falls under 'too thick'. If you have acne-prone skin, do a patch test with this cream first before applying it to your whole face. It just didn't feel good on my acne-prone skin as the days went on. I tried rubbing the cream on other parts of my body (including face without other skin care products) to see how well it blends in, it takes a lot of effort to blend it in. =/
I hope this review was helpful! I couldn't find any other reviews if it's OK to use on acne-prone skin or not. So, here you go! 🙂
Update 091220: This makes a good hand cream. 🙂
Acure Brightening Day Cream + Review
Categories:
Tags:

Acne Prone Skin, Acure, Acure Brightening Day Cream, All Skin Types, Argan Oil, Brightening, Brightening Skin Care, Cica, Cruelty Free, Day Cream, Glowing, Life, Lifestyle, Mineral Oil Free, Natural, Paraben Free, Review, Skincare, Sulfate Free, Thoughts, Vegan Skin Care, Vegan Skin Care Routine, xfurbeauty, xfurbeauty blog