Feb. 10, 2020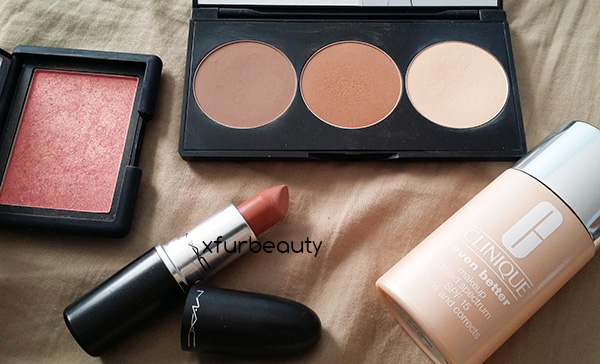 I started wearing makeup again yesterday. It was tough. It took a while for my skin to get used to it. My eyes were so swollen and puffy-looking. It was LOL. 😂 Today, I tried putting on makeup again. The results were much better. I was able to make my face makeup look 'skin-like'. Since my skin is 100% clear and smooth, it looked pretty good. I'm not complimenting myself. I'm just really ecstatic that my acne is gone. Anyone that has suffered from acne knows this feeling. Finally, I can feel comfortable in my own skin and not feel self-conscious.
So what makeup do I use? I don't use anything special, but here's my makeup routine.
Foundation:
I use BB Cream. I use Dr Jart+ Silver Label Rejuvenating BB Cream. It doesn't match my skin tone perfectly, but it doesn't break me out. The coverage is rather poor. If you have active acne, you won't be able to cover imperfections at all. It'll just slide right off. For me, I rather use makeup that doesn't break me out even if the color is a little off. I've suffered from acne for too long to care. I've tried tons of other BB Creams. This is the only one that hasn't caused me any issues. I think I'm done searching for the perfect foundation. I think, haha.
Makeup Primers:
I have a bunch of makeup primers, but I only use them on special occasions. Or, when I want my makeup to look extra silky and smooth. Here are the makeup primers I have…
I usually use the elf Poreless Putty Primer when I want my makeup to look extra, extra perfect. I use the NYX BB Cream Beauty Balm for my everyday makeup. I don't use the NYX Studio Perfect Photo-Loving Primer. It's too oily and greasy. It breaks me out.
Powder Foundation:
I do have a powder foundation. It's Sephora Matte Perfection Powder Foundation (shown below). I haven't been using it lately. Maybe I'll start. I usually just apply BB Cream, and that's it. I don't need an extra layer of foundation on my skin everyday. Perhaps for those special days.
Concealer:
Sephora Bright Future Gel Serum Concealer
This is probably my favorite concealer by far. It doesn't offer high coverage. But for some reason, it works well on my skin. It brightens up my dark under eye circles. I also use it if I have other imperfections or spots to cover. It's a good concealer and skin brightener in one.
Eyeliner:
Any eyeliner will do. I don't have a favorite. I haven't truly encountered an eyeliner that is to die for. They all work the same to me. I seem to make them all work regardless of price. I tend to choose liquid eyeliners over pencil/gel eyeliners. I like clean lines that intensifies the eyes. 🙂 I've been using liquid eyeliners for so many years. Above, I have elf Precision Liquid Eyeliner in Black. This isn't the best eyeliner. It peels if I go over it with other makeup products. Somehow I make it work. I won't repurchase though, lol.
Eyeshadows/Blushes:
As a true non-makeup addict (serious), I use whatever I have. I hardly ever purchase new eyeshadows and blushes. I use the same shit day in and out until I hit the pan. 🤣 I'm not even joking. LOL. I make sure I sanitize my eyeshadows and blushes after use.
Mascara:
This mascara is good. I don't think it's the best, but I'll stick to it for now since it works. I'll probably try out other mascaras after I finish the whole tube. I don't have a favorite mascara either. Any mascara that doesn't make my lashes appear clumpy, runs is OK in my book.
That's all the makeup I use for the everyday look. I try to go makeup free as much as possible. 🙂 I prefer to keep my makeup as natural as possible after having clear skin. 🙂 Covering my skin with makeup isn't a good idea to keep my skin clear. Clear Skin = Clean Skin. 😊
I hope you enjoyed this. 😀
Categories:
Tags:

Acne, Acne Makeup, Acne Skin, BB Cream, Beauty Balm, Black, Blemish, Blemish Balm, Blush, Concealer, Dr Jart Silver Label, Dr Jart+, elf Poreless Putty Primer, elf Precision Liquid Eyeliner, Everyday Makeup, Everyday Makeup Routine, Eyeliner, Eyeshadow, Foundation, Gel Serum Concealer, Life, Lifestyle, Makeup, Makeup Primer, Makeup Primers, Makeup Routine, Mascara, NYX, NYX BB Cream, NYX Studio Perfect Photo-Loving Primer, NYX Worth the Hype Mascara, Pimple, Powder Foundation, Primer, Review, Sephora Bright Future Gel Serum Concealer, Sephora Matte Perfection Powder Foundation, Studio Perfect, Thoughts, What I Use, Worth the Hype Mascara, xfurbeauty, xfurbeauy blog
May. 4, 2019
Leave a comment
It's time! Here's my makeup routine! 😊
Let me begin by saying that I do not have a daily makeup routine. It's because I don't wear makeup on a daily basis anymore. I used to. One day, I decided to let go of makeup. It happened gradually. I've only worn makeup about 5 times in the past months. I've been makeup-free for most days. It's not because I'm lazy. It's because makeup is not good for my skin type. It makes my skin oily and causes random breakouts. If makeup contributes to my acne, I prefer not to wear it. You might say that I'm wearing the wrong type of makeup. No, I am not. Imagine having naturally oily skin that is prone to acne and piling on makeup on top of that — that is pretty disaterous on a day-to-day basis. Makeup once in a while is OK. It's not something I want to do every day. Makeup, in my honest opinion, is not good for the skin in general. So why wear makeup? I'll answer that question in another post! Here are the makeup products that I use and have when I wear makeup.
Foundation/BB Cream:
I use Dr Jart Silver Label BB Cream or Skin79 Orange BB Cream. I prefer Dr Jart much more. The texture feels smoother and makes my skin look flawless. But, I'm not a big fan of either of these anymore. They haven't helped with wrinkles, brightening, anti-aging, and so on. The only thing I liked about these BB Creams was the SPF. It stayed on my skin much longer compared to an SPF lotion that goes on clear. As of right now, I use it because I have it. I will be on the look out for a new BB Cream that is vegan and cruelty-free. OR, I'll go back to using the good 'ol basics: Powder Foundation & Concealer — I'm breaking the liquid foundation first rule, haha. Oh well! 😜
Speaking of powder foundations, I use Milani Even Touch Powder Foundation. I have one in my skin color and one that's much darker as a bronzer. These work quite well for the price. From what I remember, they are under 10 bucks! You shouldn't have to pay $20+ for foundation. This is just my opinion. At the moment, I use my BB Creams more often than my Milani powder foundations. As I said above, I'm thinking about switching it around, since powder foundations are 10x more lightweight on the skin. I prefer the natural look over the made-up look.
Eyeshadow:
For my eyes, I use Urban Decay eyeshadow palettes. The same ones I introduced years ago. HAHAH! No, seriously. 😅 I haven't purchased any new eyeshadows for years. My eyeshadow palettes have lasted for many, many years. I always make sure to disinfect my eyeshadows before using them. I don't feel the need to buy a $50-$100 palette or have a collection of eyeshadows sitting around in the dust, to be honest. It's a waste of money and space. I'm not the type of person to buy makeup palettes to stare at either. It's not my thing.
Eyeliner & Mascara:
Other eye makeup products I use are mascara and eyeliner. For eyeliner, Milani. For mascara, I'm currently using NYX Worth the Hype Volumizing & Lengthening Mascara.
Blush:
I do use blush. I use Milani blushes. I don't think they're the best, but I'm not going to drop $$$ just because I want new blushes. These work for the time being, and I still have them.
Last but not least…
Concealer:
That's the mascra I was talking about earlier. The NYX concealer is actually pretty horrible. Since I still have lots of product left, I'm just making the most out of it. Don't buy it. Once I'm done, I'll move onto something new.
So that's what I use. I know it's not much, but it's something. I think I prefer to keep my makeup routine low-maintinence and very minimal. How about you? Do you wear makeup every day? Do you not wear makeup? What are your favorite makeup products? Share your thoughts. Let's talk!
Love, Jen
Categories:
Tags:

Acne, Acne Skin, BB Cream, Beauty Blogger, Blemish Balm, Blog, Clear Skin, Dr Jart Rejuvenating Silver Label BB Cream, Dr Jart+, Everyday Lifestyle, Everyday Makeup, Foundation, Healthy Skin, Life, Lifestyle, Makeup, Milani, Minimalist, Minimalist Makeup, My Makeup Routine, NYX, Review, Skin79, Skin79 Makeup, Smooth Skin, Urban Decay, What I Use, xfurbeauty, xfurbeauty blog