Feb. 10, 2020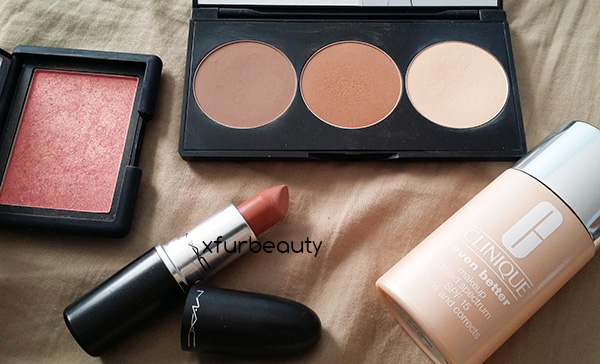 I started wearing makeup again yesterday. It was tough. It took a while for my skin to get used to it. My eyes were so swollen and puffy-looking. It was LOL. 😂 Today, I tried putting on makeup again. The results were much better. I was able to make my face makeup look 'skin-like'. Since my skin is 100% clear and smooth, it looked pretty good. I'm not complimenting myself. I'm just really ecstatic that my acne is gone. Anyone that has suffered from acne knows this feeling. Finally, I can feel comfortable in my own skin and not feel self-conscious.
So what makeup do I use? I don't use anything special, but here's my makeup routine.
Foundation:
I use BB Cream. I use Dr Jart+ Silver Label Rejuvenating BB Cream. It doesn't match my skin tone perfectly, but it doesn't break me out. The coverage is rather poor. If you have active acne, you won't be able to cover imperfections at all. It'll just slide right off. For me, I rather use makeup that doesn't break me out even if the color is a little off. I've suffered from acne for too long to care. I've tried tons of other BB Creams. This is the only one that hasn't caused me any issues. I think I'm done searching for the perfect foundation. I think, haha.
Makeup Primers:
I have a bunch of makeup primers, but I only use them on special occasions. Or, when I want my makeup to look extra silky and smooth. Here are the makeup primers I have…
I usually use the elf Poreless Putty Primer when I want my makeup to look extra, extra perfect. I use the NYX BB Cream Beauty Balm for my everyday makeup. I don't use the NYX Studio Perfect Photo-Loving Primer. It's too oily and greasy. It breaks me out.
Powder Foundation:
I do have a powder foundation. It's Sephora Matte Perfection Powder Foundation (shown below). I haven't been using it lately. Maybe I'll start. I usually just apply BB Cream, and that's it. I don't need an extra layer of foundation on my skin everyday. Perhaps for those special days.
Concealer:
Sephora Bright Future Gel Serum Concealer
This is probably my favorite concealer by far. It doesn't offer high coverage. But for some reason, it works well on my skin. It brightens up my dark under eye circles. I also use it if I have other imperfections or spots to cover. It's a good concealer and skin brightener in one.
Eyeliner:
Any eyeliner will do. I don't have a favorite. I haven't truly encountered an eyeliner that is to die for. They all work the same to me. I seem to make them all work regardless of price. I tend to choose liquid eyeliners over pencil/gel eyeliners. I like clean lines that intensifies the eyes. 🙂 I've been using liquid eyeliners for so many years. Above, I have elf Precision Liquid Eyeliner in Black. This isn't the best eyeliner. It peels if I go over it with other makeup products. Somehow I make it work. I won't repurchase though, lol.
Eyeshadows/Blushes:
As a true non-makeup addict (serious), I use whatever I have. I hardly ever purchase new eyeshadows and blushes. I use the same shit day in and out until I hit the pan. 🤣 I'm not even joking. LOL. I make sure I sanitize my eyeshadows and blushes after use.
Mascara:
This mascara is good. I don't think it's the best, but I'll stick to it for now since it works. I'll probably try out other mascaras after I finish the whole tube. I don't have a favorite mascara either. Any mascara that doesn't make my lashes appear clumpy, runs is OK in my book.
That's all the makeup I use for the everyday look. I try to go makeup free as much as possible. 🙂 I prefer to keep my makeup as natural as possible after having clear skin. 🙂 Covering my skin with makeup isn't a good idea to keep my skin clear. Clear Skin = Clean Skin. 😊
I hope you enjoyed this. 😀
Categories:
Tags:

Acne, Acne Makeup, Acne Skin, BB Cream, Beauty Balm, Black, Blemish, Blemish Balm, Blush, Concealer, Dr Jart Silver Label, Dr Jart+, elf Poreless Putty Primer, elf Precision Liquid Eyeliner, Everyday Makeup, Everyday Makeup Routine, Eyeliner, Eyeshadow, Foundation, Gel Serum Concealer, Life, Lifestyle, Makeup, Makeup Primer, Makeup Primers, Makeup Routine, Mascara, NYX, NYX BB Cream, NYX Studio Perfect Photo-Loving Primer, NYX Worth the Hype Mascara, Pimple, Powder Foundation, Primer, Review, Sephora Bright Future Gel Serum Concealer, Sephora Matte Perfection Powder Foundation, Studio Perfect, Thoughts, What I Use, Worth the Hype Mascara, xfurbeauty, xfurbeauy blog
Oct. 28, 2019
Leave a comment
I've talked about the elf Poreless Putty Primer before, but I have not used it yet until now. This is what the elf Poreless Putty Primer looks like before I made dents in it. The appearance of the product looks ultra smooth upon opening the container. Here it is.
Here's the elf Poreless Putty Primer after using it. The texture is really soft and smooth by appearance and touch. It's super silky and elegant.
How to Use:
Apply a thin, even amount to moisturized skin prior to makeup application.
Allow to set for 30 seconds before applying foundation.
Ingredients:
Water (Aqua), Cyclopentasiloxane, Ceresin, Dimethicone, Glycerin, Hydrogenated Polyisobutene, HDI/Trimethylol Hexyllactone Crosspolymer, Polymethylsilsesquioxane, Trimethylsiloxysilicate, Propylene Glycol, Lauryl PEG-10 Tris(trimethylsiloxy)silylethyl Dimethicone, Sodium Chloride, Camellia Sinensis Leaf Extract , Squalane, Oryza Sativa (Rice) Bran Wax, Dimethicone/PEG-10/15 Crosspolymer, Dimethicone Crosspolymer, Silica, Triethoxycaprylylsilane, Talc, Butylene Glycol, Disodium EDTA, Caprylyl Glycol, Ethylhexylglycerin, Phenoxyethanol MAY CONTAIN: Titanium Dioxide (CI 77891), Iron Oxides (CI 77491, CI 77492, CI 77499)
My Review on elf Poreless Putty Primer:
I've been playing with makeup primers, since I like how they make my skin appear smooth and flawless. I really need them at the moment. I've been going through an initial breakout from exfoliants. It's been rough. I'm pulling through every single day. Primers have been great at making my makeup last longer than usual. Also, they have helped fill in fine lines and wrinkles. But also, other imperfections, such as post-inflammatory hyperpigmentation and bumps.
This is going to be a review on the elf Poreless Putty Primer. At first, I was very wary about using this primer. It looked thick and felt thick to touch. I didn't think my skin could handle this type of texture for long periods of time. So I bit the bullet and tried it for once. I'm very happy that I did. I liked it. It made my skin feel smooth, silky, and soft. It smoothed over fine lines and wrinkles wonderfully. I think this is the best makeup primer I've used so far. It doesn't leave my skin oily. It's not too thin. It's not too thick in texture. My foundation looks way better with it on. It's better than Smashbox Photofinish, NYX Studio Perfect Photo-Loving Primer, NYX BB Cream Beauty Balm, and elf Brightening Lavender Face Primer!
There's one thing I learned about makeup primers while experimenting. You must make sure you completely remove them from your skin. If you don't, you will breakout if you have skin that is prone to clogged pores. I'll leave it at that and will show what products I use to prevent my skin from developing acne when using a face primer. As for the elf Poreless Putty Primer, it's soooo worth it for the price! Try it out for yourself! This is my to-go-to face primer right now. It works!
Have you used elf Poreless Putty Primer before? If so, what did you think about it?
Love, Jen
Categories:
Tags:

Antiaging, Antiwrinkle, Beauty, Beauty Tips, Cosmetics, Does it Work, elf, elf Cosmetics, elf Poreless Putty Primer, Everyday Makeup, Face Primer, Fine Lines, Flawless Makeup, Flawless Skin, Initial Breakout, Large Pores, Lifestyle, Makeup, Makeup Primer, Makeup Review, Makeup Routine, Poreless, Primer, Purging, Putty Primer, Review, Skin Care, Smooth Skin, Thoughts, What I Use, Wrinkles, xfurbeauty, xfurbeauty blog