Sep. 30, 2019
Summer has ended. Fall is here. I've made a list of 5 beauty products I loved dearly (or at least was decent enough to me). It was difficult to put together a list of what I loved the most, but here it is.
#1. Sheet Masks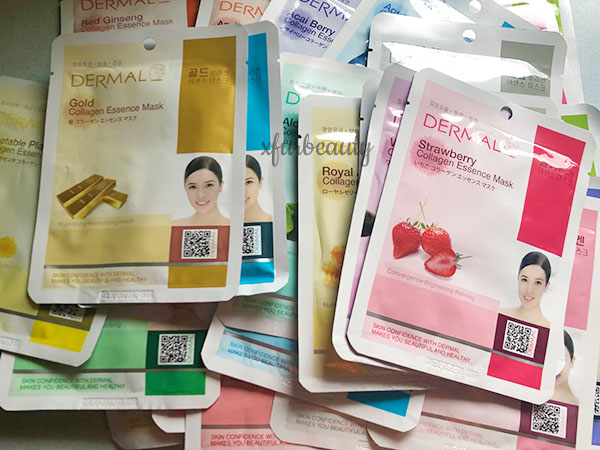 Once I started to use sheet masks again, I fell in love with them. The nourishing ingredients and moisturizing factor. I always wake up in the morning with a glowing complexion that's nicely hydrated after every sheet mask I use the night before. My makeup looks wayyy better on my skin for the day. Wow, my skin feels so soft and lovely. I love sheet masks! I don't have a favorite brand yet. They all seem to work the same to me. As long as they don't break me out!
What sheet masks I use:
Dermal Sheet Masks (Variety Pack)
Herbal Infusion Rosehip Seed Extract Sheet Mask
Rebircell Multi Effect Sheet Mask
#2. Hydrogel Eye Patches
I started to use hydrogel eye patches. And I really love them! They have helped my dark under eye circles. I use them almost every night. Sometimes I use them in the morning when I have time. I don't have a favorite yet, but the one shown in the photo (Petitfee Black Pearl & Gold) is working well on my skin. I like it. I'm looking forward to trying out other formulas.
#3. Eva Naturals Youth Restoring Eye Gel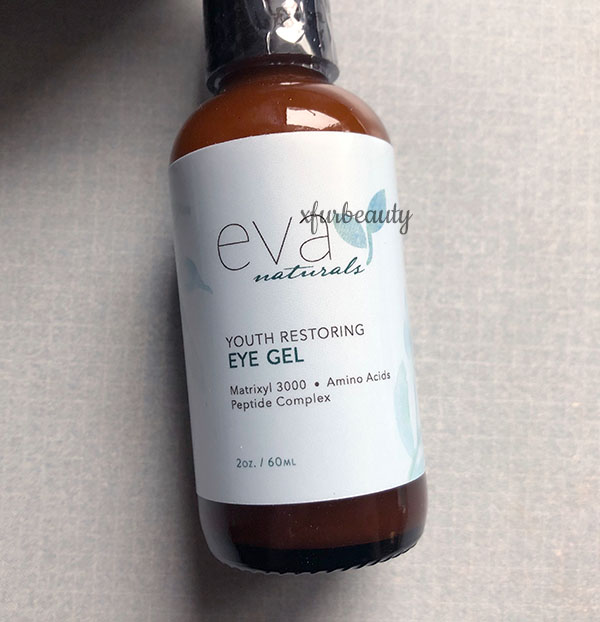 I fell in love with this eye gel (Eva Naturals Youth Restoring Eye Gel) as soon as I saw results within a few days of using it. I'm still shocked that I haven't gotten on this stuff years ago (if it existed years ago). This eye gel definitely beats all other eye creams I have used. It's awesome how affordable this eye gel is. And it works wonders! Love, love, love! It softens and smooths the skin around the eyes. It has helped to decrease the darkness around and under my eyes. The texture of my skin looks more youthful. 🙂
#4. Simplified Skin & Derma E Vitamin C Serum
I'm on my second bottle of the Simplified Skin Vitamin C Serum. Still, it hasn't broken me out. This serum sinks quickly into the skin and leaves my skin feeling moisturized. I use it in the morning. Sometimes I sneak it in at night. If I get to the point where I want to add it into my night skin care routine, I will. It's so easy to use. I was having issues with the pump until I moved the bottle a few inches away from my palm and spray. It would be nice if they changed the pump applicator to something more user friendly like a dropper bottle though. As for brightening, I haven't noticed. It contains 20% Vitamin C from Sodium Ascorbyl Phosphate. I don't feel like experimenting with other Vitamin C's at the moment. Other Vitamin C skin care products broke me out and clogged my pores horrendously. This one hasn't. I'll stick with it. I might even purchase another one.
#5. Cosmedica Pure Hyaluronic Acid Serum
Hyaluronic Acid is plain awesome! I love the hydration that it gives my skin! It's lightweight and airy. Not sticky at all. It absorbs into the skin very well. I use this serum (Cosmedica Pure Hyaluronic Acid Serum) morning and night. A few drops is only needed. I use a little bit more when my skin is a little more dry. It works. I like it. I'll keep using it forever.
What are your favorite beauty products this summer? Share! =)
Love, Jen
Categories:
Tags:

Amino Acids, Anti Aging, Anti Wrinkle, Beauty, Beauty Tips, Black Pearl, Brightening, Brighter Skin, Cosmedica, Cosmedica Pure Hyaluronic Acid Serum, Dark Circles, Dermal Sheet Mask, Eva Naturals, Eva Naturals Youth Restoring Eye Gel, Faves, Favs, Gold, Healthy, Healthy Skin, Hyaluronic Acid, Hydrating, Hydration, Hydrogel Eye Patch, Lifestyle, Love, Matrixyl 3000, Moisturizing, Natural, Natural Skin Care, Peptide Complex, Petitfee, Petitfee Black Pearl & Gold Hydrogel Eye Patch, Plumping, Review, Serum, Serums, Simplified Skin, Simplified Skin Vitamin C Serum, Skin Care Tips, Soothing, Summer, Summer Beauty, Summer Favorites, Summer Skin Care, Under Eye Circles, Vitamin C, Vitamin E, xfurbeauty, xfurbeauty blog
Oct. 17, 2018
Leave a comment
Hey everyone! I have a new bottle of jojoba oil. It's from Now Solutions Organic Jojoba Oil! My last jojoba oil was from Trader Joe's SPA 100% Pure Jojoba Oil. This time, I went for the organic. For more information on my new facial moisturizer, keep reading! 😊
Now Solutions Organic Jojoba Oil:
USDA Organic
Certified Organic
Non-GMO
100% Pure Moisturizing Oil
Multi-purpose
For hair, skin, and body
One of the most popular cosmetic oils available today
High stability, invigorating scent and cosmetic versatility make it ideal for all skin and hair types
Most commonly used to promote softer hair and skin
Jojoba oil contains many nutritional compounds, including long-chain essential fatty acids and fatty alcohols
Expeller-Pressed
Hexane-Free
Sugguested Use:
For deep hair-conditioning treatment: Work a quarter-size amount into wet hair, leave in for 5-10 minutes, then shampoo.
As a skin conditioner, apply to damp skin after showering to hydrate and seal in moisture.
Ingredients: It contains only Organic Simmondsia Chinensis (Jojoba) Seed Oil.
I'm verging on 2 months of using jojoba oil as a facial moisturizer. I only use jojoba oil as a facial moisturizer. I don't use it as a leave-in hair treatment or body oil. From my own experience, for me, it works best as facial moisturizer. I use it in the morning and at night after I cleanse my skin. I dispense a few drops of oil into the palm of my hand and gently apply it to my facial skin. I pat it in and let it soak into my skin. Since I've been doing this every day and night, my skin hasn't been dry at all. I haven't had to deal with cracked and shedding skin, lol. I haven't had any break-outs from it either. No acne. No skin irritations. No redness. Nothing. It's been working fabulously! Jojoba oil isn't just good for the facial skin. I've too noticed that my eye area has been extremely moisturized. It makes a natural and lovely eye cream. It doesn't get rid of dark under eye circles, but it makes a good moisturizer for the skin around the eyes. Along with that, my eyelashes appear healthier and longer. I'm not even kidding. My eyelashes appear fuller and thicker. 😍 Overall, my skin has been looking soooo good and pretty that I've cut down on makeup products. Who needs makeup when your skin naturally glows? Amazing! I love, love, love the results! I couldn't be any happier! But, that's my experience with my previous jojoba oil. Now, let's see if Now Solutions Organic Jojoba Oil works just the same!
Have you used Now Solutions Organic Jojoba Oil or Trader Joe's SPA 100% Pure Jojoba Oil? Any other brands of jojoba oil? Share your thoughts!

Categories:
Tags:

Acne Marks, Acne Prone Skin, Acne Scars, Acne Skin, Acne Skin Care Tips, All Hair Types, Beautiful, Beauty, Beauty Care, Beauty Tips, Blemishes, Body, Body Care, Certified Organic, Cosmetic Oils, Cosmetics, Dry Skin, Everyday Life, Everyday Living, Expeller Pressed, Facial Care, Facial Skin Care, Flaky Skin, For Body, For Hair, For Skin, Hair, Hair Care, Hair Care Routine, Hair Care Tips, Hair Conditioner, Healthy Lifestyle, Healthy Living, Healthy Skin, Hexane Free, How To, How To Beauty, How to Remove Acne Scars, How to Use, Hydrating, Ideal for All Skin Types, Ingredients, Jojoba Oil, Life, Lifestyle, Long Chain Essential Fatty Acids, Long Hair, Long Hair Care Routine, Long Hair Don't Care, Love, Moisturizing, Moisturizing Oil, Multi Purpose, Nails, Natural, Natural Skin, Natural Skin Care, Non GMO, Now Solutions, Now Solutions Organic Jojoba Oil, Nutritional Compounds, Oil, Oils, Oily Skin, Organic Skin Care, Pimple Skin, Pimples, Pores, Pretty, Problem Skin, Pure Moisturizing Oil, Shopping, Skin, Skin Care Tips, Skin Conditioner, Skin Tips, Skincare Tips, Softer Hair, Softer Skin, Stable, USDA Organic, Vegan, Vegan Skin Care, Vegan Stuff, Veganism, What I Use, Winter Skin