Dec. 11, 2019
Self-love is the utmost important thing a person can learn to do. I'm not talking about being arrogant about yourself. I'm talking about accepting who you are and knowing yourself. I must admit, it took me some time to learn how to love myself completely. After going through a lot, I can thoroughly see why. I was too preoccupied making others happy that led me down the path of unhappiness. I would keep tolerating people's poor behaviors to the point that I thought it was normal. It kept spiraling down from there. My life changed at a certain point when I asked myself, "Do I love myself?" I was unsure. If I loved myself, I would've been able to say YES. I also would've been able to show it through my choices and actions. I know this is difficult for many people to admit, since we love to see confident people, but underneath the exterior there's more to a person than what we see. We are more complex than that. To be happy, learn to love yourself and treat yourself with respect.
Don't let anyone define who you are
You should never allow anyone to tell you what type of person you are. They don't know what you've been through. They don't know what has happened to you. They don't know your experiences. If they don't try to at least understand you, then they are not worth your time. Let them walk away. You're better off not having them in your life.
Be kind to yourself
Everyone makes mistakes. It can be difficult to move on from the mistake(s), but just be kind to yourself. Don't put a burden on yourself for making the wrong choices. What you felt at the moment is different compared to what you feel now. Take it as a lesson and learn from it. Easier said than done, I know. But, there is nothing wrong with you. There is nothing to be ashamed about.
Stop criticizing yourself so much
It's OK to be a little critical, but don't go to the extreme and cut yourself down. No one is perfect. It's OK to have flaws. These flaws make you beautiful and unique. You wouldn't be who you are if you didn't have these flaws. Embrace them.
Say NO to what makes you uncomfortable
I think everyone has been in a situation where they want to say 'no' but was unsure about saying no. Learning to say no will help you come to terms with what makes you feel uncomfortable. You will know what you like and don't like. That is very important. Your values are important.
You don't need validation from anyone
You don't need validation or reassurance from anyone to feel worthy or loved. You are worthy just on your own. When you're seeking validation from someone, chances are their journey is different compared to yours. You will most likely receive the wrong advice. Or, they won't understand where you're coming from. Keep in mind that your feelings and thoughts matter. Not just someone else's.
Trust yourself
Loving yourself makes it easier to trust yourself. You know that little voice within you — when it tells you something isn't right, it's probably not right. Listen to it. You'll be happy that you went with your gut instinct instead of 'what everyone wants out of you'.
Forgive yourself
Loving yourself lets you forgive yourself for circumstances that are out of your control. Many people blame themselves for the past and how they reacted towards it. Remember, at that moment, that was how it happened — your thoughts and emotions. Was it the best choice? Maybe it was at that particular time considering the events that previously occurred. You may beat yourself up for it, but we change and evolve with time. We reevaluate ourselves. You have the choice to learn and grow from it.
You'll have healthier, happier relationships with others
Self-love enables you to make wiser decisions for optimal happiness, more effective communication, happier relationships with others, and is beneficial for your own personal growth.
"Love yourself first and everything else falls into line."
I hope this helped. ♥
Categories:
Tags:

Advice, Life, Lifestyle, Love, Love Yourself, Loving yourself, Relationship Advice, Relationships, Self Esteem, Self love, Tips, xfurbeauty, xfurbeauty blog
Sep. 30, 2019
Leave a comment
Summer has ended. Fall is here. I've made a list of 5 beauty products I loved dearly (or at least was decent enough to me). It was difficult to put together a list of what I loved the most, but here it is.
#1. Sheet Masks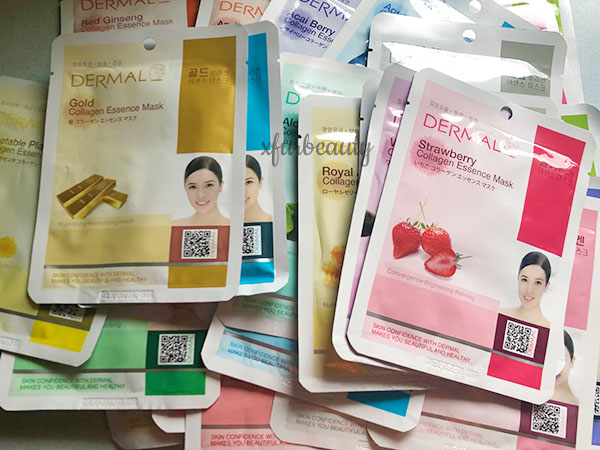 Once I started to use sheet masks again, I fell in love with them. The nourishing ingredients and moisturizing factor. I always wake up in the morning with a glowing complexion that's nicely hydrated after every sheet mask I use the night before. My makeup looks wayyy better on my skin for the day. Wow, my skin feels so soft and lovely. I love sheet masks! I don't have a favorite brand yet. They all seem to work the same to me. As long as they don't break me out!
What sheet masks I use:
Dermal Sheet Masks (Variety Pack)
Herbal Infusion Rosehip Seed Extract Sheet Mask
Rebircell Multi Effect Sheet Mask
#2. Hydrogel Eye Patches
I started to use hydrogel eye patches. And I really love them! They have helped my dark under eye circles. I use them almost every night. Sometimes I use them in the morning when I have time. I don't have a favorite yet, but the one shown in the photo (Petitfee Black Pearl & Gold) is working well on my skin. I like it. I'm looking forward to trying out other formulas.
#3. Eva Naturals Youth Restoring Eye Gel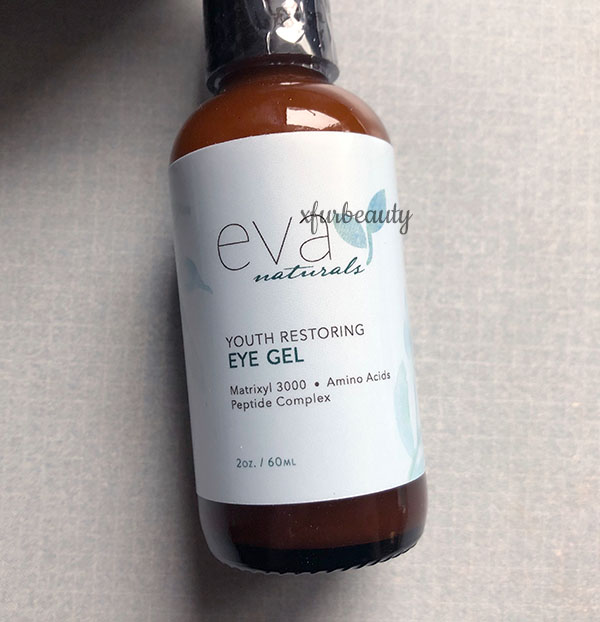 I fell in love with this eye gel (Eva Naturals Youth Restoring Eye Gel) as soon as I saw results within a few days of using it. I'm still shocked that I haven't gotten on this stuff years ago (if it existed years ago). This eye gel definitely beats all other eye creams I have used. It's awesome how affordable this eye gel is. And it works wonders! Love, love, love! It softens and smooths the skin around the eyes. It has helped to decrease the darkness around and under my eyes. The texture of my skin looks more youthful. 🙂
#4. Simplified Skin & Derma E Vitamin C Serum
I'm on my second bottle of the Simplified Skin Vitamin C Serum. Still, it hasn't broken me out. This serum sinks quickly into the skin and leaves my skin feeling moisturized. I use it in the morning. Sometimes I sneak it in at night. If I get to the point where I want to add it into my night skin care routine, I will. It's so easy to use. I was having issues with the pump until I moved the bottle a few inches away from my palm and spray. It would be nice if they changed the pump applicator to something more user friendly like a dropper bottle though. As for brightening, I haven't noticed. It contains 20% Vitamin C from Sodium Ascorbyl Phosphate. I don't feel like experimenting with other Vitamin C's at the moment. Other Vitamin C skin care products broke me out and clogged my pores horrendously. This one hasn't. I'll stick with it. I might even purchase another one.
#5. Cosmedica Pure Hyaluronic Acid Serum
Hyaluronic Acid is plain awesome! I love the hydration that it gives my skin! It's lightweight and airy. Not sticky at all. It absorbs into the skin very well. I use this serum (Cosmedica Pure Hyaluronic Acid Serum) morning and night. A few drops is only needed. I use a little bit more when my skin is a little more dry. It works. I like it. I'll keep using it forever.
What are your favorite beauty products this summer? Share! =)
Love, Jen
Categories:
Tags:

Amino Acids, Anti Aging, Anti Wrinkle, Beauty, Beauty Tips, Black Pearl, Brightening, Brighter Skin, Cosmedica, Cosmedica Pure Hyaluronic Acid Serum, Dark Circles, Dermal Sheet Mask, Eva Naturals, Eva Naturals Youth Restoring Eye Gel, Faves, Favs, Gold, Healthy, Healthy Skin, Hyaluronic Acid, Hydrating, Hydration, Hydrogel Eye Patch, Lifestyle, Love, Matrixyl 3000, Moisturizing, Natural, Natural Skin Care, Peptide Complex, Petitfee, Petitfee Black Pearl & Gold Hydrogel Eye Patch, Plumping, Review, Serum, Serums, Simplified Skin, Simplified Skin Vitamin C Serum, Skin Care Tips, Soothing, Summer, Summer Beauty, Summer Favorites, Summer Skin Care, Under Eye Circles, Vitamin C, Vitamin E, xfurbeauty, xfurbeauty blog