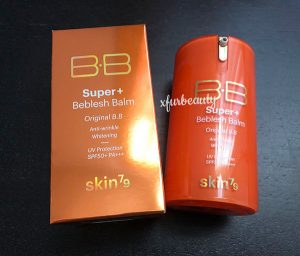 It's time for an update on Skin79 Super+ Beblesh Balm Orange! It's been 1 month of using this bb cream. I didn't use it every day, but I used it pretty often. This is what I think about it now! Here are my results! 🙂
I have a long history with this bb cream. It was my HG for so long that I was disappointed that it stopped working all of a sudden out of the blue. But I took the chance and decided to try it out again. Did it work this time? Did I break out from it? Did it clog my pores? What happened? So the first day of using it went well. I didn't have any issues with it in terms of breakouts. I think that's what I was most worried about. I didn't want to develop cystic acne or blackheads after trying it again. After using it for the first time again, I was ecstatic that I didn't notice any breakouts. My skin looked pretty good. There were no issues that bothered me too much besides how this bb cream is highly perfumed. I just can't get over the smell. I honestly don't remember if it smelled this way before. Who knows! So, overall, it all went well. Much better than I expected. This time, I really thought the bb cream was working for me again, since I loved how it contains a high SPF (SPF 50+ PA+++!!). It also provided good coverage while feeling somewhat lightweight on the skin. It didn't feel thick or heavy like other foundations I've used before. Also, it made my skin look flawless and just so much brighter and healthier looking! I wanted it to work, but…
Unfortunately, it didn't work for me this time. Not anymore. 😢 I started noticing blackheads on my forehead and some pimples on other parts of my face after using it. I didn't think it was this product but it is. I kept on getting random breakouts whenever I used it. I noticed the breakouts after removing my makeup at the end of the day. *sigh* I think this bb cream is just too heavy for my skin now even though it doesn't feel heavy on my skin. The texture and consistency feels much thicker than it is when it's on the skin. If that makes any sense, lol. It was one of the perfect bb creams I've used. I mean, I've used it for so many years until now. The bb cream made my skin appear dry sometimes too. I noticed dead skin on my face appearing more obvious. And it leaves my skin feeling and looking chalky and ashy due to the dryness. It's great at controlling oil but may be a little too much. Well, it looks like it didn't work out this time. I'm not going to try it again, haha. I think it's time to move on to something else or something new. After this, I'm pretty much over it. I still have a ton of product left too. This bb cream just isn't the same anymore. What really happened… 🤷🏻‍♀️
For more posts on Skin79 Super+ Beblesh Balm Orange…
Review: Skin79 Super+ Beblesh Balm Orange
Trying Skin79 Super+ Beblesh Balm Orange Again!
Categories:
Tags:

1 Month Update, Acne, Acne Prone Skin, Acne Skin, Anti-Aging, BB Cream, Beauty, Beblesh Balm, Blemish Balm, Cosmetics, Experience, Face Makeup, Foundation, Lifestyle, Makeup, Makeup Products, Oily Skin, Orange, Results, Review, Skin Care, Skin79 Super Plus Beblesh Balm Triple Function Orange BB Cream, Skincare, Sunscreen, Triple Functions, Update, Updated Review, UV Protection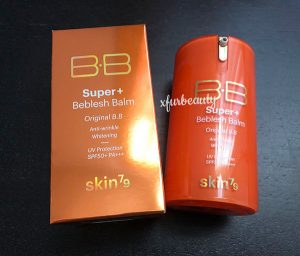 I'm testing out my previous skin care and makeup products again after leaving veganism. I have some products I'm still curious about. You know, the ones that I've used for 10+ years and all of a sudden stopped working out of the blue. I wanted to see if it was caused by the health issues I developed and experienced when I was vegan. So the last product I tried was a skin care product called Benton Fermentation Essence. You can read more about my experience with this product right here:
I Used Benton Fermentation Essence Last Night. This Is What Happened.
An Update on Benton Fermentation Essence. Did It Clog My Pores??
👆🏻 To find out what happened to my skin, feel free to click on the links!
Now on to this bb cream that has been one of my HG bb creams for so many years. I've used it for so long that I was extremely shocked that it caused breakouts. It was such a weird reaction. Now let's see if it still works or not. It should, right? How can something I've been using for so many years just stop working or change all of a sudden? The ingredients are the same as it was before! Has anyone experienced this? Anyways, so the bb cream I'm talking about today is Skin79 Super Plus Beblesh Balm Triple Function Orange BB Cream or what I call Skin79 Super+ Beblesh Balm Orange. Yes, I shortened the name of the product because the full name of the product was just way too lengthy, and I didn't want to keep saying it over and over (if I had to). Now on to my first time experience using this bb cream for a day!
My Experience Using Skin79 Super+ Beblesh Balm Orange for the First Time Again
The first day of using this bb cream felt very different and exciting. I haven't used it in so long that I can only recall how wonderful it used to be. How it provided good coverage, gave my skin a flawless look, and how it protected my skin from the sun because it contains a high SPF. This bb cream contains SPF 50+ PA+++!! That is on the high side of the spectrum for a bb cream and makeup product. No wonder why I always chose this bb cream over the rest that I had throughout the years. It's just that awesome. And it never broke me out. Really, it never did. I was so surprised a product like this worked on my skin since it does contain some comedogenic ingredients in it. But it worked and my skin was ok with it because it never clogged my pores. Sometimes it's not the individual ingredients alone that matters but the overall formulation of the product that matters if it'll work on your skin or not. Just gotta try it out to see if it works or not for yourself!
So this bb cream comes in an orange clunky pump bottle. It's rather big, but that never bothered me because it was an affordable and effective foundation for me over the years. I liked it. The product is only 1.35 fl. oz. (40 mL), but it seems to last for a very long time from my experience. I only purchased 1 bottle per year. Sometimes it'll last even longer than a year. The product when dispensed from the bottle is a light-medium beige color with strong yellow undertones. I wasn't bothered by the coloring of this bb cream. I mean, it's a little darker than my skin tone, but it's not that big of a deal. It blends into my skin just fine and the shade adjusts to my natural skin tone as it settles into the skin. The texture of the bb cream is soft, smooth, and creamy. It glides and smooths over my skin very nicely. Blends into the skin well and provides a lot more coverage compared to what I've been using! I would say it's medium coverage, but it's buildable.
With this bb cream, it did help cover up my dark under circles, some acne marks, and smoothed out the texture of my skin. Last time I used it, I experienced skin dryness, but I didn't experience dry skin this time. It actually helped to control excess sebum on my skin. Worked well on my oily skin! Even though it didn't dry out my skin, it did accentuate flaky skin. Oops, I think I just needed to exfoliate before using this bb cream, lol. Otherwise, my skin looked pretty good with the coverage that it gave me. The finish of this bb cream was dewy, semi-matte, not oily. It didn't accentuate fine lines and wrinkles like it did before. It gave my skin this flawless appearance to it. I love it! I'm very happy that my experience with this bb cream is very different this time. Also, I didn't break out after wearing it for only a day either. But who knows, it's only been a day. I think I'm going to keep using this bb cream and see how it goes. Everything is going well so far, except for this, which is the fragrance. It contains fragrance that smells like perfume, and it's pretty overwhelming.
That's my first day experience of using Skin79 Super+ Beblesh Balm Orange!! A new update coming up within a week or so!
Take a peek at my previous review if you wish ~ Skin79 Super+ Beblesh Balm Orange
Categories:
Tags:

Acne, Acne Prone Skin, Acne Skin, Anti-Aging, BB Cream, Beauty, Beblesh Balm, Blemish Balm, Cosmetics, Experience, Face Makeup, Foundation, Lifestyle, Makeup, Makeup Products, Oily Skin, Review, Skin Care, Skin79 Super Plus Beblesh Balm Triple Function Orange BB Cream, Skincare, Sunscreen, Triple Functions, Update, UV Protection