Sep. 14, 2020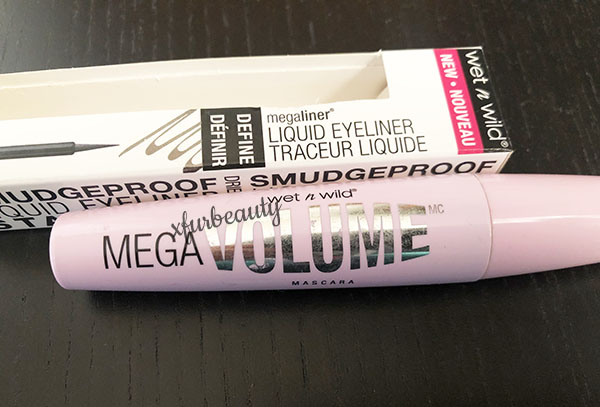 Another makeup review. 🙂 It's also from Wet n Wild. This is the Mega Volume Mascara in Very Black. More about it below:
High-volume
High-impact
Accentuates and draws attention to your eyes
Maximizes volumizing effect
Fortified with Vitamin E to keep lashes protected and luminous
Spiral fiber brush that is easy to load.
Hugs and plumps each lash with rich, deep, very black pigment
No flaking, drying
Nourishes and hydrates lashes
Review:
This is my mascara right now. I've been using it for a good amount of time to do a review. My experience with the Wet n Wild Mega Volume Mascara was not good. It's literally the opposite of what it's supposed to be. I love the intense black color (not difficult to find in another mascara), but this mascara was pretty clumpy. It doesn't separate eyelashes. It looks like a mess. It flakes off the lashes too by the end of the day. Uhhh…that's not what I want. I don't like the way it makes my eyelashes look. 😐 I have a very difficult time removing this mascara even with a makeup remover, oils, and wipes. Basically everything. I mean, it's not the worst mascara out there I've used, but it didn't work for me. I won't purchase it again due to this bad experience. I'll be on the look out for a mascara that's more suitable for me.
Review: Wet n Wild Megaliner Liquid Eyeliner (Cosmic Black)
Categories:
Tags:

Cruelty Free, Eyeliner, Life, Lifestyle, Liquid Eyeliner, Makeup Review, Mascara, Mega Volume, Megaliner, Review, Thoughts, Wet n Wild, Wet n Wild Mega Volume Mascara, xfurbeauty, xfurbeauty blog
May. 6, 2020
Leave a comment
Alright everyone! It's time for me to share my makeup routine. This is what I've been doing when I wear makeup. I've been trying to wean myself into using makeup again. It took some time to get used to it once again. 🙂
FOUNDATION:
I started off using my usual BB Cream — Dr Jart+ Silver Label Rejuvenating BB Cream (trying to find a vegan, cruelty-free one to replace it). Honestly, I don't wear much makeup on a daily basis, so it's been sitting around unused. I have lots of product left. I didn't like the way my skin looked with it on by itself. I decided to add a base, so the BB Cream could adhere better to my skin. I remembered that I had the elf Acne Fighting Foundation.
This right here:
Here are my thoughts on this foundation after using it again…
The good:
Full coverage. Makes a good base. Awesome lasting power. It's much better than my BB Cream!
The bad:
Not a true porcelain shade. It's much darker. Dries out the skin when used too often. It dried my skin out after 2 days of use. Avoid the eye area when using. Why? The dryness will accentuate wrinkles around the eye area. Make sure to use a good moisturizer underneath the foundation. Does not contain SPF. =(
…
I like it, but I hate it. I wish elf would have more accurate shades of the Acne Fighting Foundation. Since it tames oilies on my skin, it helped to prevent new acne from forming. It would be nice if they would add SPF to the product too. If they did all of that, I would switch over to this foundation in an instant. Since that's not the case, I won't repurchase after I'm done with it.
EYE MAKEUP:
I haven't been wearing eyeliner as of late. I'll save it for special occasions. I've been playing with mascara. I think I need a new one soon. After months of not using it, the one I have is getting old. It's this mascara:
I find the NYX Worth the Hype Mascara meh. The only reason I've been using it is because I haven't found one that's better. I don't get raccoon eyes from this mascara. It's good at lengthening the eyelashes too.
BLUSH/OTHER FACE MAKEUP:
I have a lot of blushes, but I tend to stick to only one within a time period. The one I've been using is elf St Lucia Blush and Bronzer. I only use the blush, not the bronzer. If you're not familiar with elf, their products are not that pigmented. If you're looking for something with more pigment, this isn't for you. For me, it worked out great. I want my blush to look as natural as can be. The peachy color gives my cheeks a glow without appearing overdone. I'm close to hitting the pan on this product. I don't know if I'm going to buy it again even though I like it. I guess I don't love it. lol.
Another makeup product from elf that I've neglected and decided to play with more often…
This is the elf Contour Palette. It's a 'contour' palette, but I don't use it to contour my face. I use it as eyeshadows. They're not pigmented, so they give my eyes a pop of color that looks natural, neutral, and barely there makeup look. I'm really liking the neutral makeup colors…
For eyebrows and eyeshadows, I use an eyeshadow palette, such as this…
Just like the contour palette I spoke of earlier, these eyeshadows are not pigmented either. For my brows, I use the darkest shade possible. Sometimes I mix the colors together to form a shade that I like. I just swish a little bit of color over my brows and that's it. I'm not into drawn in eyebrows or making them appear unnatural. I prefer my eyebrows to look clean, natural, and well-groomed without looking…I'm going to say fake.
LIPS:
I don't use anything special on my lips. Just a SPF lip balm to protect them from the harsh UV rays. 🙂
…
I hope this helped! Thank you for reading! ❤️
Categories:
Tags:

Acne Makeup, Acne Prone Skin, Acne Skin, Blemished Skin, Blemishes, Cosmetics, elf Contour Palette, elf Cosmetics, Eyeshadow Palette, Face Makeup, Foundation, Life, Lifestyle, Makeup, Makeup Foundation, Makeup Routine, Mascara, NYX Mascara, Review, Thoughts, Tips, What I Use