Oct. 26, 2020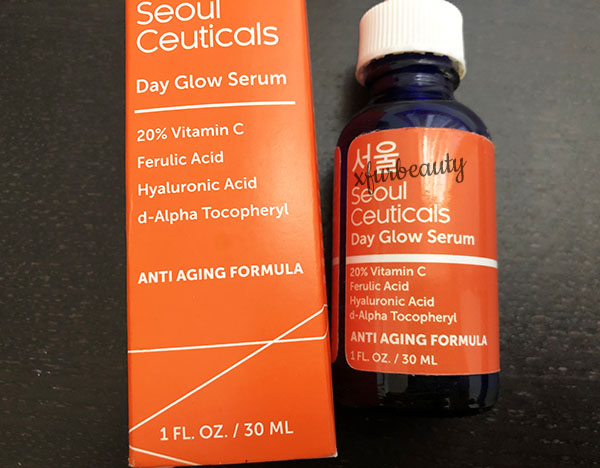 I've had this vitamin c serum for quite some time. I think I'm overdue for a review. 🙂
About Seoul Ceuticals Day Glow Serum:
20% Vitamin C
Ferulic Acid
Hyaluronic Acid
d-Alpha Tocopheryl
Anti-Aging formula
72% Organic
98% Natural
Not tested on animals
Review:
This serum comes out very watery. It feels like I'm applying water to my face. It has a light citrus scent to it. The scent doesn't linger on the skin. It disappears after application. Looking at the ingredients, it contains Sodium Ascorbyl Phosphate (vitamin c), antiaging ingredient ferulic acid, and hyaluronic acid for hydration. That's awesome, but I do prefer vitamin c in the form of ascorbic acid instead. It's known to be more effective on the skin. Still, I wanted to give Seoul Ceuticals Day Glow Serum a chance to see if it works or not. So did it work? Did it fade acne marks? Hyperpigmentation? Did it make my skin look younger. More even? Brighter? From my experience, no. This vitamin c is below average compared to the other ones I have tried. There's nothing special about it. Yeah, it contains vitamin c + antiaging ingredients + hydrating properties, but it didn't do anything for my skin. It didn't make it brighter, fade acne scars, or discolorations. It didn't improve the appearance of my skin and wasn't hydrating either. I'm very disappointed in the outcome of this vitamin c serum, especially for the price. No results. My first and last. I won't purchase it again. I wouldn't recommend it. Skip it. There are better, more effective options out there for a better price.
Categories:
Tags:

Day Glow Serum, Day Serum, Facial Serums, Ferulic Acid, Hyaluronic Acid, Hydrating, Life, Lifestyle, Moisturizing, Natural, Natural Skin Care, Not Tested on Animals, Organic, Organic Skin Care, Review, Seoul Ceuticals Day Glow Serum, Serum, Skin Care, Skin Care Products, Skin Care Review, Skincare, Thoughts, Vitamin C Serum, xfurbeauty, xfurbeauty blog
Oct. 24, 2020
Leave a comment
I've been testing out this leave-in conditioner. It's called Andalou Naturals Argan Oil & Shea Leave-in Conditioner.
About Andalou Naturals Argan Oil & Shea Leave-in Conditioner:
Fruit stem cell complex and argan oil deeply nourishes and conditions
Shea butter supports elasticity, strength, and managebility to help minimize the look of split ends and frizz
Noticeably soft, smooth hair with amazing sheen
Benefits dry, wavy, curly hair
Gentle and color safe
Vegan
Gluten-free
Cruelty-free
Non-GMO
99% nature derived
Review:
I've been using Andalou Naturals Argan Oil & Shea Leave-in Conditioner for 1 month. It comes in a 6.8 fl oz (200ml) tube. The gel-cream has a light citrus/vanilla scent to it. So far, from my experience, it truly does soften the hair and make it feel silky smooth. The fact that it softens and moisturizes my hair is awesome. But, keep in mind that this leave-in conditioner is rich and heavy. It doesn't seem like it when rubbing the product between the palms, but it is. So I only use a tiny amount of product and avoid the scalp area when using this product. If applied to the scalp/roots, it'll weight down the hair and make it appear lifeless. Overall, I think this leave-in conditioner is OK. I think it would work better on someone with very dry hair. For me, it's too rich for my liking. I prefer something that moisturizes but doesn't weigh my hair down. This leave-in conditioner is too much for my hair. I would most likely use it as a hair mask and leave-in conditioner to use it up. I won't purchase it again after I'm done with it.
More on Andalou Naturals Beauty Products:
Andalou Naturals Vitamin C Beauty Balm
Review: Andalou Naturals Vitamin C Beauty Balm
Final Review: Andalou Naturals Vitamin C Beauty Balm
Andalou Naturals 1000 Roses Rosewater Mask + Thoughts
Updated Review: Andalou Naturals 1000 Roses Rosewater Mask
Andalou Naturals 1000 Roses Eye Revive Contour Gel + Thoughts
1 Month Results: Andalou Naturals 1000 Roses Eye Revive Contour Gel
Review: Andalou Naturals Luminous Eye Serum
1 Month Results: Andalou Naturals Luminous Eye Serum
Andalou Naturals 1000 Roses Pearl Exfoliator + First Impression
Categories:
Tags:

Anadalou Naturals, Andalou Naturals Argan Oil & Shea Leave-in Conditioner, Argan Oil, Color Safe, Conditioning, Cruelty Free, Frizz, Fruit Stem Cell, Fruit Stem Cell Complex, Gentle, Gluten Free, Hair, Hair Care, Hair Care Products, Hair Care Reviews, Hydrating, Leave-in Conditioner, Life, Lifestyle, Moisturizing, Natural, Non GMO, Review, Shea, Shea Butter, Softer Hair, Split Ends, Thoughts, Vegan, Vegan Hair Care, xfurbeauty, xfurbeauty blog