Dec. 28, 2019
Here's my review on Aztec Secret Indian Healing Clay! I've been meaning to do a full review on this face mask for the longest time! So this is a bentonite clay mask. It's very beneficial for acne, oily skin. I usually lean towards clay masks, since I have acne, oily skin. For the past months, I've been experimenting with different types of masks. Obviously, the ones that are meant for oily skin works the best for me. lol.
About this face mask…
Deep pore cleansing
100% Natural Calcium Bentonite Clay
For facials, acne, bodywraps, clay baths, foot soaks, chilled clay for knee packs, and insect bites
100% natural calcium bentonite (green clay)
Sun dried, no fragrance
No animal testing
No animal products
Other statements on the container…
You will feel a pulling and tightening sensation
Feel your face pulsate!
World's most powerful facial
How to use?
Mix clay with equal parts of raw apple cider vinegar and/or water
Use a non-metal bowl and utensil
Stir the mixture well to a smooth paste
Add more clay or liquid as needed
Apply 1/8 to 1/4 in. to the face or other area
Let it dry for 5-10 min. for delicate skin, 15-20 min. for normal skin
Remove clay by washing with warm water
Slight redness of the skin is normal and will disappear in about 30 min.
Removes impurities and dirt from the pores
This is what it looks like. Open container.
The instructions states that the green powder can be mixed with raw apple cider vinegar. I haven't tried it yet. I might in the near future. I've been mixing it with water. It works. 🙂 I mentioned in my last short review that this face mask was beneficial for my oily skin and acne. It is. My skin looks and feels less oily after using it. It helped dry up active pimples. It makes my skin feel nice afterwards every time I use it. It doesn't dry my skin out at all. That's quite a shocker because it removes excess oil and makes my skin feel tighter. It kind of reminds me of Queen Helene Mint Julep Mask — back in the days when it was very popular! Maybe it's because they are both green. As for results, Aztec is way better than Queen Helene Mint Julep Mask. I never liked the minty smell of Queen Helene. I didn't notice too much of a difference in my skin when using Queen Helene either, while with Aztec I do. There's only ONE ingredient in Aztec. It is 100% Natural Calcium Bentonite (Green Clay). Queen Helene had a bunch of other ingredients besides bentonite from what I remember. There is a downside when it comes to using Aztec. Whenever I remove the mask off of my face, it doesn't wash down the basin easily. It sticks to the side of the basin and floats around in chunks. BUT, that hasn't stopped me from using this face mask. That's just a heads up if you decide to try it out yourself. Overall, I enjoy it. My skin likes it. I use it 2 times a week after a facial steam. 🙂
Have you used Aztec Secret Indian Healing Clay before? What's your favorite face mask?
Categories:
Tags:

Acne, Acne Prone Skin, Acne Skin Care, Acne Skin Care Products, Aztec, Aztec Secret, Aztec Secret Indian Healing Clay, Beauty, Bentonite, Breakouts, Calcium Bentonite Clay, Deep Pore, Deep Pore Cleansing, Face Mask, Facial Mask, Facials, Fragrance Free, Green Clay, Green Clay Mask, Health, Indian Healing Clay, Life, Natural, Natural Skin Care Products, No Animal Products, No Animal Testing, No Fragrance, Pimples, Review, Skin Care, Skin Care Products, Skin Care Routine, Skincare, Tips, Vegan, Vegan Skin Care Products, xfurbeauty, xfurbeauty blog
Oct. 5, 2019
Leave a comment
Here's my skin care routine. I've been meaning to share this, but I've been trying to figure out what works best for my skin or not. Once I post this, things might change. Look out for that. Well, let's begin!
Face Wash (AM, PM): I use Trader Joe's Tea Tree Cleanser. This face wash is affordable, and it works on my skin type. I have oily, acne-prone skin. It has not caused my skin to break out in acne. It's very gentle and removes excess oil very well. It doesn't leave my skin feeling dry either. I love it! 😀 It's one of my favorite skin care products.
I have thought about changing up my face wash for something that helps with large pores, but I don't have a good solid reason to. If it works, there's no point in switching it for something else (unless the new face wash was beyond better than what I have, haha).
Toner: I don't use a facial toner. I haven't for years. My skin is doing well without it. In my opinion, toners are not necessary.
Eye Care: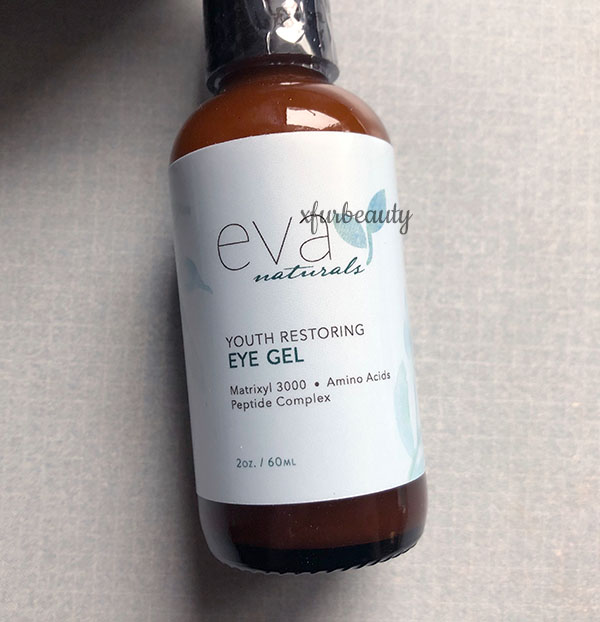 I use an eye gel instead of an eye cream. I use Eva Naturals Youth Restoring Eye Gel (AM + PM). This is one of the best eye care products I have ever used! It simply just works! Dark under eye circles? Yes. Fine lines and wrinkles? It smooths them out! Yes! Softer skin? Yes!!! LOVE IT!! I also use hydrogel eye patches — Petitfee Black Pearl & Gold Hydrogel Eye Patch (PM). I mainly use hydrogel eye patches at night before I go to sleep. They are soothing and calming. They help to add a little bit more moisture to my under eyes.

Serums (AM, PM):
Simplified Skin Vitamin C Serum
Everyone needs a Vitamin C serum in their skin care routine, and this is mine! I haven't noticed brightening results, but it's really good at moisturizing my skin. I haven't broken out from it like many other Vitamin C serums I have tried. I'm sticking with it until something better comes along, lol.
Cosmedica Pure Hyaluronic Acid Serum
Also, I use a hyaluronic acid serum. This stuff is just awesome! I only need a few drops to hydrate my whole face. If I need more moisture, I add some more. This is possibly one of my favorite skin care products. =)
Sunblock:
I mentioned my new sunblock in my Differin Week 1 Results. I'm back to using Neutrogena Visibly Even Daily Moisturizer SPF 30. This used to be my HG sunblock. I went back to it because I had a difficult time finding a sunblock that didn't break me out. I've been using Neutrogena Visibly Even Daily Moisturizer for close to 3 weeks. No breakouts so far! Well, it never broke me out in the first place. That's why it was my HG sunblock back in the days. I'm happy. 🙂 This sunblock also helps to brighten the skin and fade dark spots while protecting the skin from the sun. I have noticed my skin looking brighter after using this. It works for me! I'm done searching right now. It's been a difficult road.
Acne Products:
Differin Gel
Read about my experience here:
In 1 week, it'll be one month, so look forward to my 1 month results.
Acne.org BP Treatment Gel (as a spot treatment when needed) + Acne.org Organic Jojoba Oil as a makeup remover.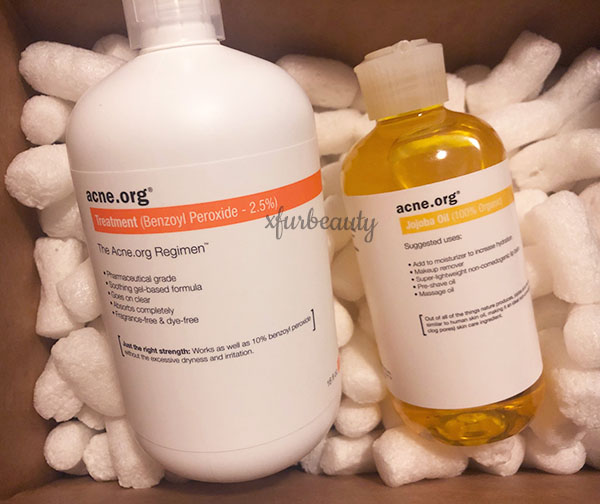 I haven't been using the BP Treatment Gel much. I guess it's there if I need it. I've been using the Organic Jojoba Oil a lot more. Not just to remove my makeup. I use it to moisturize my body. It leaves my skin feeling hydrated without feeling heavy. I love how it's organic and natural.
Face Masks:
Currently, these are the face masks I'm using. I prefer sheet masks over the ones that come in a jar or tube. It's because they are left on the skin instead of washed off. When left on the skin overnight, the beneficial ingredients are absorbed into the skin. I have wash-off face masks, but I'm thinking about using them all and be done with them. Sheet masks have been doing a better job at changing the texture of my skin compared to wash-off face masks that's why. I'm liking the results.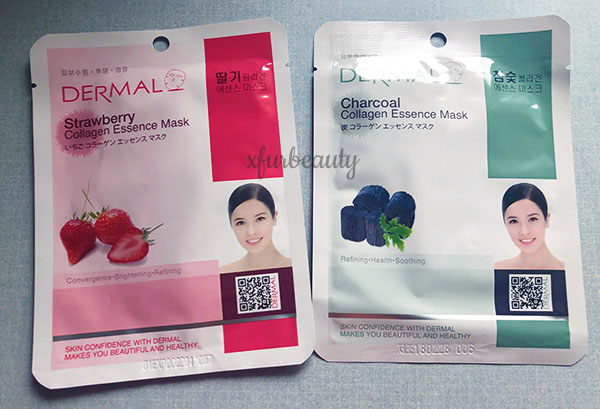 Avarelle Herbal Infusion Rosehip Seed Extract Sheet Mask
Rebircell Multi Effect Sheet Mask
That's my skin care routine. I hope you enjoyed it. Thank you for reading. 🙂
Love, Jen
Categories:
Tags:

Acne Scars, Acne Skin Care Products, Acne Skin Care Tips, Acne Treatment, Acne.org BP Treatment Gel, Acne.org Organic Jojoba Oil, Adapalene, Anti Aging, Anti Wrinkle, Antiaging, Antioxidant, Antiwrinkle, Asian Beauty, Avarelle Herbal Infusion Rosehip Extract Sheet Mask, Blotchy Skin, Brightening, Brighter Skin, Brightness, Clear Skin, Cosmedica Pure Hyaluronic Acid Serum, Cruelty Free, Dark Circles, Dark Spots, Dermal Collagen Essence Msk, Dermatologist Tested, Differin, Differin Gel, Essential Soy, Eva Naturals, Even Tone, Everyday Skin Care, Eye Cream, Eye Gel, Face Mask, Healthy, Helioplex, Hyaluronic Acid, Hydrogel Eye Patch, Hydroquinone Free, Natural, Natural Skin Care, Neutrogena, Neutrogena Visibly Even, Neutrogena Visibly Even Daily Moisturizer SPF 30, Oily Skin Care, Organic, Organic Skin Care, Petitfee Black Pearl & Gold Hydrogel Eye Patch, Radiance, Rebircell Multi Effect, Sheet Mask, Simplified Skin Care, Skin Care Products, Skin Care Routine, Skin Care Tips, Smoothness, Soy, SPF, Sun Care, Sun Protection, Sunblock, Sunscreen, Tea Tree, Tea Tree Face Wash, Trader Joe's, Under Eye Circles, Vegan, Vegan Skin Care Products, Visibly Even, Vitamin C, xfurbeauty, Youth Restoring Eye Gel