Oct. 26, 2020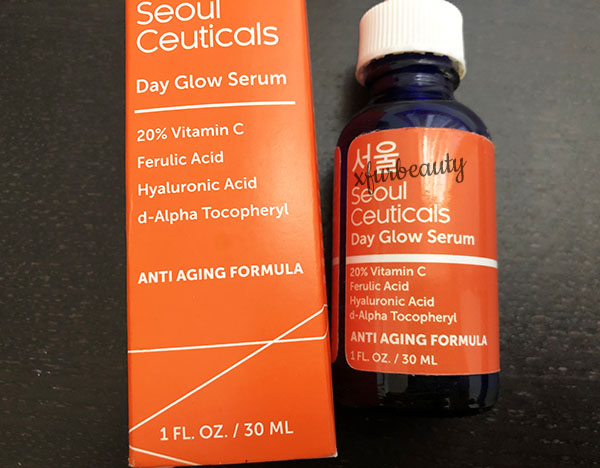 I've had this vitamin c serum for quite some time. I think I'm overdue for a review. 🙂
About Seoul Ceuticals Day Glow Serum:
20% Vitamin C
Ferulic Acid
Hyaluronic Acid
d-Alpha Tocopheryl
Anti-Aging formula
72% Organic
98% Natural
Not tested on animals
Review:
This serum comes out very watery. It feels like I'm applying water to my face. It has a light citrus scent to it. The scent doesn't linger on the skin. It disappears after application. Looking at the ingredients, it contains Sodium Ascorbyl Phosphate (vitamin c), antiaging ingredient ferulic acid, and hyaluronic acid for hydration. That's awesome, but I do prefer vitamin c in the form of ascorbic acid instead. It's known to be more effective on the skin. Still, I wanted to give Seoul Ceuticals Day Glow Serum a chance to see if it works or not. So did it work? Did it fade acne marks? Hyperpigmentation? Did it make my skin look younger. More even? Brighter? From my experience, no. This vitamin c is below average compared to the other ones I have tried. There's nothing special about it. Yeah, it contains vitamin c + antiaging ingredients + hydrating properties, but it didn't do anything for my skin. It didn't make it brighter, fade acne scars, or discolorations. It didn't improve the appearance of my skin and wasn't hydrating either. I'm very disappointed in the outcome of this vitamin c serum, especially for the price. No results. My first and last. I won't purchase it again. I wouldn't recommend it. Skip it. There are better, more effective options out there for a better price.
Categories:
Tags:

Day Glow Serum, Day Serum, Facial Serums, Ferulic Acid, Hyaluronic Acid, Hydrating, Life, Lifestyle, Moisturizing, Natural, Natural Skin Care, Not Tested on Animals, Organic, Organic Skin Care, Review, Seoul Ceuticals Day Glow Serum, Serum, Skin Care, Skin Care Products, Skin Care Review, Skincare, Thoughts, Vitamin C Serum, xfurbeauty, xfurbeauty blog
Sep. 8, 2020
Leave a comment
I have a new facial oil! I've gone through argan oil, jojoba oil, and Acure Brightening Glowing Serum.
Argan oil: I have mix feelings about this oil, but I decided to keep using it. I haven't broken out from it (yet, lol). It absorbs into my skin well and leaves my skin feeling moisturized. I haven't noticed anything miraculous about it. Maybe I'll see a huge change in my skin if I continue to use it until the end of the year. That's if it doesn't break me out.
Jojoba oil: Jojoba oil is a very popular oil for acne-prone skin. It's touted as the best of the best for acne-prone skin. Supposedly it doesn't clog pores. It mimics the skin's natural oils. Even though it's called an 'oil', it's actually a wax ester. I think that is the sole reason why I cannot use jojoba oil without ending up with clogged pores. My skin doesn't like the waxy texture. It sits on top of my skin and doesn't absorb into my skin at all. My face ends up feeling greasy. When that happens, acne galore!
Acure Brightening Glowing Serum: I've used this serum before, and it did cause some breakouts. I thought I would try it again, but I changed my mind. haha. It is what it is. It's a mix of oils including safflower seed oil, sesame seed oil, pumpkin seed oil, borage seed oil, argan oil, etc. Go here for more information.
On to rosehip oil…
So I wanted an oil that is more suitable for oily, acne-prone skin. I stumbled upon rosehip oil. I've used this oil in other skin care products. I've never used it alone. There's a ton of positive reviews on rosehip oil for acne-prone skin. It's supposed to help with acne and acne scarring. Knowing that, that sounds like it'll be a perfect fit for me. I really do hope so. The rosehip oil I purchased is called Aria Starr Rosehip Seed Oil. I didn't seek out this brand. I just wanted a good pure, premium oil that's of good quality. I've never used this brand before or even ever heard of it. I just chose it, and that was it! More about the oil…
Cold-pressed
Premium grade
100% pure & natural
Not tested on animals 👍🏻👍🏻👍🏻
Unrefined
Paraben free
Fragrance free
Chemical free
Perservative free
It is vegan. The only ingredient is 100% Pure Cold-Pressed Rosehip Oil. 🙂 It comes in a 4 fl oz glass bottle. It came with a dropper to dispense the oil. The instructions says to use 2-3 drops on fingertips and massage into desired area until fully absorbed. Do not rinse. I used about 4-5 drops on my face, neck, and chest. I pat it into my skin. No tugging of any kind. This oil absorbed pretty well. It didn't leave my skin feeling greasy or anything like that. I really liked that. So far, I've used it 4 times. I will be using it at night when I take a break from my acne treatment(s) and every morning. It hasn't made my skin greasy-looking in the morning whatsoever. No breakouts as of yet. I hope it stays that way. It made my skin feel supple and hydrated. Keep in mind that I am using another facial oil too. That could be the oil that's making my face feel all nice and soft rather than the rosehip oil. It could be a combination of both! All I know is that my skin looks and feels really good!! I'll go into more detail about this other oil tomorrow. 🙂
I really hope it works due to the benefits it's supposed to have on acnegenic skin — balances oil production and fades acne scars but also helps with wrinkles and aging skin! Hmmm. Let's see how this goes! I'll make an update when I notice changes in my skin. If it breaks me out not either! Stay tuned! 😊😊😊
Categories:
Tags:

Acne Prone Skin, Acne Scars, Acne Skin, Acne Skin Care, Acne Skin Care Routine, Anti Aging, Aria Starr, Chemical Free, Cold Pressed, Dry Skin, Facial Oil, Facial Oils, Fine Lines, Fragrance Free, Life, Lifestyle, Moisturizer, Not Tested on Animals, Oil, Oils, Oily Skin, Paraben Free, Perservative Free, Premium Grade, Red Marks, Rosehip oil, Unrefined, Wrinkles, xfurbeauty, xfurbeauty blog