Nov. 21, 2020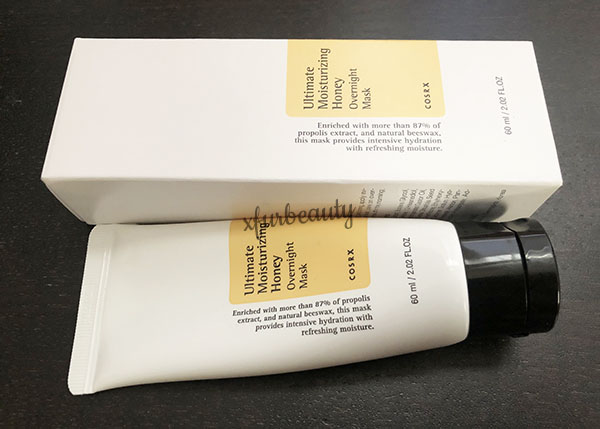 Cosrx has the Ultimate Nourishing Rice Overnight Spa Mask and the Ultimate Moisturizing Honey Overnight Mask. Here's my review on the honey mask. Remember to check out my review on the rice mask! 🙂
About Cosrx Ultimate Moisturizing Honey Overnight Mask:
Enriched with more than 87% of propolis extract and natural beeswax
Provides intensive hydration with refreshing moisture
Review:
The Ultimate Moisturizing Honey Overnight Mask is not vegan. I thought I would try it out anyways. This mask comes out as a gel. It's easy to use and glides on the skin nicely. It absorbs into the skin pretty well leaving the skin feeling moisturized in an instant (at that very moment). The hydrating effects didn't last long. I don't think this overnight face mask was that moisturizing. The instructions says to 'leave on overnight and rinse off in the morning', but I used it in the morning and night too. Obviously, I rinsed it off when I'm washing my face, haha. Between the honey and rice mask, I find the rice mask more hydrating. With the honey mask, I didn't see changes in my skin while using it. I have other skin care products that hydrate my skin much better. The rice mask is one of them. The rice mask also brightens up the skin a bit too. So, I'm not impressed by the honey mask. I'm not going to purchase it again after this experience. I'm not saying this because it's not vegan. lol. I like the rice mask more.
Reviews on Cosrx beauty products:
Review: Cosrx Oil-Free Ultra-Moisturizing Lotion (with Birch Sap)
Review: Cosrx Ultimate Nourishing Rice Overnight Spa Mask
Review: Cosrx Galactomyces 95 Tone Balancing Essence
Cosrx Hyaluronic Acid Hydra Power Essence
Categories:
Tags:

Beeswax, Cosrx, Cosrx Skin Care, Cosrx Ultimate Moisturizing Honey Overnight Mask, Honey Mask, Honey Overnight Mask, Hydrating, Life, Lifestyle, Moisture, Moisturizing, Overnight Mask, Propolis, Propolis Extract, Review, Reviews, Skin Care, Skin Care Review, Skincare, Thoughts, xfurbeauty, xfurbeauty blog
Sep. 29, 2019
Leave a comment
It's time for a review on Bliss Green Tea Mask. It's the one with lime green coloring.
About Bliss Green Tea Mask
Clarifying overnight gel mask with azelaic acid and green tea extract
Creates a deep cleansing veil to help reset skin's natural balance
Visibly tighten pores
Absorbs excess oil without disturbing drier areas
Wake up to a smooth, perfectly-balanced complexion
Cruelty-free
Vegan
Paraben free
Phthalates free
SLS free
SLES free
This is what the product looks like. It's green (clear when applied) and gel-like with speckles of noticeable glitter.
I'm going to list the pros and cons to this overnight face mask.
Pros:
Left my skin looking brighter the next morning. My skin was glowing!
Unclogs pores (if you're prone to acne or have clogged pores, breakouts may occur)
Contains azelaic acid. Awesome for acne.
Calming and relaxing
Cons:
Packaging is horrible. The first time I opened the container, it was a disaster. A blob of the product flew out of the container somehow, so that was a waste. I wish they would change the packaging of this product. That would be much better and more ideal for this type of product. The container makes it easy to spill the product.
It contains glitter in the mask. I don't see the purpose to this. To make it look pretty? But why? It's not attractive.
It's a mask that feels sticky. If you're looking for a mask that easily absorbs into the skin, this isn't it. It feels sticky the whole night until washed off (in the morning).
This face mask works, but the packaging bothers me. The glitter does too. The stickiness of the product does too. I'll use all of it, since I have it. I will not purchase it again for the reasons (cons) listed. I just think that there are better products out there that contains azelaic acid. I'll be on the search for one.
Have you used Bliss Green Tea Mask? What are your thoughts on it? Love? Hate? Share your experience! :]
Love, Jen
Categories:
Tags:

Acne, Acne Skin, Azelaic Acid, Beauty, Beauty Tips, Bliss, Bliss Green Tea Mask, Bliss Green Tea Wonder Mask Clarifying Overnight Gel Mask with Azelaic Acid, Bliss Skin Care Products, Clarifying, Clarifying Face Mask, Clear Skin, Cruelty Free, Facial Mask, Gel Mask, Green Tea, Lifestyle, Overnight Gel Mask, Overnight Mask, Paraben Free, Phthalates Free, Pores, Review, Skin Care, Skin Care Products, Skin Care Routine, Skin Care Tips, SLES Free, SLS Free, Thoughts, Vegan, Vegan Skin Care, Vegan Skin Care Products, xfurbeauty, xfurbeauty blog