Dec. 2, 2020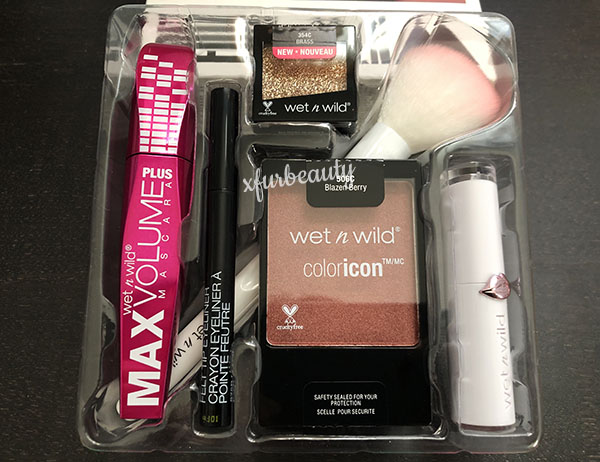 I went through some terrible times with some Wet n Wild products. Here they are again…
Wet n Wild Megaliner Liquid Eyeliner (Cosmic Black)
Wet n Wild Mega Volume Mascara
Wet n Wild Breakup Proof Waterproof Liquid Eyeliner
Wet n Wild Mega Length Mascara
Wet n Wild Megaliner Liquid Eyeliner
I don't recommend any of the products listed above. Don't forget to check out my reviews on them too! By the way, I had to toss out the Mega Length Mascara, Megaliner Liquid Eyeliner, and Breakup Proof Waterproof Liquid Eyeliner. They irriated my eyes so badly. =(
So here I have Wet n Wild Day to Night Kit. I purchased this at the same time as the other Wet n Wild makeup products. I didn't just go out and buy this now. That's not something I would do from my experience with their products so far. Since I already have this Day to Night Kit, I thought I'd use/try them anyway.
This kit comes with…
Color Icon Blush in Blazen Berry
Color Icon Glitter Single in Brass
Max Volume Mascara in Amp'd Black
Blush Brush
Mega Last High Shine Lip Color in Raining Rubies
Pro Line Felt Tip Eyeliner in Black
Stay tuned for my reviews on all of these products!
Once again, check out my reviews on other Wet n Wild beauty products! 🙂
Categories:
Tags:

Beauty, Beauty Products, Beauty Reviews, Cosmetics, Day to Night Kit, Life, Lifestyle, Review, Reviews, Thoughts, Wet n Wild, Wet n Wild Cosmetics, Wet n Wild Day to Night Kit, xfurbeauty, xfurbeauty blog
Nov. 23, 2020
Leave a comment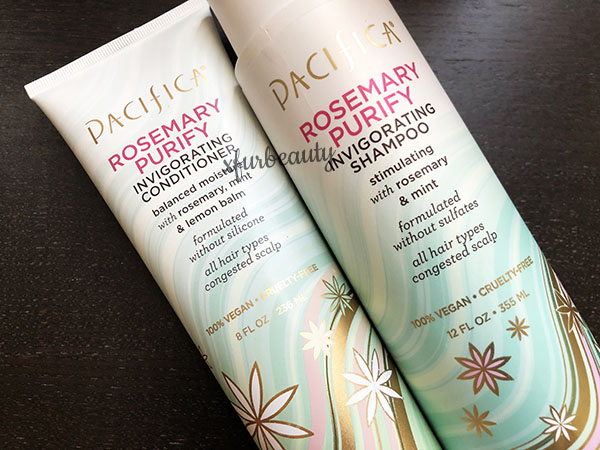 My review on Pacifica Rosemary Purify Shampoo & Conditioner! 🙂
About Pacifica Rosemary Purify Shampoo & Conditioner:
Shampoo:
Gets the surface junk off while leaving scalp feeling invigorated and clean
Gentle enough for every day use
Minty fresh scent
Formulated without sulfates, SLS, parabens, pthalates, mineral oil
Conditioner:
Jojoba and sunflower oils to hydrate and detangle while rosemary, willow bark, lemon balm, and spirulina supports scalp health
Balanced moisture
Smells like fresh mint
Review:
I'm almost done with the shampoo and conditioner. It took me so long to get to this point because I didn't really like this shampoo and conditioner. This is something I would use once in a while because I thought it was drying. It's definitely not a 'gentle, every day' shampoo and conditioner for me. It was too drying, didn't provide enough moisture, and left my hair strands tangled. I tried using it every day, but that didn't work out. I decreased my use over time. And that is why it took me so long to (almost) finish the shampoo and the conditioner. So, this shampoo and conditioner isn't for me. I'm not bothered by the perfume though. I don't mind them in hair care products. I like it when my hair smells good. 🙂 For the price I paid, I was expecting a lot more. You know, something that cleanses my hair and leaves it feeling hydrated at the same time. This isn't it.
Reviews on Pacifica products:
Pacifica Skin Care for Dry Skin + First Impression
Review: Pacifica Rose Flower Hydro Mist & Cosmic Shield Hydration Lock Face Cream
Review: Pacifica Scalp Love Rosemary Mint Serum
Review: Pacifica Rainbow Watermelon Vegan Lip Balm
Categories:
Tags:

Beauty, Beauty Products, Beauty Tips, Conditioner, Hair Care Products, Hair Care Reviews, Haircare, Life, Lifestyle, Pacifica, Pacifica Rosemary Purify Shampoo & Conditioner, Review, Reviews, Rosemary, Shampoo, Thoughts, xfurbeauty, xfurbeauty blog