Nov. 8, 2019
Dermal Red Ginseng Collagen Essence Mask (Mild, Firming, Refining)
Dermal Gold Essence Mask (Brightening, Moisturizing, Health)
Dermal Red Ginseng Collagen Essence Mask:
I've never used a Red Ginseng sheet mask before — first time. =) I didn't enjoy using this sheet mask. The fragrance bothered me soo much. I couldn't stand the smell of the sheet mask. It did help to moisturize my skin though. I wouldn't want to use it ever again due to the annoying fragrance.
Recommend? No, it's not for me.
Dermal Gold Collagen Essence Mask:
The Gold sheet mask moisturized and brightened my skin. I love it. It didn't feel heavy on the skin. Very lightweight. I love how it sinks into the skin wonderfully. The idea of having 'gold' in a sheet mask feels quite amazing. I would buy this one again. I enjoyed using it.
Recommend? Yes.
Love, Jen
Categories:
Tags:

Acne Skin Care, Acne Skin Care Routine, Asian Beauty, Asian Beauty Products, Asian Skin Care, Asian Skin Care Products, Beauty, Beauty Tips, Brightening, Collagen Mask, Dermal, Dermal Gold Essence Mask, Dermal Red Ginseng Collagen Essence, Dermal Sheet Mask, Does it Work, Essence, Firming, Health, Healthy Lifestyle, Healthy Skin, Hydrating, Mild, Moisturizing, Refining, Regeneration, Review, Sheet Mask, Sheet Mask Review, Skin Care, Skin Care Review, Skin Care Routine, Skin Care Tips, Soothing
Nov. 3, 2019
Leave a comment
Here's an update on my skin care routine. 🙂 I knew I had to do an updated skin care routine after seeing results in my skin. I am about 90% clear. My skin feels smooth and soft. It not only feels that way, it looks that way. Before that, I was struggling with persistent, stubborn clogged pores that made me hated my skin. They kept popping up out of nowhere. I had to wear more makeup than usual too because of that. Now, I've cut down my makeup routine by tons. LOVE!! So here's my skin care routine. I hope it helps anyone that's going through an initial breakout or have stubborn acne. Be strong, hold on. Better days are to come. 😀
Face Wash:
I use Trader Joe's SPA Face Wash with Tea Tree Oil in the morning and at night. This face wash just seems to work for me. It's effective and affordable.
Toner:
Technically, Pixi skintreats Retinol Tonic and Glow Tonic are toners. I started off using them as a toner. I eventually stopped using them as a toner. What I do is dispense some product in my palm and pat it into my skin. I haven't noticed much of a difference between using it on a cotton pad and dispensing it into my palm. Only less product wasted.
I haven't done a review on Pixi skintreats Retinol Tonic and Glow Tonic. I can do one right now, since we're talkin about them. I'll start off with the Retinol Tonic.
Pixi skintreats Retinol Tonic:
Between the two, Retinol and Glow, I prefer the Retinol. It's less drying and less irritating. It brightens my skin, and I love how gentle it is. I use the Retinol much more often. I can use it every day without any issues.
Pixi skintreats Glow Tonic:
When I first used Glow Tonic, my skin loved it at first. My skin looked glowy and smoother. As time went on, my skin felt irritated. I started to breakout. This is most likely the intial breakout. I like the Glow Tonic, but I prefer the Retinol due to less side effects. I can only use Glow Tonic 2-3 times a week. I don't want my skin to overreact.
Serums:
Serums are my favorite skin care products. Considering that I have oily skin that breaks out easily. Serums are lightweight and sinks into my skin well. They leave the skin hydrated without feeling greasy.
I've mentioned Cos De Facial Serums before. I use them every morning. I alternate them with BP at night. Here are the list of serums I have in my skin care routine. I will be eliminating them to see which ones are worth keeping.
From Cos De BAHA
Cos De BAHA Azelaic 10 Serum
Cos De BAHA Niacinamide 10 Serum
Cos De BAHA Vitamin 15 Serum
Cos De BAHA M.A Peptide Serum
Cos De BAHA Glycolic Acid Serum
Cos De BAHA Retinol 2.5 Serum
Cos De BAHA Hydroquinone Brightening Serum
Cos De BAHA Hyaluronic Acid Serum
So far, I will be dropping Hydroquinone and Hyaluronic Acid when I finish the bottles. I don't think it's necessary to have them in my skin care routine long term.
Other Serums
I prefer Cosmedica Pure Hyalutonic Acid Serum over Cos De BAHA Hyaluronic Acid Serum. It's lightweight and less sticky.
I'm almost done with the second bottle of Simplified Skin Vitamin C Serum. I do have a new third bottle. BUT, I will not repurchase after I'm done with it. I haven't noticed brightening results at all. The only thing I liked about it is that it doesn't break me out. I really want to see results from a Vitamin C Serum, and this isn't cutting it. Goodbye…
Face Creams: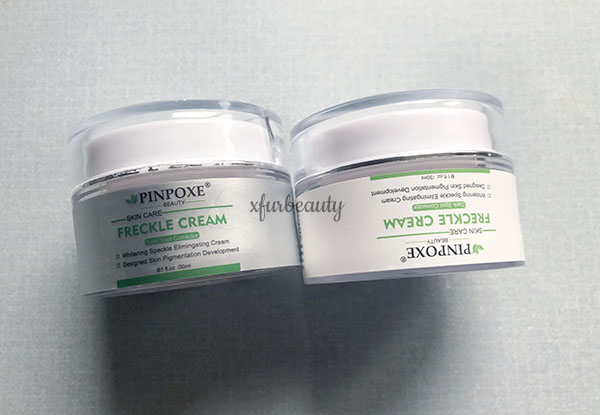 Just like the serums, I use Pinpoxe Freckle Cream in the morning. I too alternate it at night. On days I don't use BP, I use Pinpoxe Freckle Cream. I love how this facial cream is moisturizing. It doesn't remove freckles, but it did make my overall complexion brighter. I'm hoping that it will help with post-inflammatory hyperpigmentation, acne scars, acne marks. Once I finish the second jar, I will make an update on my results.
Eye Cream/Gel: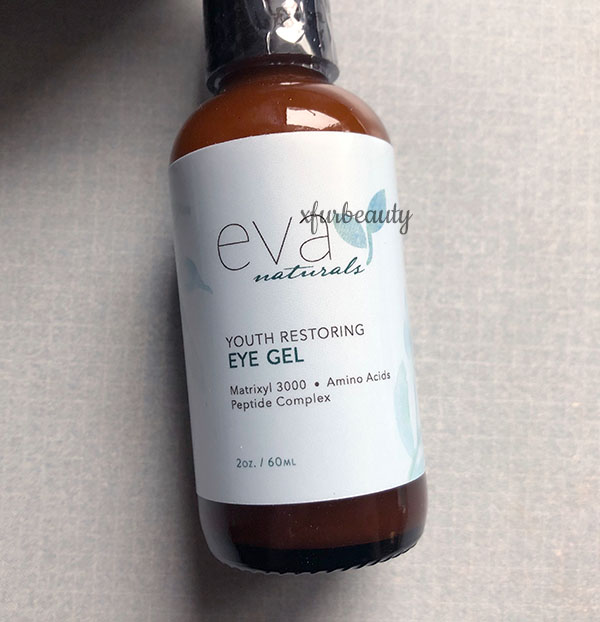 This is still my favorite eye care product. It's really good at cooling and moisturizing the eye area. It has definitely helped with dark under eye circles. I think I mentioned this before. It has changed the texture of my skin around my eyes for the better. It's very hard to find an eye cream or gel that works. This one has worked for me. I will continue to use it with the results I have seen. I highly recommend Eva Naturals Youth Restoring Eye Gel! IT WORKS!
Acne Treatment:
I wish I could say that Differin is a miracle worker, but it is not. So far, results are NO RESULTS. Check out my updates on Differin. I recently did a 1.5 Months Results update too.
Since Differin and Azelaic Acid couldn't do the job properly…
I had to go back to using Benzoyl Peroxide! Read my results here: Update: Differin + BP. I am very happy that I started to use BP all-over my face. 🙂
SPF:
Sunblock is very important, but I'm having issues using sunblock. I'm currently using this.
It dries my skin out. It's not moisturizing enough. I only use it when I have to. If I'm outdoors for prolong periods of time, I'll wear it. Otherwise, I skip it. I try my best to stay out of the skin all of the time. My BB Cream actually contains SPF too, which works and doesn't break me out. I'm trying to make the most of my beauty products. I know it's not good to rely on makeup for my SPF. If it works, it works. I rather not do more damage to my skin.
Other Thoughts on my Skin Care Routine:
I haven't done sheet masks lately. I stopped for a few weeks. I will continue sheet masking again when my skin is ready.
I started facial steaming 2-3 times a week and applying a facial mask afterwards.
I exfoliate on days when my skin is flaking.
That is my skin care routine. This has been working for me, and I'm excited to see results in the near future!
Love, Jen
Categories:
Tags:

Acne, Acne Care, Acne Prone Skin, Acne Skin, Acne Skin Care Routine, Acne Treatment, Acne.org BP Treatment, Adapalene, Amino Acids, Azelaic Acid, Beauty, Beauty Tips, Benzoyl Peroxide, BP, BP Treatment, Brightening, Cos De BAHA, Cosmedica Hyaluronic Acid, Dark Spots, Differin, Differin Gel, Does it Work, Eva Naturals, Even Tone, Everyday Life, Face Cream, Face Wash, Facial Steam, Freckle Cream, Glow Tonic, Hyaluronic Acid, Hydrating, Jasmine Flower, Life, Lifestyle, Lifesyle, Masking, Matrixyl 3000, Moisture, Natural Skin Care, Neutrogena, Neutrogena Visibly Even Daily Moisturizer SPF 30, Niacinamide, Oily Skin, Peptide Complex, Pinpoxe, Pixi, Pure Hyaluronic Acid, Radiance, Retinol, Retinol Tonic, Serum, Sheet Mask, Simplified Skin, Skin Care Products, Skin Care Routine, Skin Care Tips, Skin Tips, skintreats, Smooth Skin, SPF, Tea Trea Oil, Tea Tree Face Wash, Tips, Trader Joe's, Trader Joes Spa, Visibly Even, Vitamin A, Vitamin C, Vitamin C Serum, Vitamin E, xfurbeauty, xfurbeauty blog, Youth Restoring Eye Gel