Feb. 27, 2020
I've been using Cos De BAHA Arbutin Niacinamide Serum (lavender label) for over a 1 month. I can't rave about this serum because I haven't noticed big changes in my skin while using it. It's meh. As I said before (when I introduced this serum), arbutin is a skin brightening/whitening ingredient. Just putting this out there, I'm not trying to whiten my skin. I'm trying to fade acne scars and even out my skin tone. Honestly, I think my other skin care products are doing a far better job at fading acne scars and evening out my complexion (like Vitamin C, other skin care products with Niacinamide). Also, giving my skin time to heal is helping with the acne scars too. Time heals the skin way better than skin care products from my experience. If you leave your skin alone, the acne scars will eventually disappear by themselves. With that being said, I won't purchase this serum again. A lot of my other skin care products contain the ingredient Niacinamide. It seems repetitive having multiple serums with the same ingredient in it.
Since I'm back to vegan (veganism isn't just a diet, I will do my best to choose vegan + cruelty-free skin care and makeup), I will not continue to use Cos De BAHA Snail Mucin HA Serum any longer in my skin care routine in the future. I'm going to finish the whole product though (what I have left). Why? Because I can't return it, and I'm not going to toss it out. That would be a waste of $$$. I won't repurchase it when I'm done. Even though it says that it's 'not tested on animals' on the label, it's obviously not vegan. Snail Mucin comes from snails. I must admit, it was a good moisturizer. It could be the hyaluronic acid that kept my skin hydrated though. Who knows. I haven't noticed amazing changes in my skin just from the Snail Mucin HA Serum by itself, so I'm OK with giving it up. There's always something better out there that's vegan and cruelty-free. 🙂 You know how I love trying out new skin care products (unless it breaks me out, lol).
Cos De BAHA Snail Mucin HA Serum + Arbutin, & Eva Naturals Youth Restoring Eye Gel
Categories:
Tags:

Acne Marks, Acne Scars, Aging, Antiaging, Antiwrinkle, Arbutin, Arbutin Serum, Brightening, Cos De BAHA, Cos De BAHA Serum, Dark Spots, Fine Lines, Hyperpigmentation, Ingredients, Niacinamide, PIH, Review, Reviews, Skin Care, Skin Care Products, Skin Care Reviews, Skincare Products, Vegan, Vegan Skin Care, Vegann Skin Care Products, Whitening, Wrinkle, Wrinkles
Feb. 12, 2020
Leave a comment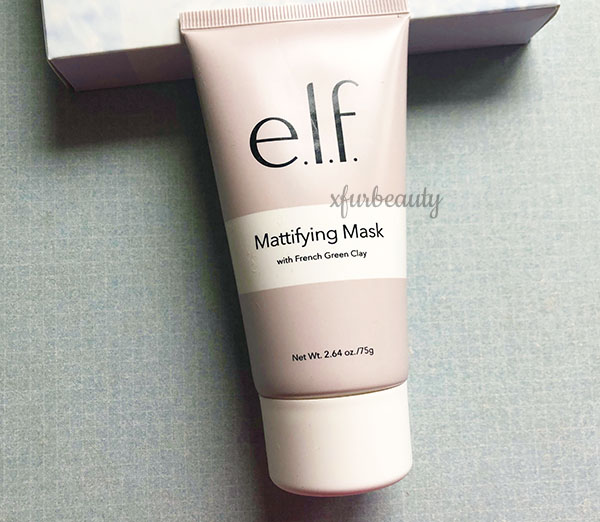 I did a couple of reviews on the elf Mattifying Mask with French Green Clay. I decided to use this face mask (to use it all up). I haven't touched it in a while. This was my experience with it.
I've been using this face mask out of convenience. I don't have to mix it like my Aztec Secret Indian Healing Clay. That was a really bad idea. I didn't think this face mask would break me out, but it did. I started to noticing clogged pores in the most random places. I even developed pustules. So, this mask is a no-go if you have acne-prone skin. I'm so disappointed. My skin was clear. But, at least I know what caused my skin to break out. I hope recovery is going to be fast and quick. Out this face mask goes!
😡
More on facial masks:
Facial Masks in My Skin Care Routine
Review: elf Marsh-Mellow Soothing Mask
Does Bliss Mighty Marshmallow Bright & Radiant Whipped Mask Work??
Categories:
Tags:

Acne Prone Skin, Acne Skin, Acne Skin Care, Clay Mask, Cruelty Free, elf Facial Mask, elf Mask, elf Mattifying Mask, elf Mattifying Mask with French Green Clay, elf Skin Care, French Green Clay, Life, Oily Skin, Oily Skin Care Products, Review, Skin Care, Skin Care Products, Skin Care Reviews, Skin Care Routine, Update, Vegan Skin Care, Vegan Skin Care Products, xfurbeauty, xfurbeauty blog