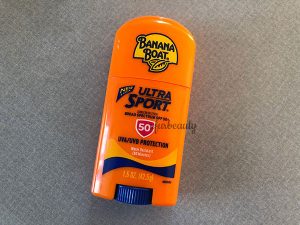 Ta-da! I have another sunscreen stick! This time, it's not a physical sunscreen stick. It's a chemical-based one from Banana Boat. It's the Banana Boat Ultra Sport Sunscreen Stick Broad Spectrum SPF 50+! What caught my eye about this product is that it comes in a larger size. It's 1.5 oz. My other sunscreen sticks (Blue Lizard, Cetaphil) are only 0.5 oz. each. They're a bit more expensive too for the amount of product. I've been using Blue Lizard Australian Sunscreen Stick Sensitive SPF 50+ on a daily basis, and I'm so close to being done with the whole stick! It hasn't even been a month yet! 😵 It's going down real quick. So, I think it's time to venture out to other sunscreen sticks to see if they're any good or not. Just because something costs more, doesn't mean it's better, right? This one could work just as well or even better. We'll have to see! Here are my thoughts on Banana Boat Ultra Sport Sunscreen Stick Broad Spectrum SPF 50+!
My experience
The first thing I noticed about this sunscreen stick was that it was larger in size (1.5 oz.). I thought it was nice, since my other sunscreen sticks are much smaller in size (0.5 oz.). They seem to go down very fast, and I feel like…is it worth it? lol. Sunscreen gets really expensive over time too, since I use it more often compared to other skin care products I have. Especially with reapplication. So this sunscreen stick goes on the skin clear. There's no white cast. There shouldn't be a white cast. It's a chemical based sunscreen. It contains 2.7% avobenzone, 9.0% homosalate, 4.5% octisalate, 9.0% octocrylene for UV protection. I don't have any problems with chemical-based sunscreens. They seem to work a tad better for me compared to the physical-based ones. Physical sunscreens tend to dry my skin out most of the time and irritate my skin. Leaving my skin feeling itchy. I have to make sure I layer on moisturizer before using a physical-based one. Sometimes it dries out my skin regardless. But that's just my skin…
The texture of this sunscreen is very soft and smooth. It glides on the skin effortlessly. It leaves the skin feeling a little sticky, but a lot of sunscreens do anyways. I think I'm pretty much used to that. I would put up with it if it's working to protect my skin from skin damage and skin cancer. Since I don't use this product on my face, I can't say much about it clogging my pores. From my experience using it on my body, it feels like it would clog my pores, since the texture of the product feels dense and heavy. I don't think it would work for my face due to how thick it feels (and it's sticky). I don't use sunscreen sticks on my face anyways, just my body. So the product itself is good. It works for what it is. My only issue is the cap of the product. There's a clear lid inside of the cap. Product gets mushy around the lid, and it looks so messy. I just don't like looking it, but that's just me. haha. Also, with this sunscreen, make sure to twist the stick all the way down, so the cap can close properly. That gets annoying sometimes because even a little bit of the stick poking out prevents the cap from closing properly.
This is what the sunscreen stick looks like. Clean and new. 😍
Pros & Cons
✅ Pros
Moisturizing
Contains SPF 50+ (2.7% avobenzone, 9.0% homosalate, 4.5% octisalate, 9.0% octocrylene)
1.5 oz. sunscreen stick!
Soft and smooth texture
Glides on the skin easily and effortlessly
Goes on clear, no white cast
Water resistant (80 minutes)
Reef friendly
❌ Cons
Feels a bit sticky
Annoying cap
Conclusion
This sunscreen stick wasn't too bad. It's different in texture when compared to my physical-based sunscreen sticks. It has a smoother feel to it when applied to the skin. It goes on clear and doesn't leave a white cast behind. The final application is invisible. I don't have to blend it into my skin too much. Saves more time since I don't have to worry about a white cast. But I think I'm pretty neutral about this product. It's not amazing, but it's also not terrible. In a way, I do like my zinc-based sunscreen sticks. ha! 😆 This is a tough one. It all comes down to if you prefer chemical-based or physical-based sunscreens. The chemical ones are less expensive from my experience. They give you more product from what I've noticed too. Soooo I think I would purchase this one again if I ever run out of my physical-based ones. They all work the same to me, since I'm not using it on my face. It's entirely based on which one you prefer. Taking out my preference for zinc-based sunscreen sticks, this one is good to go! It works like it's supposed to, and it's bigger and cheaper. lol. This is a good way to save a little bit of money. But overall, it works. It was nice to try out something new and different. 🙂
For more reviews on sunscreens go here.
Categories:
Tags:

Banana Boat, Banana Boat Ultra Sport Sunscreen Stick Broad Spectrum SPF 50, Beauty, Reef Friendly, Reef Safe, Review, Skin Care, SPF 50, Sport Sunscreen, Sun Care, Sunblock, Sunscreen, Sunscreen Stick, Water Resistant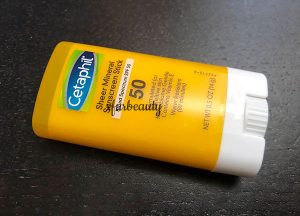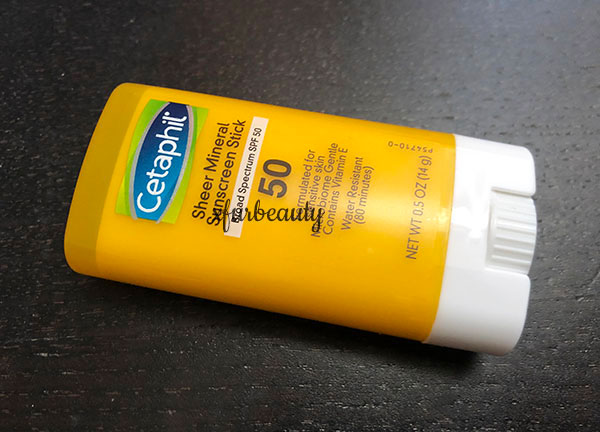 I picked up a sunscreen stick this summer. I ran out of lip balm with SPF and thought I would give Cetaphil Sheer Mineral Sunscreen Stick Broad Spectrum SPF 50 a try. 😊 It's been so long since I've used a sunscreen stick. But I can't let my lips go unprotected. I get freckles on my lips. 🌞 So sunscreen sticks tend to be heavier and way too greasy on my skin. They never work on my face for that reason. But, since I'm not using it on my face, it never hurts to give it a chance to see if it works or not on other parts of my body. On the packaging of this product, it says that it can be used on delicate areas, such as the lips, earlobes, nose, and around the eyes. Yay! Let's try it! 🙌🏻 Here's my experience with Cetaphil Sheer Mineral Sunscreen Stick Broad Spectrum SPF 50!
My experience
I started using Cetaphil Sheer Mineral Sunscreen Stick SPF 50 on my lips, since I ran out of lip balm with SPF. The sunscreen left a white cast on my lips, which wasn't a problem. I applied a tinted lip balm or lipstick over the sunscreen. And poof! The white cast is covered. This product kept my lips protected and moisturized. It wasn't super moisturizing, but there was some moisture there. It felt thicker and more dense compared to a regular lip balm. It stayed in place and didn't melt off my lips. After using it on my lips, I attempted to use it on the skin around my eyes. It left my skin moisturized and smoother. Made my skin look softer and filled in fine lines and wrinkles. I loved it. My makeup melted on my skin and was easier to apply. It didn't irritate my skin or get into my eyes. It worked so well at conditioning this sensitive area of my face. But that only lasted a couple of days. I realized the sunscreen made my eye makeup smudge and run. Using it around my eyes would only work on days when I don't wear makeup.
I tried it on my lips and eyes, but I didn't use it on my facial skin because it feels too rich and thick in consistency. Knowing that my skin can't handle thick sunscreens, it'll probably clog my pores. I didn't want to take that risk. I have a sunscreen that's lightweight and more suitable for the facial skin that I use daily. That works better for me. But I really liked this sunscreen stick. I stopped using it on my lips and around my eyes and use it mainly on my body. Sometimes my ears too. I don't use it on my nose since my daily sunscreen takes care of that part of my face. This sunscreen stick works really well. It's very moisturizing, glides on the skin easily, and I can bring it anywhere with me! It's great for travel. I can use it to reapply my sunscreen without having to take out a tube of liquid or cream sunscreen in public. I get weird looks when I reapply my sunscreen, lol. This makes it so much easier. It's mess-free and very convenient. So far, it's been working for me. I was able to finish a whole stick just before summer is over. I haven't had any skin irritations from this product either. Love it!
Here's a new, unopened package of Cetaphil Sheer Mineral Sunscreen Stick Broad Spectrum SPF 50!
This is what the product looks like fresh out of the package. ✨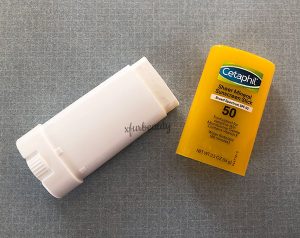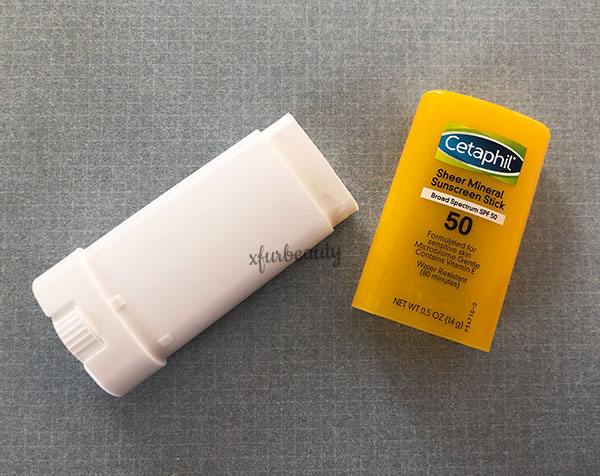 Pros & Cons
✅ Pros
SPF 50 (Titanium Dioxide 6%, Zinc Oxide 4.7%)
Moisturizing
Gentle on the skin
Great for travel
❌ Cons
It's only 0.5 oz. (14 g) 😢
Conclusion
Out of all of the sunscreens I've used from Cetaphil this summer, Cetaphil Sheer Mineral Sunscreen Stick SPF 50 was my absolute favorite! I can't believe I finished the whole product so quick! This stuff is awesome! It's gentle and great for sensitive skin. The skin on my neck is so sensitive that this is the only sunscreen so far that moisturizes and clams it down. I went out and purchased a couple of more, since I loved it so much. I might even try other sunscreen sticks from other brands to see which one I like. This one is pretty good though. I highly recommend giving it a shot if you're looking for a sunscreen stick.
Categories:
Tags:

Beauty, Cetaphil, Review, Review: Cetaphil Sheer Mineral Sunscreen Stick Broad Spectrum SPF 50, Skin Care, SPF, Sun Care, Sunsblock, Sunscreen, Sunscreen Stick, Zinc Oxide