Dec. 15, 2019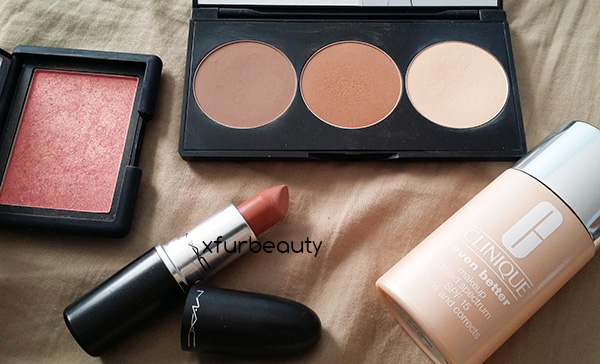 I haven't worn makeup…I think it's been 1 month already. Or at least nearing 1 month. Here's my experience on not wearing any makeup. But first, this is what I think about makeup.
What I Think About Makeup
Makeup is a personal choice. I don't judge people for choosing to wear makeup or not. It doesn't affect me at all. The only problem I have is when someone thinks they need makeup to be beautiful. The reason for this is because it breaks my heart to hear something like this. Honestly, I've never met a woman that needed makeup. They all look good with and without makeup. My mother and sisters are good examples of this. They don't wear makeup at all on a daily basis. When they wear makeup, they look just as beautiful when they're not wearing makeup. What's beautiful about them is not their outer beauty. It's their inner beauty. They have beautiful hearts. They are smart, hard-working, caring, and giving women. Beauty comes from within. I think that's more important. By the end of the day, you are you. God made you perfect the way you are.
BUT, I can understand why someone would think they need makeup. Society has set these beauty standards to reach for perfection. We all know that no one is perfect. There is no such a thing as perfection. But we all try to strive for it. We want longer, thicker lashes. We want big, doll-like eyes. We want rosy cheeks. Dewy, flawless skin. It's common to think and feel this way because we want to be accepted, and people judge us based on our appearance. All of these thoughts and emotions occur subconsciously without having to admit it. Also, I understand why someone would wear makeup to cover up their acne. I've been there several times. Too many times to count. I've battled with acne since forever. Read my story here. So I'm OK with makeup. If it makes you happy, go for it! It's your life!
My experience with not wearing makeup. Did anyone notice?
I haven't been wearing makeup in private and in public. I'm not even joking. I thought, I'm going to look REALLY tired, since my skin is more pasty and pale during the winter months. I have really bad under eye bags when I've had enough rest too. So I usually wear makeup when I'm out. It felt a little weird going out in public without 'my face'. That's what I call it. haha! Surprisingly, everyone I know that I see almost every day did not notice that I'm not wearing any makeup. I asked, "Do you notice anything different about me?" Here are the answers I received:
Your hair is shorter.
I like your freckles.
Nice skin.
You look good today.
Cute outfit.
WTH. 😲
I was really shocked that no one noticed. That made me think — Maybe it's in our heads that we THINK people notice when we are wearing makeup or not. It must be a psychological thing. So, there you go! If you're going without makeup too or have decided to cut back on makeup, chances are you look fine the way you are! No one cares. If they do, at least you have the guts to go makeupless! Be proud of yourself for doing so!
Will I ever wear makeup again?
Of course! I enjoy wearing makeup. But, I'm going to go without makeup most days of the week. To give my skin some rest from cosmetics and learn to be comfortable in my own skin. I don't want too many products on my face that'll clog my pores either. I have acne-prone skin. My skin seems to like it when I don't wear makeup. No makeup means less skin issues. There are benefits to not wearing makeup. I do love sleeping in a little bit more. You know what they say, get your beauty rest. 🙂
Makeup or no makeup. You're beautiful the way you are. 🙂
Categories:
Tags:

Beauty, Beauty Standards, Cosmetics, Experience, Life, Lifestyle, Makeup, Makeup Products, No Cosmetics, No Makeup, No Makeup Experience, Thoughts, What I think, xfurbeauty, xfurbeauty blog
Oct. 23, 2018
Leave a comment
The next Larabar I have is the Lemon Bar. This one is new to me. I was very hesitant on purchasing the Lemon Bar because I was afraid that it might turn out to be another Key Lime Pie. I thought I would give it a chance anyways. You'll never know if you don't try. Here's more information about the Lemon Bar before I begin my review on it. 😊
Larabar Lemon Bar:
Vegan
Kosher
Non-GMO
Soy-Free
Dairy-Free
Gluten-Free
Just 6 Ingredients!
Nutrition Facts & Ingredients: Dates, Cashews, Almonds, Lemon Juice Concentrate, Dried Lemon Juice Concentrate, Lemon Oil.
The Lemon Bar flavor comes in an adorable yellow box just like its wrapper. So cute and pretty! When I removed the Lemon Bar out of its wrapper, I noticed that the bar was rather thin compared to the previous Larabars I have tried. The Lemon Bar had a nice, soft texture to it, which made it very easy to bite into and chew. There were a few whole nuts here and there. In one of the photos, you can see an almond peeking out of the bar. 😁 As for the taste, the Lemon Bar tastes like lemons (what it's supposed to taste like). The ingredient list does state that it contains Lemon Juice Concentrate, Dried Lemon Juice Concentrate, and Lemon Oil. It tastes exactly like that. Even though it is sweeter than what I usually like, it wasn't bad. I like lemons, so the Lemon Bar gets a pass from me. Also, there are cashews in this bar. It's the second ingredient on the list. But, the lemon flavor overpowers it. Yay! If you haven't noticed yet, I'm not too big on cashews. Overall, I liked the Lemon Bar. It's not as good as the Cinnamon Roll and Coconut Chocolate Chip, but I wouldn't mind purchasing it again if I want something sweet and satisfying without feeling guilty. It makes a nice lemon-flavored snack that's natural. And yes, it turned out way better than the Key Lime Pie!
Have you tried the Larabar Lemon Bar yet? Share your experience by leaving a comment! 🍋
Photos of Larabar Lemon Bar:
Categories:
Tags:

Almonds, Cashews, Clean Eating, Dairy Free, Dates, Eat, Eating Clean, Fitness Blogger, Food, Food Reviews, Food Shopping, Foodie, Gluten-Free, Grocery Shopping, Health Blog, Health Blogger, Health Conscious, Health Food, Health Tips, Healthy, Healthy Lifestyle, Healthy Living, Healthy Snacks, Healthy Vegan Snacks, Ingredients, Kosher, Larabar, Larabar Lemon Bar, Larabar Reviews, Lemon, Lemon Bar, Lemon Juice, Lemons, Life, Lifestyle, Non GMO, Nutrition, Nuts, On the Go, Review, Shopping, Snack Bar Reviews, Something New, Soy Free, Thoughts, Vegan, Vegan Food, Vegan Snacks, Veganism, What I think, xfurbeauty, xfurbeauty blog