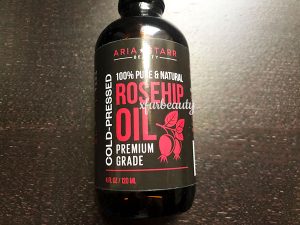 If you missed out on my month 2 update on tret 👈🏻 click here! Before I get into what I'm doing right now, let's go over a few things…
No More Rosehip Oil & Why
Last month, I talked about using rosehip oil as a moisturizer. Did it help moisturize my skin? Did it work? Yes, it moisturized my skin. No, it didn't work for me. I used rosehip oil for 5 days straight (morning and night) and stopped immediately when I noticed breakouts. I developed closed comedones all over my face, especially my forehead, jawline, and chin, which is very devastating. Lots of random blackheads appeared out of nowhere! Well! It looks like rosehip oil isn't for me. At least not for my facial skin. It seems to work very well on my body. But am I going to continue to use it for that when I finish the whole bottle (on my body)? Most likely not. I have a bigger bottle of lotion that takes care of that. So I'm on the search for a new moisturizer, lol. Yeah, I'm really trying to find one. haha.
Adding BP Back In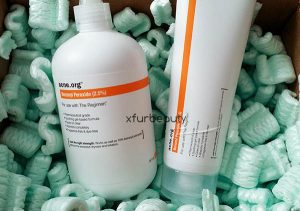 I tried spot treating with benzoyl peroxide again. It worked. It didn't leave red marks on my face. It did a better job at diminishing pimples than any retinoid, glycolic acid, or salicylic acid product. Wow, I miss benzoyl peroxide so much! I saw a reduction in my acne the next day! I thought about using it as an all-over acne treatment, but my skin is feeling sensitive from retinoids. I would have to take a long break from retinoids before applying benzoyl peroxide all-over my facial skin. I just can't imagine applying benzoyl peroxide to my skin right now. It'll burn like crazy. Maybe in a few months or so if I choose this option. I've decided to include this in my routine due to how effective it is at treating my acne. I don't think anything else can compare (product-wise)!
Makeup?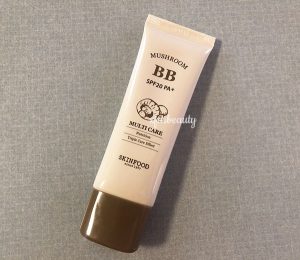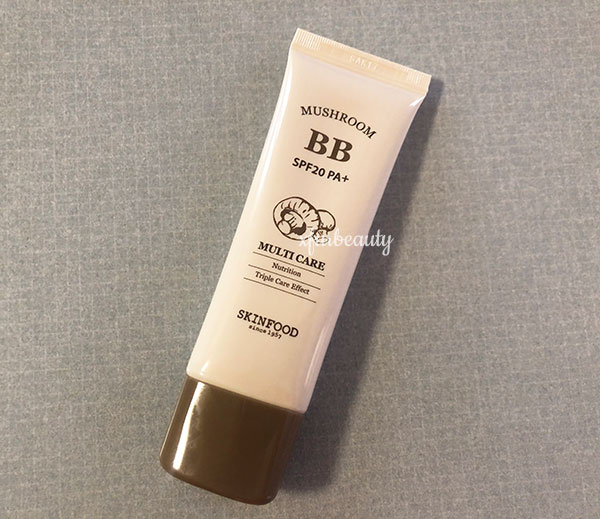 I'm still on the search for a bb cream. It's been tough. All of them break me out so far. Check out my review on the latest bb cream I tried 👉🏻 Skinfood Mushroom Multi Care BB Cream SPF 20 PA+
My Skin Care Routine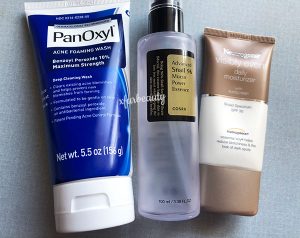 Here's my new skin care routine! Not much has changed besides dropping rosehip oil from my routine and changing my face wash. This is what I'm using now.
Face Wash: I switched over to PanOxyl Acne Foaming Wash (10%). PanOxyl Acne Creamy Wash (4%) didn't leave my skin feeling clean enough. It's more gentle on the skin compared to the 10%, but I needed a face wash that removes excess sebum from my skin thoroughly. The 10% seems to do a better job at that even though it's more drying. But I'm thinking about switching over to a face wash without any actives when I'm done with PanOxyl. Benzoyl peroxide in face washes hasn't done much for my acne. I don't think it has done anything at all besides cleansing my skin. Seems like my skin responds much better when benzoyl peroxide is left on the skin, not washed off.
Moisturizers: I picked up using Cosrx Advanced Snail 96 Mucin Power Essence once again. I really needed a moisturizer. And since I'm not using anything else besides a face wash and sunscreen, I thought I would give this essence another chance. My sunscreen is also a daily moisturizer (for mornings).
Sunscreen: I'm still using Neutrogena Visibly Even Daily Moisturizer SPF 30. I'm not changing it again, lol. This sunscreen doesn't break me out and provides some moisture to my skin. I love that it feels very lightweight on my skin while protecting my skin at the same time.
Taking a break…
I decided to take a break from tret. I started the first week of the third month using 0.05 only ONCE, and my moisture barrier was terribly damaged. I honestly think 0.05 is way too strong for my skin. I've used it with lots of moisturizers, lightweight moisturizers, and no moisturizer. I've used it every other day to 2-3 times a week to once a week. The outcome is the same, which is dry, red, irritated skin with a damaged moisture barrier, and it takes days to fix it. It doesn't look like my skin is progressing that much after 2 months. Dropping almost all skin care products from my routine is what saved my skin. It's pretty insane how much my skin has improved from just doing that. But, I'm getting really tired of the results I'm getting from tret. I understand with tret that things can get worse before it gets better, but this isn't it. I've used retinoids before with really good results within 2-3 months with noticeable progress for my acne. I don't think it's going to work right now until my skin is back to normal.
In my month 2 update, I mentioned focusing a lot more on my diet to clear up my skin. That's exactly what I'm doing. I've actually cleared my acne before with a very healthy diet, so that's what I'm trying to aim for again. If it worked before, it should work again. It just takes more dedication and commitment vs putting products on the face. Well, in my opinion, anyways. So, I'm not going to focus too much on skin care products. I love skin care products, but I want my skin to heal from within instead. As you can see, my skin care routine is very minimal. I'm still only using a face wash, a lightweight moisturizer (essence), and sunscreen. Being on a simple routine has helped a lot. It eliminated most of the acne that I developed. I still can't believe it. If you don't need a product in your routine, just don't use it, lol. Also, results from eating healthy doesn't happen overnight. It can take months to see a change. I'll make an update on my progress whenever I see changes in the health of my skin.
Stay tuned for my next update when I restart tret…
⭐ If you missed out on my earlier tret posts…
My experience with tret the first week…
After 1 Month on Tret + Skin Care Routine. Here are My Results.
2 Months on Tret. My results. 🙂
Categories:
Tags:

Acne, Acne Journey, Acne Marks, Acne Prone Skin, Acne Scars, Acne Treatment, Anti-Aging, Beauty, Benzoyl Peroxide, BP, Experience, Fine Lines, Healthy Eating, Results, Review, Rosehip, Rosehip oil, Skin Care, Tret, Tret Journey, Tretinoin, Wrinkles