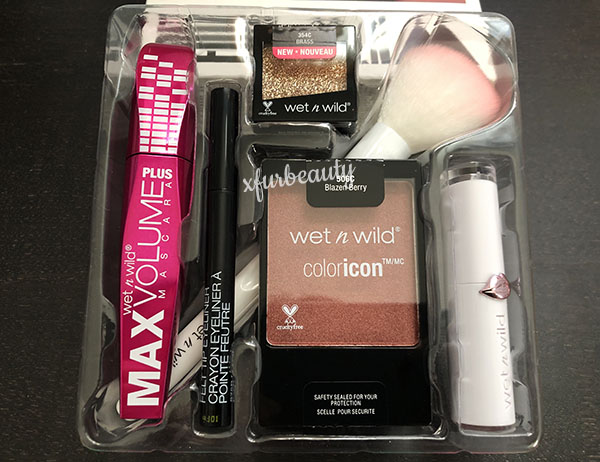 I went through some terrible times with some Wet n Wild products. Here they are again…
Wet n Wild Megaliner Liquid Eyeliner (Cosmic Black)
Wet n Wild Mega Volume Mascara
Wet n Wild Breakup Proof Waterproof Liquid Eyeliner
Wet n Wild Mega Length Mascara
Wet n Wild Megaliner Liquid Eyeliner
I don't recommend any of the products listed above. Don't forget to check out my reviews on them too! By the way, I had to toss out the Mega Length Mascara, Megaliner Liquid Eyeliner, and Breakup Proof Waterproof Liquid Eyeliner. They irritated my eyes so badly. =(
So here I have Wet n Wild Day to Night Kit. I purchased this at the same time as the other Wet n Wild makeup products. I didn't just go out and buy this now. That's not something I would do from my experience with their products so far. Since I already have this Day to Night Kit, I thought I'd use/try them anyway.
This kit comes with…
Color Icon Blush in Blazen Berry
Color Icon Glitter Single in Brass
Max Volume Mascara in Amp'd Black
Blush Brush
Mega Last High Shine Lip Color in Raining Rubies
Pro Line Felt Tip Eyeliner in Black
Stay tuned for my reviews on all of these products!
Once again, check out my reviews on other Wet n Wild beauty products! 🙂
Categories: Tags: