Dec. 2, 2020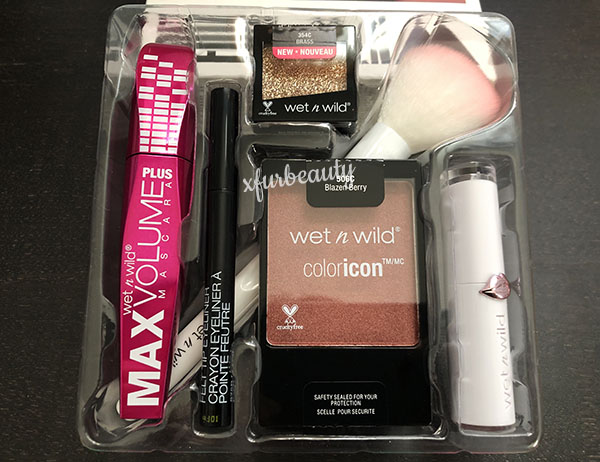 I went through some terrible times with some Wet n Wild products. Here they are again…
Wet n Wild Megaliner Liquid Eyeliner (Cosmic Black)
Wet n Wild Mega Volume Mascara
Wet n Wild Breakup Proof Waterproof Liquid Eyeliner
Wet n Wild Mega Length Mascara
Wet n Wild Megaliner Liquid Eyeliner
I don't recommend any of the products listed above. Don't forget to check out my reviews on them too! By the way, I had to toss out the Mega Length Mascara, Megaliner Liquid Eyeliner, and Breakup Proof Waterproof Liquid Eyeliner. They irriated my eyes so badly. =(
So here I have Wet n Wild Day to Night Kit. I purchased this at the same time as the other Wet n Wild makeup products. I didn't just go out and buy this now. That's not something I would do from my experience with their products so far. Since I already have this Day to Night Kit, I thought I'd use/try them anyway.
This kit comes with…
Color Icon Blush in Blazen Berry
Color Icon Glitter Single in Brass
Max Volume Mascara in Amp'd Black
Blush Brush
Mega Last High Shine Lip Color in Raining Rubies
Pro Line Felt Tip Eyeliner in Black
Stay tuned for my reviews on all of these products!
Once again, check out my reviews on other Wet n Wild beauty products! 🙂
Categories:
Tags:

Beauty, Beauty Products, Beauty Reviews, Cosmetics, Day to Night Kit, Life, Lifestyle, Review, Reviews, Thoughts, Wet n Wild, Wet n Wild Cosmetics, Wet n Wild Day to Night Kit, xfurbeauty, xfurbeauty blog
Dec. 1, 2020
Leave a comment
So I only have a little bit of product left of the Cosrx Ultimate Nourishing Rice Overnight Mask. Here's an updated review on it! 🙂
I started off using this overnight mask twice a day. That eventually led to using it once a day at night. After that, I used it only a few times a week at night. Then I stopped. In the beginning, it was great! I noticed that it brightened and softened my skin. Gave my skin a nice glow. Well, that glow didn't last forever, sadly. 🙁 This overnight mask did leave my skin feeling moisturized. But, it was more of a slippery, oily feel. I didn't enjoy applying this product to my skin for that reason. There's a lot of raves surrounding this product, but I don't think it's that great anymore. And this is after nearly 2 months of using it. As I said before, it was great at first, but results went downhill from there. It's amazing how a couple of more weeks/a whole 'nother month can really change your mind about a product! I don't feel that this product is right for me. I love rice-based skin care products, but this one didn't do it for me in the end. I've gone days without it, and I don't even miss it one bit. I won't repurchase another tube. Next!
Reviews on Cosrx beauty products:
Review: Cosrx Oil-Free Ultra-Moisturizing Lotion (with Birch Sap)
Review: Cosrx Galactomyces 95 Tone Balancing Essence
Review: Cosrx Hyaluronic Acid Hydra Power Essence
Review: Cosrx Ultimate Moisturizing Honey Overnight Mask
Review: Cosrx Ultimate Nourishing Rice Overnight Spa Mask
Categories:
Tags:

Cosrx, Cosrx Ultimate Nourishing Rice Overnight Spa Mask, Life, Lifestyle, Review, Rice Mask, Skin Care, Skin Care Review, Skin Care Reviews, Skincare, Thoughts, Ultimate Nourishing Rice Overnight Spa Mask, Update, xfurbeauty, xfurbeauty blog