Oct. 19, 2019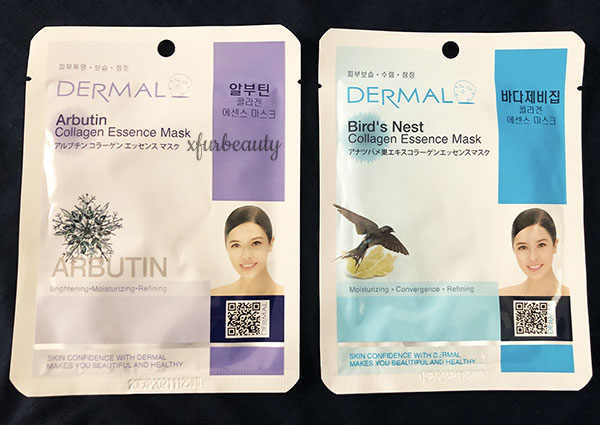 Dermal Arbutin Collagen Essence Mask (Brightening, Moisturizing, Refining)
Dermal Bird's Nest Collagen Essence Mask (Moisturizing, Covergence, Refining)
Dermal Arbutin Collagen Essence Mask:
I love this mask. It's great at brightening the skin up. It leaves the skin feeling hydrated too. I would definitely purchase Arbutin Collagen Essence Mask again individually. Loveeeee! 🙂
Recommend? YES!!
Dermal Bird's Nest Collagen Essence Mask:
Bird's Nest was good too. Surprisingly it had a similar effect to the Arbutin Collagen Essence Mask even though it doesn't say that it's a brightening sheet mask. I liked this one. I would buy it again.
Recommend? Yes.
Love, Jen
Categories:
Tags:

Acne Skin Care, Acne Skin Care Routine, Arbutin, Arbutin Mask, Asian Beauty, Asian Beauty Products, Asian Skin Care, Asian Skin Care Products, Beauty, Beauty Tips, Brightening, Collagen, Collagen Mask, Convergence, Dermal Arbutin Collagen Essence Mask, Dermal Sheet Mask, Does it Work, Essence, Essence Mask, Firming, Health, Healthy Lifestyle, Healthy Skin, Hydrating, Mild, Moisturizing, Refining, Review, Sheet Mask, Sheet Mask Review, Skin Brightening, Skin Care, Skin Care Review, Skin Care Routine, Skin Care Tips, Soothing, Wine, xfurbeauty
Oct. 18, 2019
Leave a comment
I've used Differin for 1 month now. Here are my results! Before I begin, check out my experience the first 2 weeks on Differin.
So after 1 month, I wish I could say that I had miraculous results, but that's not the case. I haven't noticed any changes in my skin. No irritation, dryness, or peeling. As I said before in my other posts, I apply Differin first before applying my other skin care products. I do wait at least 30 minutes before continuing with my skin care routine. I think Differin 0.1 is too weak for me. I had the exact same experience when I picked it up OTC years ago. Hmm, I'll stick with it and see what happens. I'll make an update after the next month (2 month update).
Love, Jen
Categories:
Tags:

1 Month, 1 Month Update, Acne Care, Acne Marks, Acne Scars, Adapalene, Anti Aging, Anti Wrinkle, Beauty, Beauty Tips, Breakouts, Clear Skin, Clogged Pores, Differin, Does it Work, Journey, Lifestyle, Oily Skin, Results, Retinoid, Retinol, Review, Skin Care, Skin Care Routine, Skin Care Tips, Thoughts, Tips, xfurbeauty, xfurbeauty blog