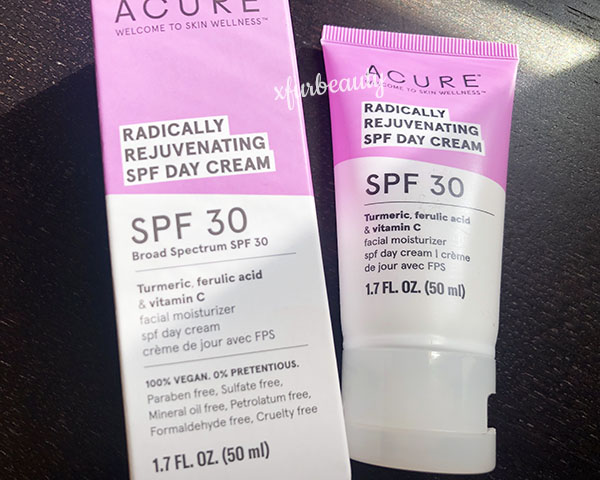 I've been using sunblock since I was little. Nowadays, it's difficult for me to find a sunblock (for the face) when I have oily, acne-prone skin. I have lots of BB Creams with SPF. I mean, they work. But, I know that I need a sunblock for the face (that goes underneath my BB Creams) for full protection. It's not good to rely on makeup products for sun protection. Since I've been trying out Acure skin care products (vegan & cruelty-free), I thought I would give the Acure Radically Rejuvenating SPF Day Cream a chance. I don't recall using this SPF before. It does have oils and all in it, but I'm willing to try it out and see if it works.
About Acure Radically Rejuvenating SPF Day Cream:
Contains turmeric, ferulic acid, and vitamin c
Zinc sun protection
100% vegan
Sulfate free
Mineral oil free
Petrolatum free
Formaldehyde free
Cruelty-free
My thoughts on Acure Radically Rejuvenating SPF Day Cream:
I used it yesterday and this morning. It feels lightweight on the skin. It absorbed into my skin a lot better than other zinc-based sunblocks I've tried. I've tried many. It's not too moisturizing, but it's good enough. I can definitely say that it's not drying. It worked very well with my other skin care products and didn't peel off of my skin. I wish the tube was much bigger, especially for the price. I guess it's worth it if it works for my skin type. I really hope I don't get breakouts from it. So far, I like the texture, spf, and generally how it feels on my skin.
Have you used Acure Radically Rejuvenating SPF Day Cream before? Did it work for you? Share your experience! ?
Read more about Acure Skin Care Products:
Acure Brightening Cleansing Gel + Review
Acure Brightening Day Cream + Review
Acure Brightening Glowing Serum + Review
Categories: Tags: