Oct. 23, 2020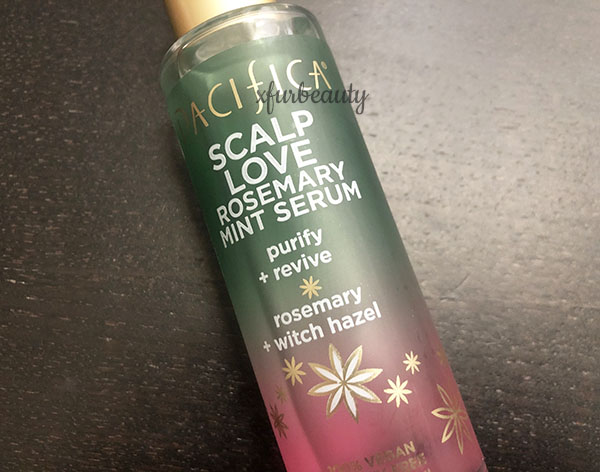 I picked this hair serum up because I thought I would show my scalp some love. ♥ All I really do to my hair is shampoo, condition, and deep condition. That's about it. What about this serum?
About Pacifica Scalp Love Rosemary Mint Serum:
Help detox and loosen buildup
Soothes and hydrates scalp
Contains herbal extracts (sage, thyme, witch hazel)
For all hair types
100% vegan and cruelty-free
Paraben free
Phthalate free
SLS free
Mineral oil free
Review:
This scalp hair serum comes in a 2 fl oz dropper bottle. A single bottle is $11. There's fragrance, but it's subtle (in my opinion). I honestly don't like the smell of this product. It smells like a bunch of herbal extracts + added perfume (what it is). They should've left out the perfume. I rather have it free of fragrance. The product is a liquid, runny serum. Application is very easy. Just dispense a few drops into palm or scalp and gently rub it in. The instructions does state that you can shampoo after use, but I don't see the point in that? Serums are effective when they are left in/on. So the product instantly vanishes into the scalp/hair. There's no product buildup or anything like that. I used this for 3+ weeks, and I haven't noticed any changes in my scalp. It felt as if I was adding droplets of water mixed with witch hazel to my scalp. Seriously, it didn't do anything at all. With all the rave reviews surrounding this scalp hair serum, I thought I would see major changes in my scalp/hair but nada. This is simply glorified water. The packaging looks pretty and all, but I'm all about effectiveness. And this isn't it. So I'm not going to purchase it again.
More on Pacifica beauty products:
Pacifica Skin Care for Dry Skin + First Impression
Review: Pacifica Rose Flower Hydro Mist & Cosmic Shield Hydration Lock Face Cream
Categories:
Tags:

All Hair Types, Buildup, Cruelty Free, Detox, Hair Care, Hair Care Products, Herbal Extracts, Hydrating, Life, Lifestyle, Mineral Oil Free, Pacifica, Pacifica Hair Care, Paraben Free, Phthalate Free, Purify, Review, Revive, Rosemary, Sage, Scalp Treatment, Skin Care Review, SLS Free, Soothing, Thoughts, Thyme, Vegan, Witch Hazel, xfurbeauty blog, xfurbeauy
Oct. 22, 2020
Leave a comment
Here's my update on Organic Hemp Seed Oil. So I stopped using it a while ago. Yeah, I know. 😟 I really wanted hemp oil to work, but it didn't. Turns out that hemp oil is too thick and oily for my skin type. The oil felt heavy and sat on my skin every time I used it. It just didn't absorb into my skin. At times, it made my skin feel itchy too. Once I stopped using it as a facial moisturizer, I started to incorporate it into my body skin care routine as a body oil. Yes, it felt pretty heavy and thick on my body too. I'm really just trying to use all the oil up. Don't want to waste it. I also used it as a cleansing oil/makeup remover for a while (before I started using an actual cleansing oil). It was OK. I didn't find anything spectacular about it. As for the smell of the product, I thought it was pretty nauseating. I didn't like it all that much. This is going to be my only and last bottle of hemp oil unless something about it changes my mind. I'm more of a rosehip type of person. I'll do a review on it when I hit 8 weeks. Stay tuned for my review on rosehip oil!
Would I recommend hemp oil? It really depends on your skin. For me, it didn't work out that's all. It may work for you? Try it to see if you like it. 🙂
Organic Hemp Seed Oil for Acne Skin
Categories:
Tags:

Acne Scars, Acne Skin, Acne Skin Care, Acne Skin Care Routine, Cruelty Free, Does it Work, Hemp, Hemp Oil Update, Hemp Seed Oil, Life, Lifestyle, Oily Skin, Organic, Organic Hemp Seed Oil, Red Marks, Review, Thoughts, Tips, Update, Vegan, xfurbeauty, xfurbeauty blog