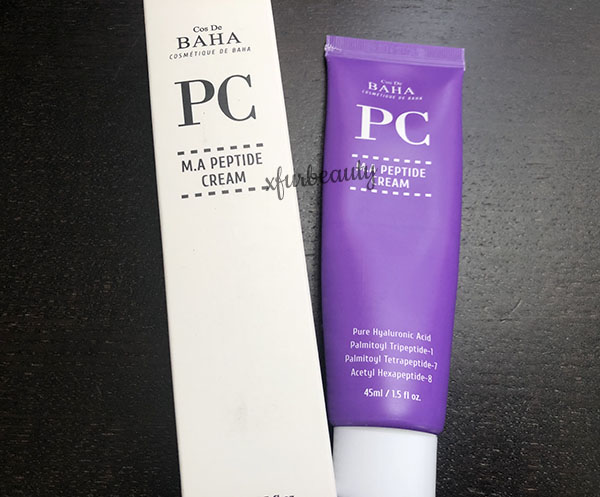 I've been using Cos De BAHA MA Peptide Cream for a little over 1 week. Here are my thoughts on it. 🙂
This cream comes in a tube with 45ml (1.5 fl oz) of product. The tube looks much bigger than how much product you actually get. When I recieved the product, the cream was filled about half of the tube. I thought it was pretty sketchy. Is this real? Is this a fluke? What the heck?!!
Besides that…let's get into what this cream is all about…what the packaging says…
Contains peptides, hyaluronic acid, niacinamide, adenosine, and natural herb extracts
Review:
This cream is pretty dense and creamy. I thought it would be too heavy for skin type. I decided to give it a go anyways because I needed something moisturizing. It doesn't hurt to try it out to see if it works or not. This cream absorbed into my skin very well. There was no peeling. I can just apply my other skin care products afterwards without a problem. I didn't have any issues with this cream. My skin tolerated it pretty well. No breakouts. No irritation. As for moisturizing the skin, it felt hydrating for the first couple of days. I then noticed that it wasn't moisturizing enough as the days went on. I mean, it's not a bad moisturizer. I'll continue to use it because it does provide some hydration. Also, I add a few drops of rosehip oil to this cream for more hydration. ? Plus, I'm absolutely in love with the ingredients in this cream. It contains niacinamide, peptides, shea butter, argan oil, caffeine, hyaluconic acid, squalane. I noticed that my skin looked brighter every morning when using it too. I think it's an awesome addition to my skin care routine, so I'll continue to use it. But, I'm still curious..why they would fill it only halfway..why would they package the product in a larger tube than it really needs (wasteful packaging). Hmmm.
I've used almost all (almost, lol) of the Cos De BAHA skin care products I can get my hands on. I'll do an updated review on them soon. I think my reviews are a little outdated. ha!
Old reviews on Cos De BAHA skin care products:
Cos De BAHA Salicylic Acid & Galactomyces Serum
Cos De BAHA Snail Mucin HA Serum + Arbutin, & Eva Naturals Youth Restoring Eye Gel
Review: Cos De BAHA Snail Mucin HA Serum
Review: Cos De BAHA Arbutin Niacinamide Serum + Skin Care Update
Cos De BAHA MA Peptide Facial Toner + First Impression Review
Categories: Tags: