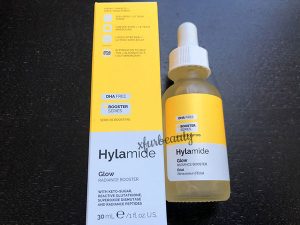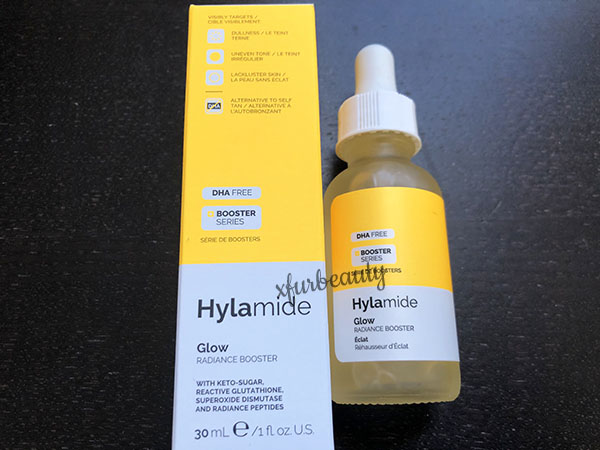 I've used many The Ordinary skin care products (check out my reviews below). Hyalmide is another brand from the same company (Deciem) that owns The Ordinary. I thought I would give it a shot. Try something new. So here I have Hylamide Glow Radiance Booster. And here are my thoughts on it!
About Hylamide Glow Radiance Booster:
With keto-sugar, reactive gluthathione, melanin peptides, and radiance peptides
Fast-acting booster creates a radiant backdrop to the skin
Raspberry Keto-Sugar reacts with skin amino acids to produce a golden tone within 2-3 days without sensory drawbacks and potential negative effects associated with DHA (the technology commonly used in self-tan and short term radiance-boosting skincare)
Oxidized Reactive Gluthathione Complex is a superior form of amino acid L-Gluthathione to even the appearance of skin pigmentation
Radiance Peptides Complex achieves radiance by creating visible skin-tone confusion
Skin-Binding Glycoprotein is an advanced binding agent optimizes skin exposure to active technologies for a boosted effect
Visibly targets dullnesss, uneven skin tone, and skin that lacks luster
DHA free
pH 2.75-3.75
Water-free
Alcohol-free
Silicone-free
Cruelty-free
Nut-free
Vegan
Oil-free
Gluten-free
Review:
Alright! Here's the breakdown on the Hylamide Glow Radiance Booster! This serum is supposed to give the skin a natural-looking golden glow. It contains raspberry keto-sugar that reacts with skin amino acids to produce a golden tone within 2-3 days. It also contains reactive gluthathione, melanin peptides, and radiance peptides. So what this serum does is visibly targets skin dullness and uneven skin tone by adding color to the skin + evening out pigmentation (L-Gluthatione).
Now let's move on to my experience! 🙂
Originally, when I purchased this serum, I thought it was just a serum that evens out the skin tone by fading discolorations. I purchased it on a whim. I didn't read much about it. It was on sale. So why not venture out? ha. When I first opened the serum bottle, it had a funky smell to it. The smell was so bad that I almost vomited. The smell lingered on my skin too. ? I hated it so much! So, I wasn't able to use this serum for too long. I noticed breakouts from it after a few days of use. The serum contains moss (sphagnum magellanicum extract). For me, that is an acne offender. *Should've read the ingredients, oops, too late* I can' t use skin care products with seaweed, algae, and moss. I get breakouts from it. Obviously, after this experince, I'm not going to purchase it again. It didn't work for me. Honestly, this isn't the type of product for me anyways. I was really searching for a serum that fades acne scars and evens out my complexion (by fading acne scars, not by adding golden tones into my skin). I'm going to stick to The Ordinary skin care products instead. They're more affordable long term. This serum was double the price of one serum from The Ordinary on average. I personally didn't like this serum. I don't care for it. I'm having a hard time finishing the rest on my body, of course. It's a no-go for me.
Reviews on The Ordinary Skin Care Products:
The Ordinary Niacinamide 10% Zinc 1% Serum, Day 1
The Ordinary Azelaic Acid Suspension 10%, Day 1
The Ordinary Azelaic Acid Suspension 10%, Day 2
The Ordinary Azelaic Acid Suspension 10%, Day 3
The Ordinary AHA 30% BHA 2% Peeling Solution, First Night
The Ordinary Skin Products Did Not Work for Me + Reviews
The Ordinary Niacinamide Zinc Serum
Update on The Ordinary AHA 3% BHA 2% Peeling Solution
Review: The Ordinary Caffeine Solution 5% + EGCG
Review: The Ordinary 100% Plant-Derived Squalane
Review: The Ordinary Matrixyl 10% + HA
Review: The Ordinary Lactic Acid 10% + HA
Review: The Ordinary Ascorbic Acid 8% + Alpha Arbutin 2%
Categories: Tags: