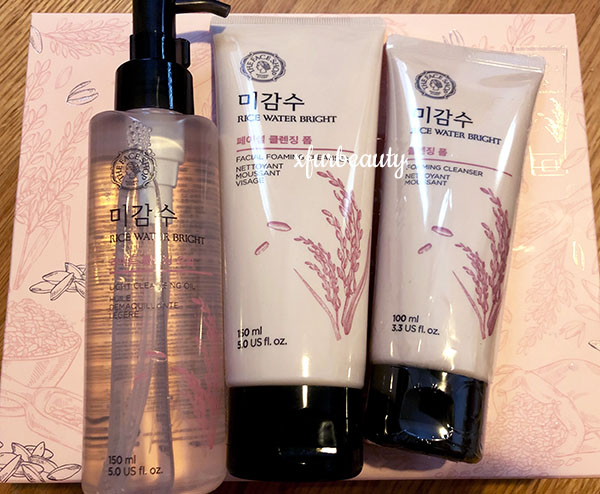 I've been wanting to try The Face Shop Rice Water Bright Set for the longest time! Well, it's time! The kit comes with…
Light cleansing oil (150ml)
Facial Foaming Cleanser (150ml)
Facial Foaming Cleanser (100ml) — Perfect for travel!
Light cleansing oil:
For oily, combination skin
Brightening, deep cleansing
Light liquid texture
Effectively cleanses away impurities and heavy makeup
Plant-based ingredients like Rice Bran and Jojoba Oil
Facial foaming cleanser:
Brightening, deep cleansing
Effectively cleanses away makeup
Whipped cream texture
Formulated with Rice Extract and Soapwort Extract
Leaves skin looking clear and bright
Here are my thoughts on the cleansing oil and facial foaming cleanser after using it for less than a week. I used it in the morning and at night.
The light cleansing oil is amazing. It truly does remove makeup. Even tough eyeliner and mascara! Before this, I was using EVOO or EVCO to remove my makeup. And, it was difficult to remove my eye makeup. EVOO and EVCO are heavy oils too. So, what's up with that? With the light cleansing oil, it's lightweight and glides effortless over the skin to remove makeup. I've tried rinsing the oil off with just water and with the facial foaming face wash. It works both ways. Yep, even with plain water. It rinses clean! Love it! I'm really in love with this cleansing oil. Quick tip: Use it on a dry face.
The facial foaming face wash irritated my skin at first. I am on a prescription cream that is making my skin very sensitive. But, the burning sensation diminished as I continued to use the face wash. It reminds me of the Neutrogena Visibly Even Foaming Cleanser. Does anyone remember that face wash? BTW, it has been discontinued many moons ago. Oh well. ??‍♀️ I like this foaming cleanser. It comes out creamy, foams up, and cleans the skin without leaving it dry.
My experience so far with the Rice Water Bright Set has been good. I'm going to continue to use it to remove my makeup, but also in the morning for that extra clean skin. I will still be using my Trader Joe's Tea Tree Face Wash. Yes, I am cleaning my skin with 3 products. Keep in mind that I have extremely oily skin, especially during the summer months! None of these skin care products dry my skin out either.
Categories: Tags: