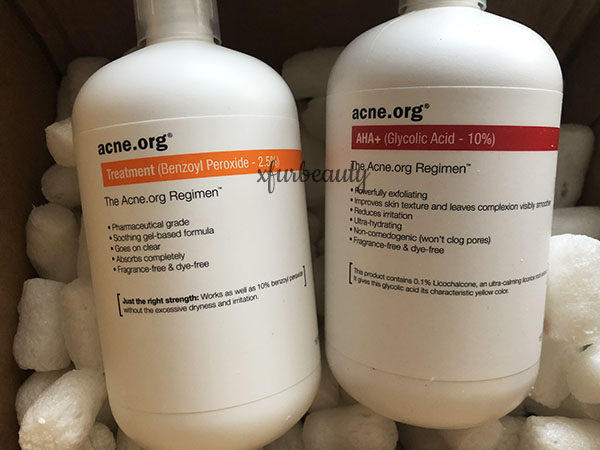 I've had the AHA+ lotion for a little over 2 months. I've tried to incorporate it in different ways. At first, I thought I was going to use it every single day and end up with smooth, glowing skin. From the reviews that I've read, it seemed that way. ? Well, that didn't work out the way I wanted it to. You see, my skin couldn't handle how the lotion left my skin overly moisturized. My skin felt and looked greasy. I ended up with clogged pores that wasn't noticeable to the naked eye. To me, they were obvious. I stopped using it every day because of this. Next, I tried only using it at night over BP. I thought it was working fine, but I noticed that the effectiveness of the BP decreased. When using BP, my skin likes it when I use it alone (without any other skin care products on top). Keeping my skin 'dry' was what my skin likes and for full effectiveness. It's able to dry out existing pimples and clear the pores out this way.
I decided to use the AHA+ lotion once a night only during the week. I thought I was done with any breakouts at this point. I was wrong. I kept noticing clogged pores every time I used the AHA+ lotion. So something was up. I stopped using the AHA+ lotion on my face. All of a sudden, my skin went from annoying clogged pores to clearer, smooth skin! I loved it! Yep, I permanently stopped using the AHA+ lotion at this point. My skin felt so much better without it. If you have acne-prone skin that's oily, be very careful. The AHA+ lotion may work for others, it may not work for you. It didn't work on my facial skin. It made my skin feel and look smooth. <<<< THAT'S WHAT I LIKED ABOUT IT!! Knowing the consequences, it's not worth it to me. I only use the AHA+ lotion on my body at night. I'm not sure if I'll purchase it again when I'm done with it.
That's my experience. I hope this was helpful. 🙂
Have you used the AHA+ lotion before? Share your experience with everyone. 🙂
Check out other posts on my skin care routine:
My Skin Care Routine for Acne Skin
My BP & AHA Skin Care Products are here!
BP Journey: 1 Month + 1 Week Results
Clear Skin Journey: 1 Month + 3 Weeks Results
Clear Skin Journey: 2 Months Results!!
Clear Skin Journey: 2 Months + 1 Week Results
Update: Skin Care Routine for Acne Skin
Clear Skin Journey: 2 Months + 2 Weeks Results
Clear Skin Journey: 2 Months + 3 Weeks Results
Clear Skin Journey: 3 Months Results