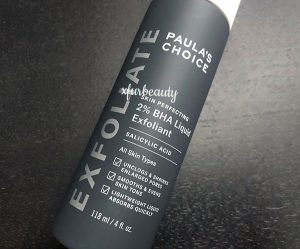 I know I've talked about Paula's Choice Skin Perfecting 2% BHA Liquid Exfoliant so many times. I've used it on and off, since I have full bottles of it, and I don't know what to do with them anymore. haha. So I decided to pick up on using it again after quitting it just recently. These blackheads on my nose are getting annoying. I must do something about it! It seems like nothing works long term. I'm also using The Ordinary Mandelic Acid 10% + HA, but it stopped working on my blackheads. I like it, but it's just not working anymore. I'll talk more about The Ordinary Mandelic Acid 10% + HA another time. Now let's focus on Paula's Choice Skin Perfecting 2% BHA Liquid Exfoliant! Read on! 🙂
I've tried using Paula's Choice Skin Perfecting 2% BHA Liquid Exfoliant two ways. I used it with a cotton pad and dispensing some product into my palm and gentle patting it into my skin. Both of these methods are good. I didn't have any breakouts or irritation from any of these methods. But it seems like the latter isn't up to par. I'm not getting results from it like I did before. It's like my skin gets better then I see no improvements as weeks go on. I feel like I'm wasting my time when something doesn't work as intended. SO! I decided to switch over and use it with a cotton pad. This is my experience using it with a cotton pad instead…
What I did was dispense a little bit of product onto a cotton pad and swipe my face with the cotton pad. You know, I used to use Paula's Choice Skin Perfecting 2% BHA Liquid Exfoliant with a cotton pad back then when this 2% BHA Liquid was my facial toner. I'm not sure if it did anything for my skin, but my skin was in really good shape. Hopefully, I can get the same results again. Maybe it was doing something for my skin that I didn't know of. But after swiping my face, I noticed debris on the cotton pad. Uh oh, looks like I have leftover dirt and debris on my skin! Possibly more excess sebum that I can never get rid of even after using 10000x exfoliants and oil-controlling products, lol. But, my skin definitely looked and felt much cleaner afterwards. It left my skin prepped for the next skin care products in my routine. My skin felt happy! 😀
I followed this method for a few days in the morning and at night. Knowing how oily my skin is, I know it can take drying skin care products like this. My skin hasn't dried out from using Paula's Choice Skin Perfecting 2% BHA Liquid Exfoliant (yet) and other chemical exfoliants I'm using by much. All is going well. And it seems like the cotton pad method is the way to go to remove excess dirt, sebum, and debris from the skin if you have oily, acne-prone skin like mine. As for acne, I really can't tell if the 2% BHA Liquid is doing anything yet. I'll just have to wait and see. It's only been under a week to see any improvements. But I like the way my skin looks and feels after using the 2% BHA Liquid with a cotton pad — oh so smooth and clean! I'm crossing my fingers that it'll help decrease blackheads and acne in general over time. We'll see! A new update coming up soon! Stay tuned!
For more posts on Paula's Choice Skin Perfecting 2% BHA Liquid Exfoliant:
Review: Paula's Choice 2% BHA Liquid
My Experience with Paula's Choice 2% BHA Liquid
Categories:
Tags:

2% BHA Liquid, Acne, Acne Prone Skin, Acne Skin, Anti Aging, Anti Wrinkle, Beauty, BHA, BHA Liquid, Blackheads, Blemishes, Experience, Lifestyle, Paula's Choice, Paula's Choice 2% BHA Liquid, Review, Salicylic Acid, Skin Care, Skin Care Products, Skincare, Thoughts, Wrinkles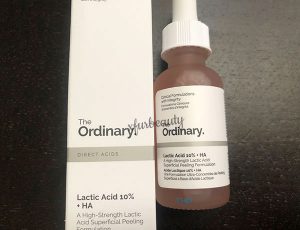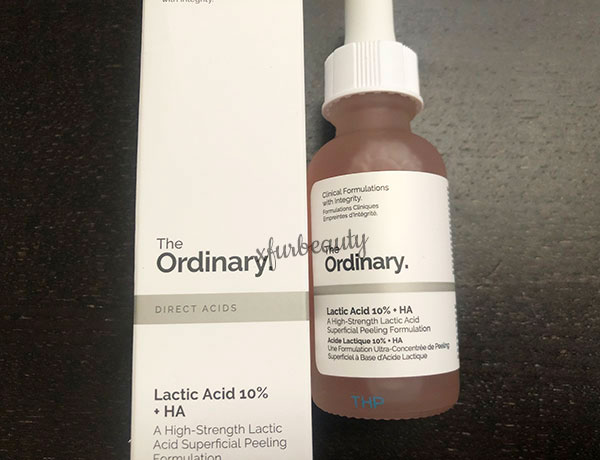 I talked about starting The Ordinary Lactic Acid 10% + HA not too long ago to combat acne and to maintain a blemish-free complexion. It's been ONE week using The Ordinary Lactic Acid 10% + HA! Here are my results after a week of use! 🙂
After the first night of using The Ordinary Lactic Acid 10% + HA, I woke up the next morning with breakouts that are more calm and appeared to be much smaller. My skin looked less oily too. Everything went pretty well. I didn't have any new breakouts or random clogged pores. My skin looked good. At first, I thought I would only use this serum a few times a week, but I ended up using it daily (only at night). I think I could use it in the morning too if I wanted to. It didn't dry out my skin like most chemical exfoliants do. My skin did peel a little bit around my mouth and chin area, but it wasn't too bad. After a few more days of using the serum, I noticed some blemishes. It looked like my skin was purging. I had some clogged pores prior to using The Ordinary Lactic Acid 10% + HA, so I wasn't too surprised. The pimples that popped up were in my breakout-prone areas. They all healed after a week of using this serum. So it looks like it's doing something for my acne. I've been struggling to find a chemical exfoliant that's gentle and works at fighting against breakouts. This may be it! Also, I'm really liking my skin texture and how my overall complexion looks. It just looks really good after adding this lactic acid serum to my routine. It's wonderful how this lactic acid serum has helped with clogged pores and blemishes too. The smoothness of my skin says it all! This product has been amazing at gently exfoliating my skin, keeping my skin soft and supple, and helps to reduce the oilies in my skin. It's really great at reducing excess sebum! So far, I like it. It seems to be working, and it's very affordable! I tried The Ordinary Lactic Acid 10% + HA many months before, but it didn't work. Well, it seems to be working now. 🙌🏻
My use of The Ordinary skin care products are stacking up! Go read more about my recent experiences with them here!
The Ordinary Argireline Solution 10%
The Ordinary Matrixyl 10% + HA
The Ordinary Ascorbic Acid 8% Alpha Arbutin 2%
The Ordinary Resveratrol 3% Ferulic Acid 3%
The Ordinary Lactic Acid 10% + HA (first experience 🙂)
Categories:
Tags:

1 Week, 1 Week Results, 1 Week Update, Acne, Acne Prone Skin, Acne Skin, Anti-Aging, Beauty, Blemishes, Clear Skin, Exfoliant, Experience, Facial Peel, Facial Serum, Fine Lines, Hyaluronic Acid, Lactic Acid, Lifestyle, Peel, Results, Review, Skin Care, Skincare, The Ordinary, The Ordinary Lactic Acid 10% + HA, Update, Wrinkles