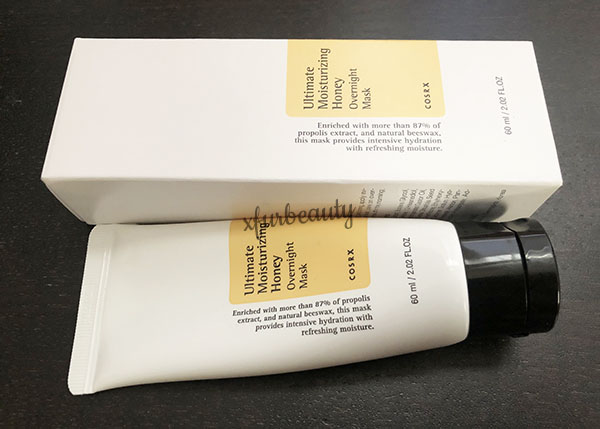 Cosrx has the Ultimate Nourishing Rice Overnight Spa Mask and the Ultimate Moisturizing Honey Overnight Mask. Here's my review on the honey mask. Remember to check out my review on the rice mask! 🙂
About Cosrx Ultimate Moisturizing Honey Overnight Mask:
Enriched with more than 87% of propolis extract and natural beeswax
Provides intensive hydration with refreshing moisture
Review:
The Ultimate Moisturizing Honey Overnight Mask is not vegan. I thought I would try it out anyways. This mask comes out as a gel. It's easy to use and glides on the skin nicely. It absorbs into the skin pretty well leaving the skin feeling moisturized in an instant (at that very moment). The hydrating effects didn't last long. I don't think this overnight face mask was that moisturizing. The instructions says to 'leave on overnight and rinse off in the morning', but I used it in the morning and night too. Obviously, I rinsed it off when I'm washing my face, haha. Between the honey and rice mask, I find the rice mask more hydrating. With the honey mask, I didn't see changes in my skin while using it. I have other skin care products that hydrate my skin much better. The rice mask is one of them. The rice mask also brightens up the skin a bit too. So, I'm not impressed by the honey mask. I'm not going to purchase it again after this experience. I'm not saying this because it's not vegan. lol. I like the rice mask more.
Reviews on Cosrx beauty products:
Review: Cosrx Oil-Free Ultra-Moisturizing Lotion (with Birch Sap)
Review: Cosrx Ultimate Nourishing Rice Overnight Spa Mask
Review: Cosrx Galactomyces 95 Tone Balancing Essence
Cosrx Hyaluronic Acid Hydra Power Essence