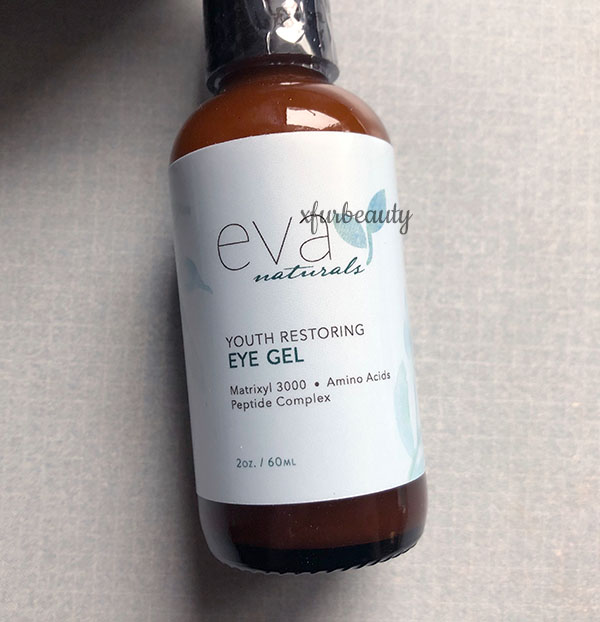 My last review was nearly a year ago. Here's an update on Eva Naturals Youth Restoring Eye Gel!
So I've been experimenting with other eye serums/gels/creams. All I can say is that I'm over this eye gel. It did help with dark under eyes, but that was it. I want something that helps with fine lines and wrinkles too. I feel that this eye gel is just an extra step in my eye care routine. I really don't have time to let it dry on my skin. That takes time on top of my other skin care products. If you're interested in minimizing fine lines and wrinkles + dark under eyes, I wouldn't get this. The size of the product and price is amazing, but it's not worth it if it doesn't address all issues. Also, I want to add that I don't like the packaging of this product. It's in a bottle with a pump. I rather have it in a tube. That would make it much easier to dispense the product out. I became really annoyed with the bottle because the product would get stuck at the bottom and sides. I don't want to waste time reaching for product. It's a waste of product too if you're unable to use it. And I don't mean a little bit of product. I'm talking about chunks that would sit at the bottom and sides of the bottle. Would I recommend this eye gel? No. There are better eye care products out there with better, easy-to-use packaging.
In my last review, I did mention about Vitamin C, Hyaluronic Acid, and MA Peptide. Check out my latest thoughts on them. They're all from the brand Cos De BAHA.
As for the Acne.org AHA+ lotion (since I mentioned it too), I haven't been using it. I still have a whole bottle of it sitting around. I don't have the urge to make it a staple in my skin care routine. It's just there. I'll finish it up (most likely use it on my body), but it's not something I'm interested in right now or in the future. ??‍♀️ It's really not for me.
Read more about Eva Naturals Youth Restoring Eye Gel:
Review: Eva Naturals Youth Restoring Eye Gel
Categories: Tags:
I have a few new skin care products that I'm adding into my skin care routine. They are…
Cos De BAHA Snail Mucin HA Serum
Cos De BAHA Arbutin Niacinamide Serum
Cos De BAHA Snail Mucin HA Serum contains snail secretion filtrate 83%, hyaluronic acid, niacinamide, d-panthenol, and natural herb extracts as active ingredients. Yes, I said SNAIL SECRETION FILTRATE. I am going to be slathering snail slime all over my face. Snail slime is known to have many skin benefits, such as anti-aging, moisturizing, fighting free radicals, and soothes the skin. I'm very excited for this experience. ? I hope it doesn't break me out that's all, haha.
I have another serum from Cos De BAHA — the Arbutin Niacinamide. This serum contains beta arbutin, niacinamide, and hyaluronic acid as active ingredients. Arbutin is a skin brightening/whitening ingredient. So goodbye acne scars!! We will see if it works or not. My skin is moving in the right direction with my other skin care serums. ?
Last but not least, I didn't mention it earlier, but I purchased a new bottle of Eva Naturals Youth Restoring Eye Gel (as shown in the photo). I love the way it brightens up my eye area. Yep, I have terrible dark under eye circles. This stuff works wonders for me compared to other eye gels/creams that I have tried before. I decided to stick with it for now.
I will do reviews on the Snail Mucin and Arbutin serums soon. ??
More posts on my skin care routine:
My Skin Care Routine for Acne Skin
My BP & AHA Skin Care Products are here!
BP Journey: 1 Month + 1 Week Results
Clear Skin Journey: 1 Month + 3 Weeks Results