I finally finished the whole bottle of InstaSkincare Retinol Serum! I've had this for quite some time. I used it on my face then I eventually continued to use it on my body. It didn't work out for me on my facial skin. I didn't see results. It didn't do anything for my skin. ??‍♀️ This product is affordable for the amount. That's a plus, but I prefer a retinol product that actually gives me results over time. That is why I used the rest of the serum on my body. In my opinion, this isn't something I would purchase again. I wouldn't recommend it either. I've moved on to better retinol skin care products since…
Check out my other reviews on InstaSkincare Retinol Serum if you missed out!
Anti-Aging Skin Care Products Review
Categories: Tags:
I'm bringing this retinol serum back into my skincare routine. I talked about it before…
>>> Anti-Aging Skin Care Products Review
The reason why I'm bringing it back is because the Cos De BAHA Retinol Serum has been *shrugs*. I thought I would give this one another chance. It didn't break my skin out as I can recall. After using the Cos De BAHA Retinol Serum + other serums. The InstaSkinCare Retinol Serum is actually less sticky than the Cos De BAHA Serums! It also comes in a larger bottle too (2 oz vs 1 oz).
Here are the product claims:
Gives the skin a healthy glow
Improves skin texture and reduces dark spots by speeding up skin cell turnover
Fights wrinkles and fine lines
Reduces pigmentation
Potent strength acne formula
Reduces blackheads and whiteheads
Minimizes pores
Those are basic claims of any retinol skin care product. I've only used the InstaSkincare Retinol Serum twice. Since retinol should only be used at night, I'm going to alternate between BP and my nighttime skin care products to take advantage of the benefits of retinol. In the meantime, check out my last update on my 'clear skin journey'.
Clear Skin Journey: 6 Months + 2 Weeks!
More updates to come on my skin care routine + my new skin care products! ☺☺
Categories: Tags:
I have three new serums.
Eva Naturals Youth Restoring Eye Gel
Evalight Brightening Serum 10% Niacinamide
InstaSkincare Retinol Serum with Hyaluronic Acid
I've used them a little over 1 week. Here's my first impression of each serum.
Eva Naturals Youth Restoring Eye Gel: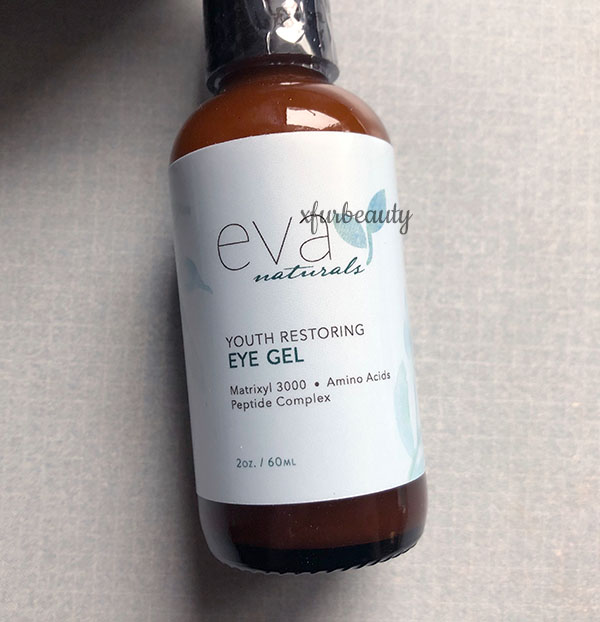 What I Think:
When I bought this eye gel (not a serum), I had the intentions of *hoping* eliminating dark under eye circles and wrinkles. Surprisingly, I saw results within a couple of days. I used it in the morning and at night. I noticed that the texture of my skin around my eyes felt softer and smoother. It DID help to diminish the darkness of my under eye circles too. *amazing!!* Keep in mind that it didn't completely erase my dark under eye circles, but I can definitely see a change after using this eye gel. 🙂 Other eye care products I have used and were more expensive didn't give the same effect. This bottle is 2 oz. It was only 15ish bucks! Wow! I'm truly amazed! I really like it a lot so far and will continue to use it. I'll report back for an updated review on it.
Ingredients:
Evalight Brightening Serum 10% Niacinamide:
What I Think:
I bought this to help with spots left by acne. It contains Aloe, Niacinamide, Mulberry, Hydrolyzed Oat Protein, Ethyl Ascorbic Acid, Alpha Arbutin, Hyaluronic Acid, Vitamin C, Vitamin E, Lemon Essential Oil. The ingredients sound promising, but I have yet seen any changes in my skin. What a bummer. Perhaps I have to use it much longer. We will see. The size of the product is rather small. Only 1 fl oz. It wasn't cheap either. This could be a one time thing. I don't know. Hmmm.
Ingredients:
InstaSkincare Retinol Serum with Hyaluronic Acid:
What I Think:
I wanted a retinol skin care product in my skin care routine. I saw this. Picked it. The box of the product was sealed. For some reason, the bottle of the product wasn't filled all the way to the top. I'm not expecting it to be fully full, but at least near it (like other serums). *shurgs* The serum is on the heavier side compared to other serums. It is sticky and tacky. It did leave my skin feeling moisturized but no visible results so far. I'm meh about this serum. I'm not liking the sticky texture of it. I prefer skin care products that sink into the skin easily, so I stopped using this retinol. I moved on.
Ingredients:
What are your favorite anti-aging skin care products?
Love, Jen