Oct. 17, 2020
It's been a month of using Wet n Wild Breakup Proof Waterproof Liquid Eyeliner. It's time for a review!
About Wet n Wild Breakup Proof Waterproof Liquid Eyeliner:
Waterproof formula
Smudge-proof
Humidity-proof
Flake-proof
Cry-proof
Ultra-fine brush-tip for thin, bold, dramatic strokes
Lasts up to 16 hours
Glides on seamlessly and smoothly
Delivers intense, highly concentrated pigmentation in one easy swipe
Perfect flow of pigment with every application offering precision accuracy
Ease of application and extended wear
Long-lasting
Break-up proof
Vegan
Cruelty-free
Review:
I was really excited about this liquid eyeliner! After 1 month of using it on and off, I was disappointed. I used it on and off because I was disappointed each and every time I used it. I didn't like the way it looked on me and the overall quality of this product was poor. Here are the reasons why I disliked this liquid eyeliner so much. It is not waterproof, smudge-proof, humidity-proof, flake-proof, and cry-proof like the product claims. This eyeliner smears like no other, and it doesn't stay put. I could easily remove it after application with my finger. Sometimes when I yawn and tears come out of my eyes…this eyeliner washes away so quick! 😢 Don't get me started with it flaking. It flakes and gets gooey at the same time. Along with that, the flow of the product distributes unevenly. I tried using the eyeliner in one stroke and in segments. For both methods, the results were the same..an uneven line of color. Also, it isn't long-lasting as they claim. As I mentioned earlier, it smears. It fades too, so the intensity of the color isn't long-lasting. Everything they claim about this liquid eyeliner is a blatant lie.
I wanted to share this…
This is what the liquid eyeliner looks like after a month of using it. The 'ultra-fine tip' started splitting in the first week. It continued to split with each use. 🙁 As you can see, the quality of the product is very poorly made. They need to redo the whole product. It just isn't cutting it. It's just so bad that I regret purchasing it. Here's a heads up. Don't buy this eyeliner. It sucks!
Categories:
Tags:

Breakup Proof, Cosmetics, Cruelty Free, Cry Proof, Flake Proof, Humidity Proof, Liquid Eyeliner, Liquid EYeliner Review, Long-Lasting, Makeup Review, Review, Smudeproof, Thoughts, Vegan, Waterproof, Wet n Wild, Wet n Wild Cosmetics, xfurbeauty, xfurbeauty blog
Sep. 14, 2020
Leave a comment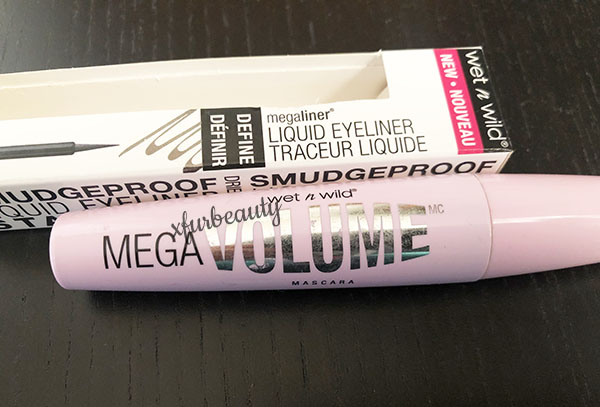 Another makeup review. 🙂 It's also from Wet n Wild. This is the Mega Volume Mascara in Very Black. More about it below:
High-volume
High-impact
Accentuates and draws attention to your eyes
Maximizes volumizing effect
Fortified with Vitamin E to keep lashes protected and luminous
Spiral fiber brush that is easy to load.
Hugs and plumps each lash with rich, deep, very black pigment
No flaking, drying
Nourishes and hydrates lashes
Review:
This is my mascara right now. I've been using it for a good amount of time to do a review. My experience with the Wet n Wild Mega Volume Mascara was not good. It's literally the opposite of what it's supposed to be. I love the intense black color (not difficult to find in another mascara), but this mascara was pretty clumpy. It doesn't separate eyelashes. It looks like a mess. It flakes off the lashes too by the end of the day. Uhhh…that's not what I want. I don't like the way it makes my eyelashes look. 😐 I have a very difficult time removing this mascara even with a makeup remover, oils, and wipes. Basically everything. I mean, it's not the worst mascara out there I've used, but it didn't work for me. I won't purchase it again due to this bad experience. I'll be on the look out for a mascara that's more suitable for me.
Review: Wet n Wild Megaliner Liquid Eyeliner (Cosmic Black)
Categories:
Tags:

Cruelty Free, Eyeliner, Life, Lifestyle, Liquid Eyeliner, Makeup Review, Mascara, Mega Volume, Megaliner, Review, Thoughts, Wet n Wild, Wet n Wild Mega Volume Mascara, xfurbeauty, xfurbeauty blog