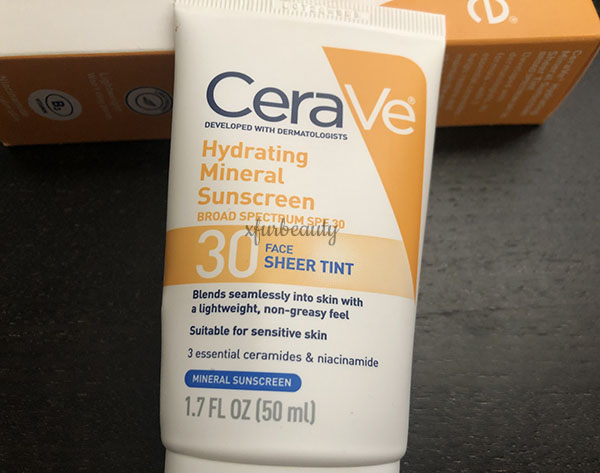 I started using makeup again. So excited! So what face products am I using?
Well, it's much different this time. Before this, I was using Dr. Jart+ Rejuvenating Silver Label BB Cream SPF 35 PA++ and Skin79 Super Plus Beblesh Balm Triple Function Orange BB Cream SPF 50 PA+++. I've used both of these for years. Dr. Jart+ was my to-go-to bb cream. I loved it. Skin79, I tried it again, and I didn't get any breakouts from it. My skin must've been just breaking out when I had a bunch of clogged pores that I couldn't get rid of. So am I still using these bb creams? I was using both of them, but I noticed that they made my skin really dry even with moisturizer underneath, especially Dr. Jart+. I still have them, but I stopped using them on my face. Maybe a little dab here and there to finish them up so no product goes to waste. I'm just not using them as my main/everyday bb cream or whenever I wear makeup. I most likely won't purchase again after I finish them. Wow, after over a decade of using these bb creams, it's time for something new. I need a change. Better makeup products. 🙂 I still can't believe I'm separating from my bb creams. *sigh* It's been an amazing blessed years with them. 😭 haha. Just kidding. But they were great while they lasted. I just need products that aren't as drying while I'm on my acne creams and gels.
Using a tinted mineral sunscreen as my face makeup instead.
I noticed that I still have the CeraVe Hydrating Mineral Sunscreen SPF 30 Face Sheer Tint. I despised this product for a while. I can't believe I'm giving it another chance. But, I was searching for an affordable sunscreen with a tint to it. Sun protection is very important to me. And, I didn't want just a makeup product that evens out the skin tone. I wanted something that my skin would benefit from (like a bb cream). Also, there's no way I'm going to pay over 30 bucks for a tinted sunscreen that comes in a tiny ass bottle. 😂 No way. First, I looked at the ingredients, and it doesn't seem like any of the ingredients in CeraVe would break me out. I really don't know what happened before. Perhaps it could be a combination of skin care products I was using before? Maybe my skin was just very sensitive. Who knows. Here I am, trying it out again because I'm not going to toss out a product that I spent on. That would be a waste. Now here are my thoughts on this product and how I use it.
What I'm Doing…
The first thing I noticed about this sunscreen is that it's very moisturizing. It's called a hydrating mineral sunscreen for a reason. The tint is sheer and provides very little to no coverage. Blends into the skin well. It takes a little bit of time to even it out, but it's not too bad. Fortunately, I didn't have any issues blending the product into my skin. The tint still looks a little orange like it was before when I tried it out. This time, it didn't bother me too much. The reason why is because I'm not using it as an actual sunscreen. I think it's amazing that it contains SPF 30 (could be SPF 50??!!). I used it as a makeup product instead. Just to even out my complexion a little bit. Just a tad bit is better than nothing. I apply my other sunscreens like my La Roche-Posay Anthelios Melt-in Milk Face & Body Sunscreen Lotion SPF 100 or La Roche-Posay Anthelios Body & Face Mineral Sunscreen Gentle Lotion SPF 50 beforehand. Works heavenly with the La Roche-Posay Mineral SPF 50. CeraVe gets rid of the white cast (from La Roche) and adds some moisture to the skin around my eyes and face. Having some moisture in the skin helps to smooth out any fine lines and wrinkles too.
After I apply my everyday sunscreen, I apply CeraVe. I apply enough that I can blend the product into my skin. I don't need to use a lot, since I already applied my sunscreen beforehand. If my skin gets greasy, shiny from CeraVe (usually does since CeraVe leaves the skin very, very shiny looking), I'll use my La Roche-Posay Mineral to get rid of some of the shine. By the way, La Roche-Posay is a mattifying sunscreen. It doesn't dry out the skin, somewhat moisturizes the skin, and leaves the skin looking matte. I have oily skin, so the results may differ for someone else with dry skin. The white cast from La Roche-Posay helps to get rid of some of the orangey hue from CeraVe too. Yeah, I know. This seems a bit much for some people, but it works for me. I'm pretty serious about sun protection, and I enjoy skin care a lot. I mean, A LOT. CeraVe makes it easier to reapply sunscreen throughout the day too. It's tinted and blends into the skin well. I wish it was SPF 50 instead of 30. They need to increase the SPF in this product. That would be awesome!
I haven't noticed any breakouts from CeraVe, but I will report back if I notice any clogged pores. I really hope it works out because I don't want to spend more than I need to on a tinted mineral sunscreen product. So far, everything is going well. My skin feels super moisturized and healthy-looking. 👍🏻 By the way, I'm not going for the 'made up look' for most days of the week. A sheer tint is more than enough to make me look awake and alive, lol. This seems to work for me. Stay tuned for my next update!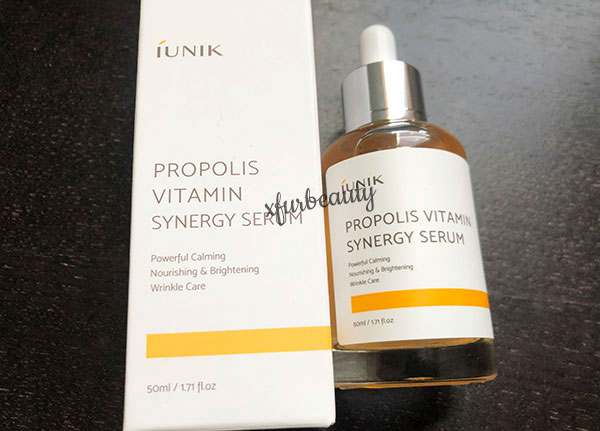 It's the end of September! Here's what I finished! September's empties was quite satisfying. I knocked out a ton of products this month! I've been meaning to finish up some of these products, such as the Benton Aloe Propolis Soothing Gel (finally!) and Canmake Mermaid Skin Gel UV SPF 50+ PA++++ (White)! And some others. 😁 Now here are my thoughts on my September empties! Enjoy! 😊
iUNIK Propolis Vitamin Synergy Serum:
Here goes my last bottle of iUNIK Propolis Vitamin Synergy Serum! I purchased this serum to help moisturize and brighten my skin. That's what this serum claims to do. It says right on the packaging that it's powerful calming, nourishing and brightening, and is for wrinkle care. Some beneficial ingredients in this serum are Propolis Extract, Hippophae Rhamnoides Fruit Extract, Niacinamide, and Sodium Hyaluronate. I went through a few bottles of this serum. It's a serum that feels nourishing and soothing on the skin, but it does feel sticky and takes a while to absorb into the skin. I didn't like the texture of the product. After finishing a few bottles of this serum, I didn't notice much of a difference in my skin. It helps to hydrate, but it didn't help with wrinkles and didn't brighten my skin. All it was is a hydrating serum. I've decided that I'm not going to purchase it again.
Benton Aloe Propolis Soothing Gel:
Benton Aloe Propolis Soothing Gel was one of those products that I couldn't let go, which is weird because the ingredients aren't too exciting. It contains Aloe Barbadensis Leaf Water, Glycerin, Propolis Extract, Betaine, Cucumber Fruit Extract, to name a few. The product was lightweight, somewhat hydrating, and soothes the skin. It also didn't break my skin out. I loved it for a while. But, I haven't been using on my face lately, and I don't miss it at all. Thinking about it now, I don't think it did much for my skin. I just kept it around because it didn't clog my pores, and I needed a product that moisturizes my skin just a little bit. I had a hard time finding a moisturizer that works on my skin. This was the closest to a product that moisturizes my skin. It worked for a while, but I've found something better.
Canmake Mermaid Skin Gel UV SPF 50+ PA++++ (White):
I finally finished the last Canmake Mermaid Skin Gel UV SPF 50+ PA++++ (white version!). It took me so long to reach the last bottle. Finally, I have! So the white version is the unlikable version of the 'Clear'. The white version didn't break me out, but it leaves the skin with a noticeable white cast and dries out the skin tremendously. Well, on my skin it did. It didn't look good on my skin. It accentuated every fine line and wrinkle, pore, and flake. There's no way I'm going to purchase the white one again. It's terrible. I don't recommend it at all. Stay away from it unless you like having a white cast and dry skin. The cooler weather is coming up, so it's best to stay away from this sunscreen.
Gold Bond Ultimate Neck & Chest Firming Body Treatment Cream:
I've been using Gold Bond Ultimate Neck & Chest Firming Body Treatment Cream at the beginning of this year. I'm on my second tube. The product is pretty tiny. It's only 2 oz. The cream is supposed to help improve skin elasticity, texture, firmness, boost hydration, and repair dry, depleted skin. It contains salicylic acid to exfoliate to help reveal younger-looking skin. After finishing the cream, I feel that this cream is just another body cream. I didn't notice an improvement in skin elasticity or texture. It's just another product that's making claims and under-delivering. It's not a bad product when it comes to moisturizing, but there's more affordable options out there that moisturizes the skin. I couldn't tell the difference between this cream and my other moisturizing creams. I'm glad I'm done with it. I won't repurchase again.
Differin Oil-Absorbing Moisturizer SPF 30:
Another sunscreen I finally finished before the winter season! It's the Differin Oil-Absorbing Moisturizer SPF 30! I've been trying to finish this sunscreen up too. I don't use it on my face anymore. I stopped after it started to make my skin oily while causing breakouts. Also, it burns my eyes too. It's just not the type of sunscreen for my sensitive facial skin. My skin is very picky with sunscreens. This one failed the test. So I used this sunscreen mainly on my hands. It's moisturizing, lightweight, and feels just like a non-greasy moisturizer. When I finished it, I never looked back. Out it goes!
Up & Up All In One Micellar Cleansing Water:
I stopped using micellar cleansing water on my face. I had half a bottle left, but I couldn't finish the rest. The product does help to remove residue and makeup from the facial skin, but I just don't like the way micellar water feels on the skin. It's just one of those products that I can live without. So with the rest of the micellar water, I ended up using it to remove my eye makeup. I had to use it for something. I didn't want to waste it. Once I finished the whole bottle, I tossed it out and didn't repurchase. It's not just this micellar water that I don't care for. It's micellar water in general. I haven't found one that I liked. It feels like an extra step in my skin care routine that I don't need. A cleansing oil alone removes my sunscreen and makeup just fine. I've had no issues just using a cleansing oil followed by a face wash. It works, and I don't have to use another product like this one to aid in the product removal process. I prefer to keep my skin care to a minimum as much as possible, lol.
I've tried a ton of eye creams and this one just sucked. lol. There's no other way I can put it. The ingredients look nice. It contains Niacinamide, Ceramides, Hyaluronic Acid, Almond Oil, Aloe, Vitamin E, and much more. But it doesn't live up to its claims. The eye cream is supposed to reduce the appearance of dark circles and puffiness. Ceramides help to repair and restore. Nope, none of that happened. It didn't help with dark circles or puffiness. I love ceramides, but it didn't do anything for my skin in this eye cream. My skin still felt dry using this eye cream. It just didn't do anything. I wouldn't recommend this eye cream. It just wasn't a good pick.
RoC Line Smoothing Daily Cleansing Pads:
I finished two containers of the RoC Line Smoothing Daily Cleansing Pads. The product claims to visibly reduce fine lines and improve tone and texture in 1 week. Diminishes signs of photo-aging and uneven skin tone, dark spots in 4 weeks. Visibly diminishes wrinkles and pores in 12 weeks. There are 28 pads per container. After finishing this product, I didn't notice many changes in my skin besides softer and smoother skin. It didn't help to reduce fine lines or wrinkles. Tone and texture, not so much either. Signs of photo-aging and even skin tone? Nope. Diminishes wrinkles and pores? Not at all. Just softer and smoother skin, lol. It's a good physical exfoliant (pads with tiny little bumps on it) that cleanses the skin very well. My skin always feels squeaky clean afterwards, which is nice on this oily skin of mine. I liked this product, but I don't really need it in my routine. I feel like it's one of those products that's just fun to use. I won't purchase again.
Neutrogena Sport Face Oil-Free Lotion Sunscreen SPF 70+:
I tried Neutrogena Sport Face Oil-Free Lotion Sunscreen SPF 70+ on my face, but that didn't work out. It felt really greasy and oily on the skin. It has a chemical smell to it too that I didn't like. It also broke me out. I wanted it to work out due to the price and that it's SPF 70+. I finally finished my last tube of this product, and I'm happy that it's gone. It worked well on my body but not my face. I won't repurchase it again for the body because it's only 2.5 fl. oz.
For my August Empties go here 👈🏻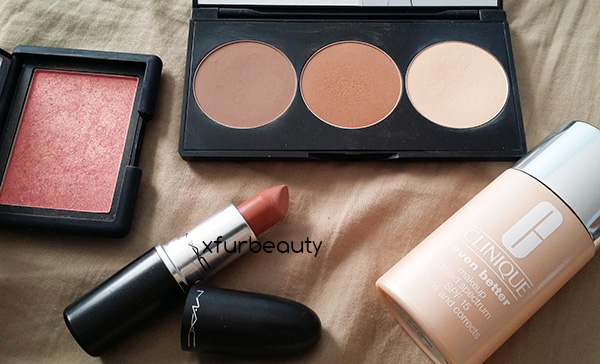 Welcome to the first week of the 4th month! 👏🏻 Here are my results!
My Thoughts & Results 🙂
So the weather has been messing up my skin lately. It's been extremely hot. Ugh, heat waveeeee. 🔥 I noticed that my skin was getting a lot oilier. Even my sunscreen which is oil-absorbing couldn't tame the oil on my face. At least it didn't dry my skin out. But, my skin has been a lot oilier, greasier due to the weather. Along with that comes with breakouts. *sigh* I haven't increased my dose of tret. I'm still using it 1-2 times a week. There's no way I can increase it at this point with the higher strength. It works on my acne and is very strong at the same time. The funny thing is that it's strong only on certain parts of my face. For example, my cheeks and the sides of my mouth. Everywhere else seems to take tret just fine. I might have to find another way to use tret while keeping in mind where my sensitivities are. I'll try something new next time. 🙂 At the moment, I don't have that much acne. Just breakouts from purging from tret and breakouts from the annoying hot weather. No cystic acne. My skin looks pretty clear. The breakouts aren't even that noticeable. It's only noticeable to me because I see my face every day, lol. But it's been going well. Hopefully it just gets better with time. I'm still able to use Vanicream, but I'm still hanging on hoping that it's not going to break me out. This moisturizer has saved my skin big time. My skin heals so much better and faster while on tret. My skin burns and stings less. I'm really falling in love with this moisturizer. No breakouts? Not yet! Just not yet. Moisturized skin? Absolutely! Skin that looks healthy and glowy? LOVE! 🥰 I'm crossing my fingers that it'll work out long term. It's working way better than my other moisturizers. It protects my skin from dryness and irritation. Yay! I hope it keeps on working without causing any issues!
On to something else that I wanted to talk about…
Sunscreen over makeup?
I started wearing makeup again. I miss it so much! I love applying and wearing makeup. Always have. Taking a break is nice too, but I think it's time to bring back makeup. The only makeup I really do wear is eye makeup and a bb cream. I love bb creams because they tend to smooth out the skin and contains SPF. With that in mind, it's very difficult to apply sunscreen over makeup. It just swishes everything around and ruins the initial makeup application. Honestly, the only product (that contains SPF) I've noticed that doesn't mess up makeup is a face powder. That's what I used to use before. I stopped because I couldn't find a powder that I liked since the one I was using was discontinued. So I moved on to bb creams for that reason. I just stuck to bb creams since. If it works, it works, right? Also, I don't like traditional foundations. I never have. Tinted moisturizers? Never found one that I liked. They don't give the skin much coverage anyways. What's the point? I prefer a product that provides at least some coverage. Sunscreen sprays? They usually contain denatured alcohol. I find them too irritating on my skin. I love the idea though! Sunscreen sticks? They're quite sticky, messy, and a bit too heavy on my skin. I'm still searching for a product that works on top of makeup, and it's been a challenge finding something that works without ruining makeup. So this is what I did. I started off with what I had…
Remember Trader Joe's Daily Facial Sunscreen Broad Spectrum SPF 40? I tried it again. This sunscreen is a gel sunscreen with a lightweight texture. It blends into the skin nicely (on clean skin). On top of makeup, it doesn't work. It swishes makeup around. I stopped using it on top of my makeup after a single day, lol. I didn't use it long enough to notice breakouts. But, I didn't like the way it felt on my skin. It made my skin appear more oily and just sat on top of my skin. At least I didn't get it in my eyes. It burned my eyes last time.
Another sunscreen I tried was my current sunscreen La Roche-Posay Anthelios Body & Face Mineral Sunscreen Gentle Lotion. It worked better than Trader Joe's. When reapplying over makeup, it's difficult to get the same amount of sunscreen on the face, but I tried my best. Using La Roche-Posay wasn't too bad. Since I didn't have any flaky skin, it was much easier to reapply over makeup. All I did was dab the sunscreen all over my face and pat it into my skin. It helped to absorb excess oil too. After a few hours, my skin gets really oily, so the oil-control was very nice. My skin appeared less shiny after application. So the sunscreen application wasn't perfect, but it was something I can live with right now until I find another way that's best for me to reapply during the day.
It's been a good week. I'm happy to see more improvements in my skin! Yay! I've been battling this for too long, and it looks like I'm finally going somewhere (for the billionth time, HA!). My skin definitely looks way better compared to when I started. Let's keep hoping for the best! 🙏🏻 See everyone next week!
If you missed out on products I used up in August 👈🏻
My Acne Journey (3 Months!!) 👇🏻👇🏻👇🏻
My Acne Journey: 3 Weeks Results!
My Acne Journey: 4 Weeks Results!
My Acne Journey: 6 Weeks Results…
My Acne Journey: 7 Weeks Results
My Acne Journey: 2 Months + 1 Week Results!
My Acne Journey: 2 Months + 2 Weeks!
My Acne Journey: 2 Months + 3 Weeks Results!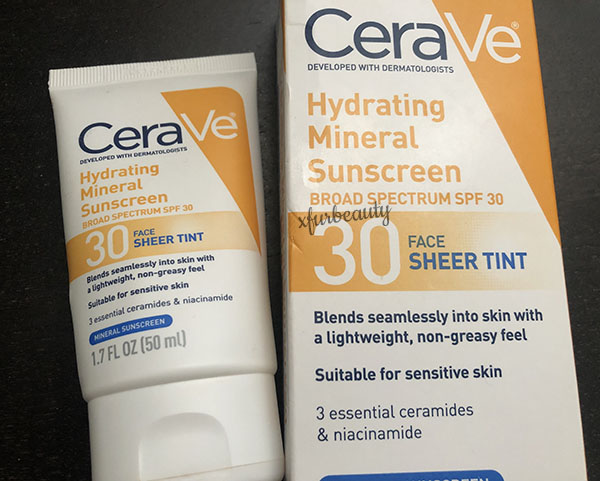 I had a chance to try out CeraVe Hydrating Mineral Sunscreen SPF 30 Face Sheer Tint. I was getting annoyed with the white cast that mineral sunscreens give off even after blending it into the skin. That darn white cast (though sometimes subtle) never truly goes away. And I'm also trying to wear less makeup and focus on taking care of my skin aka controlling my acne breakouts. The less skin care products on my face, the better. So it seems like it after eliminating a ton of skin care products from my routine. So one day, I did a quick search and this product popped up. It's the CeraVe Hydrating Mineral Sunscreen SPF 30 Sheer Tint!
So I'm not too fond of CeraVe skin care products. I haven't had a good experience with this brand, and I've tried plenty of their products. It's like my face just doesn't like CeraVe. I've tried products from sunblock (tried it more than once), moisturizing cream, eye cream, face washes. The leave-on products break me out, face washes don't leave my skin feeling clean (breakouts), and the eye cream is simply a waste of money. It does absolutely nothing, doesn't even moisturize. The only product that I can tolerate is the CeraVe Healing Ointment. I rarely use it on my facial skin. Only when I have dry patches of skin on my face. Otherwise, I use it on my lips to moisturize. This is the only good product that works on my skin that I have from CeraVe, lol. With that in mind…
Now back to CeraVe Hydrating Mineral Sunscreen SPF 30 Face Sheer Tint.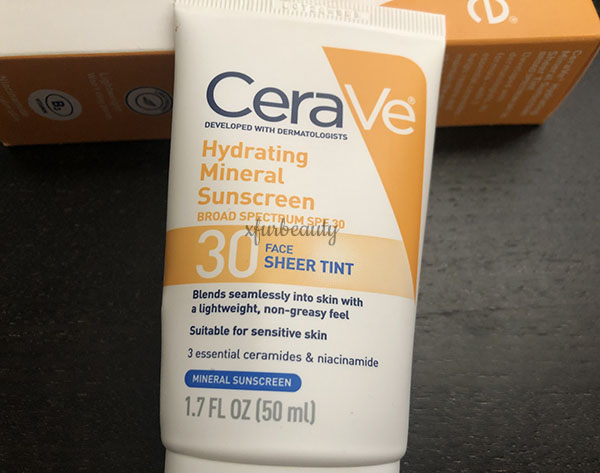 My Thoughts on CeraVe Hydrating Mineral Sunscreen SPF 30 Face Sheer Tint!
This tinted sunscreen product comes in a 1.7 fl. oz. (50 mL) tube. It's actually pretty cute. I really like the packaging and coloring of it. So this isn't a high SPF product. It's only SPF 30. I wish it was at least SPF 50, but it is what it is. I decided to pick up a box anyways. The product is NOT sealed upon opening. I prefer products that are sealed. That was a huge disappointment. As for the product itself, it's a cream that feels super soft and moisturizing. The ingredients include ceramides, niacinamide, and sodium hyaluronate. Knowing the ingredients, this product would provide some skin healing, moisturizing benefits. Pretty awesome, especially when my moisture barrier was on fire.
When I applied the cream to my face, it smoothed over the skin very easily and effortlessly. It feels soft, smooth, and very, very moisturizing. I must emphasize how moisturizing it is on the skin. I think a little too moisturizing for my skin type, which is the oily type. I was a bit worried since I know I can't use products this moisturizing. On the box, it did say that it's a 'hydrating mineral sunscreen'. It truly is hydrating. But on my skin, it looked very oily and I would say on the greasy side. I had to apply another product over CeraVe to tame the oiliness, greasiness. If you have dry or normal skin, this might work better for you. It just made my face look like pure grease.
As for the shade of the product, there's only one shade available. It's a sheer tint product. It's supposed to work on all skin colors from extremely pale to deep, rich skin tones. On my skin, it was too dark and a little too orangey for my taste. I tried to make it work, but when I was going out, I noticed my face looked super orange compared to the rest of my body. The cream does blend and vanish into the skin, but there's still an orange tinge left behind. It just made my face look like a pumpkin. 🎃 Also, there is no coverage (if that's what you're looking for). It's a sheer tint (what it is). I'm putting this out there because I can understand that some people might have acne marks, dark under eye circles, and uneven skin tone they want to cover even when using a tinted product. This product won't cover them at all.
This is what the cream looks like. It's an orange, tan color. I think this would work best on medium, golden skin tones. I think I'm too pale for this product. 😢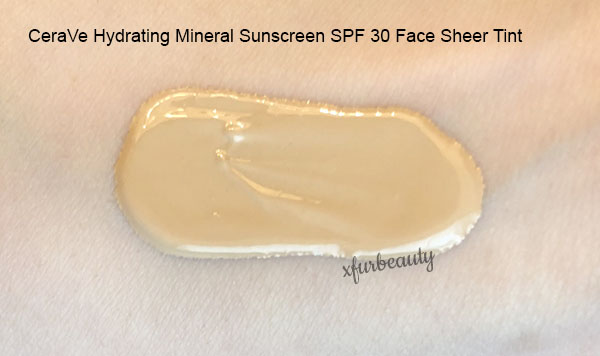 Lastly, did it break me out? I've been using it for about a week. At first, I thought I found a pretty good moisturizer even though I didn't like the shade of the product. I was super excited! I was planning on using it anyways because of that. But, nope, I noticed clogged pores by the end of the week. The product is too heavy on my skin. Way too oily. Way too greasy. It didn't sit on my skin well. It feels wet and feels like my face is being suffocated. The cream also transfers onto clothing and can easily be scraped off the face. lol. Maybe my face is just too oily?
I was initially attracted to this product because I wanted a mineral sunscreen that didn't leave a white cast behind. That white cast settles into the eyebrows, hairline, and creases of the skin. I noticed it made my skin look blotchy too. I can see white patches of sunscreen even after blending and blending some more. I needed a product that would hide that white cast. I thought this product (or any other tinted product) would make it easier to reapply sunscreen throughout the day too, since I wouldn't have to deal with that embarrassing white cast. But it looks like this isn't it for me. It just didn't work out. I guess this is another CeraVe product down. lol. There's something about CeraVe products that don't mesh with my skin. Oh well. Moving on, hahaha.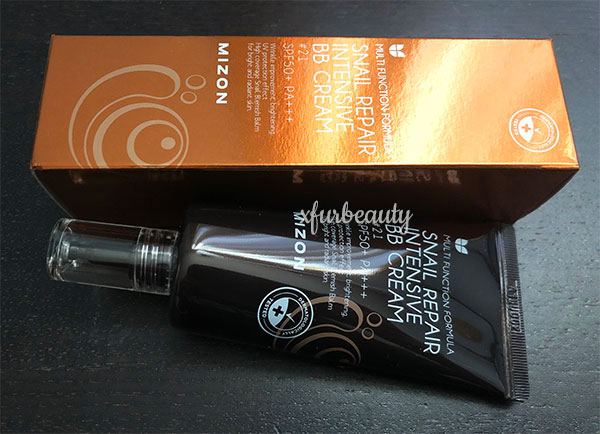 I tried Mizon Snail Repair Intense BB Cream SPF 50+ PA+++ again. I was sorting out my beauty items (bb creams) and noticed noticed that I still had nearly a full tube of this bb cream! Wow! I haven't used it since…was it last year??? So I decided to try it again this morning. Here's my previous review on this bb cream if you missed out:
Review: Mizon Snail Repair Intense BB Cream SPF 50+ PA+++
I last gave up this bb cream due to it being drying, irritating my skin, and causing breakouts. Sounds terrible, right? Why would I ever try something like this again? Well, since my skin is doing so much better now, I wanted to see if it'll work this time around. Sometimes things may work out after a while. Who knows. I've had products that didn't work at some point in time in my life, but after a good amount of time passes by, it worked great! Hopefully this bb cream is a success this time around!
So this bb cream is a multi-function bb cream. It's supposed to help with wrinkle improvement, brightening, provide UV protection (SPF 50+ PA+++), high coverage, makes the skin brighter and more radiant. That sounds nice and all, but let's get into my experience with this bb cream!
My Thoughts on Mizon Snail Repair Intense BB Cream SPF 50+ PA+++!
Honestly, I was pretty excited to try this bb cream again. My current bb cream looked very grey and much darker on my skin. I liked the texture and finish of it (dewy), but it obviously made my skin appear more dull. The only reason why I keep using it is because I like the way it looks on my skin (minus the grey coloring). It also contains SPF but not as high as Mizon Snail Repair Intense BB Cream (what I'm reviewing today).
The shade I have is #21. It's the lightest shade out of the bunch. This shade has some yellow undertones but leaning towards neutral. It's not too yellow on the skin. The shade adjusts to my skin tone just fine when applied. The texture of the bb cream is super soft and creamy. It feels like a dream come true. Before I applied this bb cream onto my face, I made sure to heavily moisturize my skin beforehand. It was really easy to use this bb cream. It moved across my face nicely without tugging at my skin. I finished the application by patting and pressing the bb cream to blend it into my skin much better.
After the application, my skin was left semi-matte. I had some oily areas. Maybe it's due to the moisturizers that I used. I fixed that by using a pressed powder to absorb excess oil. Wonderful! It worked! My results this time was a little different from before. The bb cream can make the skin appear drier if not moisturized properly beforehand. I'm glad I have richer, heavier moisturizers now to fix some of my dry skin issues (from acne treatments). My skin would've looked terrible with dry skin accentuated almost everywhere. I didn't have that much of an issue with the bb cream making fine lines and wrinkles more obvious this time. Take note that I didn't apply this bb cream around my eyes. My eyes are an ultra-dry area of my face. I used another moisturizing makeup product for that area.
This bb cream does contain ethanol in it, which is at the end of the ingredient list. That is a negative in my book. I prefer products without drying alcohols regardless where it is on the list. Fortunately, I didn't experience any negative side effects. It didn't burn my skin or dry it out to the extreme. Nothing like that. Since it does contain mineral sunscreens, it did accentuate some dry patches of skin. Mostly around my chin area, but that's it. Every other area of my face looked good to go.
Even though it contains alcohol in the ingredients list, it also contains other beneficial skin care ingredients in it as well, such as snail secretion filtrate, arbutin, sodium hyaluronate, adenosine, vitamin e, and even papaya fruit extract. This bb cream is supposedly fragranced. I didn't even notice that it had one. Lastly, coverage is pretty darn good. It's medium-full coverage. Not light-medium as I thought it was before. Since I don't have any major acne issues right now, the bb cream smoothed over my skin, provided enough coverage, and brightened my skin up! Breakouts? Not one in sight after a day of use. It looks like it worked out well minus some flaky skin on my chin (most likely from my acne treatments) and that it contains ethanol.
Will I buy it again? Probably not. I still prefer my makeup and skin care products without drying alcohols. That's just a preference of mine. I guess I'll go back to being grey. 😂