Jun. 18, 2020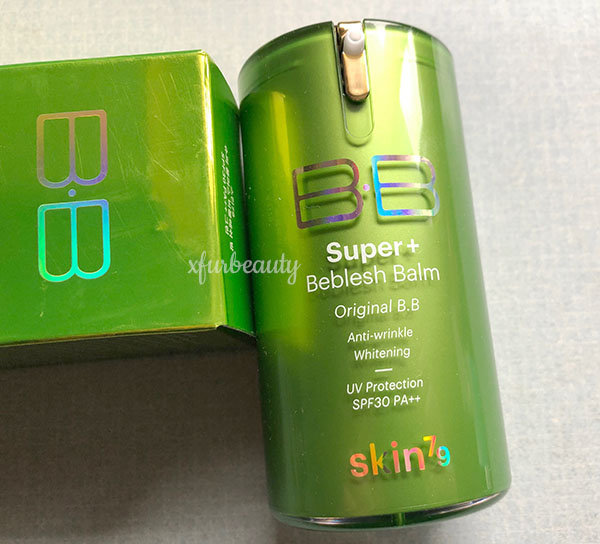 I decided to bring back a Skin79 BB Cream (the green one). From what I remember, the color of this BB Cream was suitable for my pale complexion. Contains SPF + skin care benefits. Coverage was not good, from what I remember. Anywho…I wanted to see if it'll work now…since my skin is looking better compared to when I first tried it. I've used it a couple of times already to do a quick review.
The shade of this BB Cream is very nice if you have pale skin. The cream has a fragrance to it. It fades away after a few hours. The texture is soft and creamy. It blends into the skin very well. I love the SPF that it contains. Good for those hot summer months. 🙂 Since my skin is nearly flawless and smooth, I thought I would give it another chance. Unfortunately, it didn't work out. Love the color. Love the skincare benefits. Love the SPF. But, this BB Cream melts off the face. Provides absolutely no coverage. It also gave me blackheads and hard comedones. Ugh. I stopped using it ASAP. The only BB Cream that works for me is Dr Jart+ Silver Label BB Cream. I'm not going to bother with anything else anymore. I'm done. haha.
Read more on Skin79 Beblesh Balm (Green) :
My New BB Cream: Skin79 Super+ Beblesh Balm (Green)
Updated Review: Skin79 Super+ Beblesh Balm Green
Categories:
Tags:

Anti Aging, Anti Wrinkle, Asian BB Creams, BB Cream, Beauty Blog, Beauty Tips, Beblesh Balm, Green, Healthy Skin, Ingredents, Lifestyle, Makeup, Makeup Products, Skin Care, Skin Care Blog, Skin Care Tips, Skin79, Skin79 Green BB Cream, SPF, Super Beblesh Balm, Thoughts, UV Protection, Whitening, xfurbeauty, xfurbeauty blog, Younger Looking Makeup, Younger Looking Skin
Jun. 12, 2020
Leave a comment
I've been using Andalou Naturals Vitamin C Beauty Balm for 2+ weeks. Here are my thoughts on it. 🙂
I bought this beauty balm thinking that I could make it my main makeup foundation. Well, it didn't work out that way. This beauty balm has no coverage. It works better as a base. And that's what I'm using it as — a base (makeup primer). It has a slippery feel to it. It leaves the skin feeling silky smooth. It makes my other makeup products glide on better. It contains SPF to protect the skin from the harsh UV rays.
Here are the ingredients:
ACTIVE INGREDIENTS: Zinc Oxide 20.0%
INGREDIENTS: Aloe Barbadensis Leaf Juice*, Purified Water (Aqua), Caprylic/Capric Triglycerides, Vegetable Glycerin, Simmondsia Chinensis (Jojoba) Seed Oil*, Polyglyceryl-2 Oleate, Polyhydroxystearic Acid, Polyglyceryl-2 Stearate, Helianthus Annuus (Sunflower) Seed Oil*, Punica Granatum (Pomegranate) Seed Oil*, Hydrogenated Castor Oil, Dimethicone, Magnesium Sulfate, Sorbitan Sesquioleate, Fruit Stem Cells (Malus Domestica, Solar Vitis) and BioActive 8 Berry Complex*, Sodium Hyaluronate, Magnesium Ascorbyl Phosphate (Vitamin C), Borago Officinalis (Borage) Seed Oil*, Cucumis Sativus (Cucumber) Fruit Extract*, Zea Mays (Corn) Starch*, Camellia Sinensis (White Tea) Leaf Extract*†, Hibiscus Sabdariffa Flower Extract*†, Tocopherol, Iron Oxides, Phenethyl Alcohol, Ethylhexylglycerin, Citrus Tangerina (Tangerine) Peel Oil, Citrus Aurantium Dulcis (Orange) Peel Oil* *Certified Organic Ingredients †Fair Trade Ingredients
This beauty balm contains oils, such as jojoba, sunflower, pomegranate, castor, borage, tangerine, and citrus, but it has not broken my skin out. Love how it contains Vitamin C too! I love the benefits of this beauty balm. It's nice to have that extra layer of SPF under my actual makeup. My skin certainly feels smoother in texture when I remove my makeup. I'm not done with the first tube of this product, but I've already purchased another one. Summer is just around the corner, and I'm in need of a cream that protects my skin from the harsh UV rays! I'll continue to use it for the next upcoming weeks and see what happens. I like it so far. 🙂 An updated review coming soon.
If you've missed out on my Tretinoin Journey:
Beginning My Tretinoin Journey 🙂
My Tretinoin Journey: 1 Week Results!!
Categories:
Tags:

Acne, Acne Skin, Andalou, Andalou Naturals, Anti-Aging, BB Cream, Beauty Balm, Blemish Balm, Brightening, Complexion Defense, Cruelty-Free, Fruit Stem Cell, Life, Lifestyle, Makeup, Makeup Products, Makeup Routine, Non GMO, Review, Sheer Tint, Skin Care Routine, Summer, Thoughts, Vegan, Vegan Makeup, Vegan Skin Care, Vitamin C