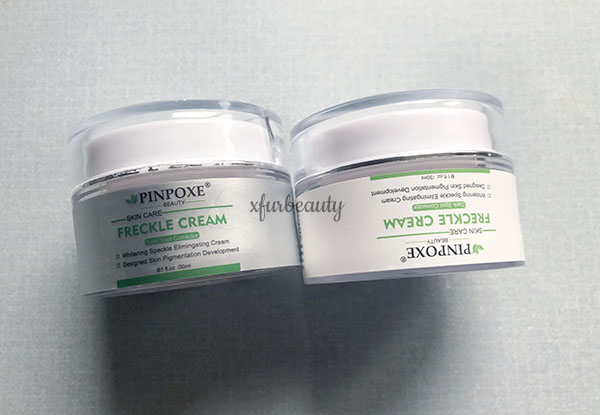 I've been using this cream on and off. It's because sometimes I forget. Yeah, I know, that sounds terrible. Haha. So here's my updated review on Pinpoxe Freckle Cream. Even though I haven't used it consistently, I have good news. 🙂 It has helped brightened my skin up! Much, much better compared to my Cos De BAHA Serums. I said it. Whenever I use this cream, my complexion looks like it's glowing. It doesn't remove freckles, but it does even out the skin tone and fade acne scars. It hasn't made my skin break out or irritated it. It's been good. I might go for another jar when I'm done with this one. I still have a lot of product left, so I have time to think about it. Everything has been good using it. I'm happy. ?
More about Pinpoxe Freckle Cream:
Cos De BAHA Serums:
Cos De BAHA Salicylic Acid & Galactomyces Serum
Cos De BAHA Snail Mucin HA Serum + Arbutin, & Eva Naturals Youth Restoring Eye Gel
Review: Cos De BAHA Snail Mucin HA Serum
Categories: Tags: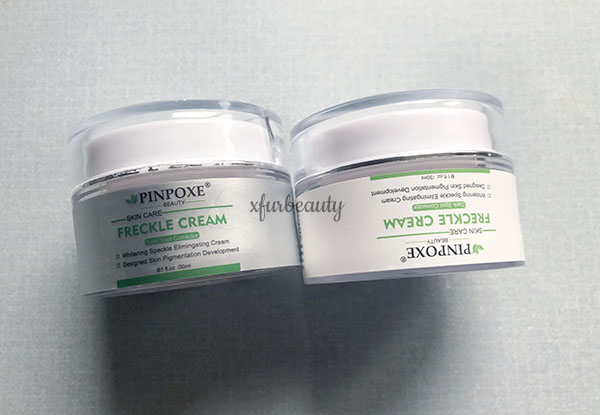 I've been using Pinpoxe Freckle Cream for 1 month. I'm on the second jar of the cream. The first jar I received had a silver label, while the second jar I received came in a white label. For some reason, the label is on the second jar is funky-looking. It's upside down (shown in the photo above). The cream feels the same. The ingredients are the same.
Ingredients:
Aqua, Hamamelis Virginiana Water, Propylene Glycol, Niacin, Lactic Acid, Alcohol Denat, Bisabolol, Ascorbic Acid, Azelaic Acid, Hydroxypropyl Methylcellulose, Kojic Acid, Sodium Hydroxide
This face cream contains ingredients that are beneficial for acne scars/marks. That is the reason why I bought it in the first place. Also, I wanted a face cream that moisturized my complexion at the same time too. This seemed like the perfect match.
So does it work to (what it says on the jar) reduce pigmentation and the formation of melanin? Accelerate the melanin reverse reduction? Dissolve freckles? Yeah, that's what it says on the jar, lol. The language is quite strange. I think we get the point of this face cream. It should make the complexion brighter and fade freckles.
This is what the face cream looks like…
My review on Pinpoxe Freckle Cream:
Here are my thoughts on Pinpoxe Freckle Cream after 1 month. I used it in the morning and at night. It did help brighten up my skin. It did leave my skin feeling moisturized. I really liked those two points. But did it help to fade freckles or remove them? NOPE! My freckles are still there. If you're trying to get rid of your freckles, this isn't it.
The ingredients in this face cream are pretty straight forward. It contains Hamamelis Virginiana Water, Niacin, Lactic Acid, Ascorbic Acid, Azelaic Acid, and Kojic Acid. Hamamelis Virginiana Water is witch hazel. Niacin is Vitamin B3. Ascorbic Acid is Vitamin C. Lactic Acid and Azelaic Acid are both great for unclogging pores and acne. I did go through an initial breakout when I first started using this face cream. The initial breakout lasted only for a few weeks. All of these ingredients are known to be good for acne and post-inflammatory hyperpigmentation.
The only thing I didn't like about this face cream is the packaging. It comes in a jar. I would love it if they changed the packaging to a sealed tube instead. I'll continue to use the second jar. If I see further improvements, I'll go for a third jar. We'll see.
Have you used Pinpoxe Freckle Cream before?? :]
Love, Jen