Sep. 18, 2020
Hello Week 3! 😊😊😊
Day 15: New week, new skin care routine!! 😀 Honestly, it feels so much better not applying that many skin care products on my face. This made me realize that the Cos De BAHA Serums I've been using are VERY sticky. Maybe clogging my pores?? I decided to fully stop using them (just like that), except for the Vitamin C Serum. The Vitamin C Serum isn't sticky and absorbs into my skin very well. It leaves my skin feeling matte. Not oily, sticky, or greasy.
My skin looked better today than last night. It's less angry. Running my fingers over my breakout-prone areas is the worst! It feels bumpy. A lot of the pimples turned into scabs. Well, I hope they fall off soon! lol. My skin is definitely feeling a lot better with less skin care products on my face. Less irritation. Less redness. Less everything that is bad for my skin. Hmmmm, I might even eliminate them for good if my skin improves over time. Using less skin care products on my face has saved me a lot of time.
Perhaps, less is more. 😮
Day 16: My skin is super flaky today. It's peeling everywhere on my face. It was so difficult to apply makeup and look at least somewhat decent with it on. I really tried, but my skin was not having it. lol. It's really hard to not think about it when I'm interacting with people. It's actually kind of embarassing. At the same time, I'm happy that my skin is clearing up and moving in the right direction. Can't have both ways while on Tret. HAHAH! At night, I used a brush with soft bristles to remove the dead skin off. It worked wonderfully!! Amazing!! I'm going to continue to do this on the day that I peel. 👍🏻👍🏻👍🏻 Tonight, I'm going to moisturize my skin and start up on Tret again the next day!! So excited!! 🙂
Day 17: I had some skin hanging from my face today. It was annoying and made my makeup look so terrible. I think I have to put up with having a bad makeup application for a while. I can't do anything about it even though I moisturize my skin. Today, I started using Differin Oil Absorbing Moisturizer SPF 30. I'm going to give it another chance. My skin is very vulnerable right now. I need all the sun protection I can get. Hopefully it doesn't break me out.
I did get some more breakouts today. They're not new breakouts. Since I have comedones (why I went on Tret in the first place), They are moving up to the surface of my skin after going through a peel from Tret. That's great and all, but I am now dealing with more acne and MORE acne marks. It's pretty devastating and makes me feel very self-conscious of my skin. I hope things turn around in the next couple of days. But, I don't know, I think it's going to take a couple of months to get where I want to be.
Day 18: More pimples today. Some were inflamed. Some weren't. They're leaving acne marks behind too. Meh. I think I'm over it. I just want Tret to do its thing and leave my skin looking flawless. 🙂 Wearing makeup is so annoying. It just doesn't blend and cover properly. Feels gross knowing there are breakouts underneath. That's something sooooo hard to cover. UGH!!! Having good skin is very important to having flawless-looking makeup. Only a couple of months away…I'll be there. Patience is key. ☺
So my skin doesn't feel red, dry, and irritated anymore. I wonder if I am able to use Tret every night. 🤔
Day 19: It's another skin peeling day! Skin actually looks much better compared to the other days before. Weird. It is what it is. So, I'm happy to remove this layer of dead skin off of my face tonight. Seems like they've been coming off of my face too throughout the day. I can take a piece of the skin and peel it off. LOL. I don't want to have dead skin hanging from my face, right?? That's just too funny. I'm planning on using Tret every night or 6 days a week now. My skin doesn't feel dry, irritated, or red anymore. I think what I'm doing right now is working — dropping a lot of skin care products that irritated my skin, that don't work, cause more issues than ever…and sticking to a simple, minimal skin care routine. And, I think Differin Oil Absorbing Moisturizer SPF 30 is working very well on my skin right now. It protects AND moisturizes. It hasn't broken me out. I can feel a slight tingling sensation when I apply it. It's probably from having fresh, new skin after peeling. Overall, it's been good. Let's keep this up! 👍🏻👍🏻👍🏻
Day 20: More breakouts today. 🙁 They seem to live in clusters. lol. But, good news, I can tell that my skin is improving. My skin texture is looking better. Closed comedones are going away slowly. I am able to use Tret every single night now without any issues too. 🙂 No dryness, irritation, stinging, or redness. Yay! 😃
Day 21: NO NEW BREAKOUTS TODAY! Just the old ones crusting off. My skin is looking good! Makeup goes on good today! Yay! I'm sooooo happy! I think my skin is going to be 100% clear by 2 months! I'm going to cross my fingers and hope for that!! 🤞🏻
So I changed up my facial cleansing routine. I'm double cleansing. I didn't purchase a cleansing oil. I'm using oils to cleanse my face first. The oils I am using are hemp oil and jojoba oil. I dispense some hemp oil into my palm with a few drops of jojoba oil. I gently use this mixture to cleanse my face. It helps with removing makeup too at night. After that, I use Acure Brightening Cleansing Gel. This isn't my favorite face wash, but that's what I'm using right now. I might switch to a different face wash after I finish it. This method has been working for me. The oils help to prevent dryness, and I just wash away the oils afterwards. 👌🏻
Let's move on to the next week! 😎
More on my My Tretinoin Journey:
My Tretinoin Journey: Week 1 Results
My Tretinoin Journey: Week 2 Results
I was on Tretinoin Cream before. Read my experience here:
My Tretinoin Journey: 1 Week Results!!
My Tretinoin Journey: 2 Weeks In!
My Tretinoin Journey: 3 Weeks Results
My Tretinoin Journey: 1 Month Results!
My Tretinoin Journey: 1 Month + 1 Week Results
My Tretinoin Journey: 1 Month + 2 Weeks Results
My Tretinoin Journey: 1 Month + 3 Weeks Results
My Tretinoin Journey: Going off of Tret…
Check out my 30 Days of BP too:
Categories:
Tags:

Acne, Acne Log, Acne Marks, Acne Prone, Acne Scars, Acne Skin, Acne Skin Care, Acne Skin Care Routine, Anti Aging, Clear Skin, Experience, Journey, Life, Lifestyle, Oily Skin, Results, Retin A, Review, Skin Care Routine, Thoughts, Tret, Tretinoin, Tretinoin Gel, Tretinoin Journey, Week 3, Week 3 Results, Wrinkles
Sep. 16, 2020
Leave a comment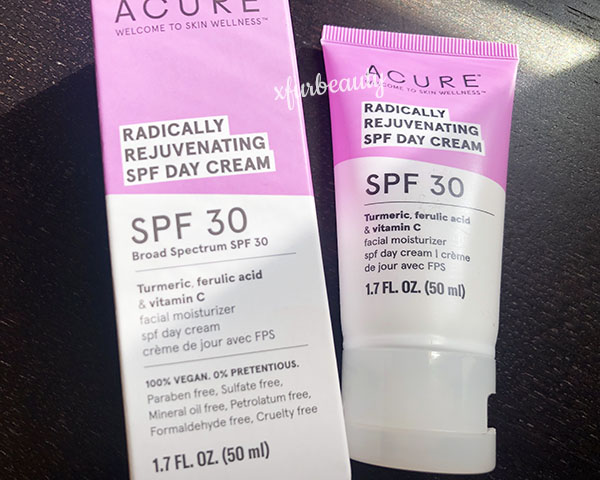 Here's my updated review on the Acure Radically Rejuvenating SPF Day Cream! I needed a sunblock, so I thought I would try the Acure Radically Rejuvenating SPF Day Cream out! It's vegan and cruelty-free. It contains beneficial skin care ingredients, such as turmeric, ferulic acid, argan oil, and vitamin c plus SPF 30…
So my thoughts have changed about this sunblock. I still like the fact that it contains zinc for protection, but I'm not a huge fan of the texture. It's so weird when I dispense it out of the tube. It looks like the contents have not been properly mixed. I even tried shaking the tube with the same results. Bad batch? I don't know. All I know is that I don't like what I see. Even though this zinc sunblock is much easier to apply compared to others I have tried, it's still not the best. It feels like I have to put so much effort into applying it to my face, which is very terrible. I don't want to tug on my facial skin and cause wrinkles. Also, it leaves a sticky residue behind. It literally sits on top of my face. At the same time, it doesn't keep the skin feeling moisturized. On the tube, it says 'facial moisturizer'. I thought it would be a good moisturizer. lol. Turns out it's not. 🙁 This sunblock/cream left my skin feeling dry throughout the day. When I reapply it, it just feels gross and sticky. I don't like the way it feels under my makeup either (when I wear makeup).
As for breakouts, it did contribute to acne. Unfortunately, the formula is not suitable for my skin type. Ahem, cococnut oil and shea butter. It's most likely the coconut oil. It clogs my pores. I wish it worked on my skin. I really needed an SPF to protect my skin from the harsh UVA and UVB rays. Well, that's too bad. Would I recommend this sunblock? It's not for oily, acne-prone skin. Skip it. Doesn't matter how 'nourishing' the ingredients are..
Read more about Acure Skin Care Products:
Acure Brightening Cleansing Gel + Review
Acure Brightening Day Cream + Review
Acure Brightening Glowing Serum + Review
Categories:
Tags:

Acne Skin, Acne Skin Care, Acure, Acure Radically Rejuvenating SPF Day Cream, Anti Aging, Day Cream, Ferulic Acid, Oily Skin Care, Rejuvenating, Review, Reviews, Skin Care, Skin Care Routine, Skincare, Skincare Routine, SPF, Sun Care, Sun Protection, Thoughts, Turmeric, Vegan Skin Care Products, Vitamin C, xfurbeauty, xfurbeauty blog