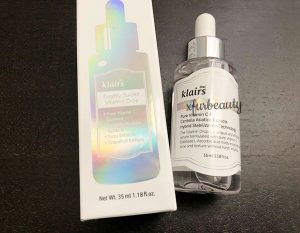 After contemplating if I should pick up a bottle of Dear Klairs Freshly Juiced Vitamin Drop, I finally did. I've been meaning to grab one of these bottles since forever! Yay! Now I have one. 🙂 This vitamin c essence comes in a clear bottle. I was caught a little off guard by the packaging. Vitamin c products should be in a dark bottle to protect it from oxidation. On the bottle it does state that this vitamin c product in particular contains stabilized l-ascorbic acid. I was a bit skeptical, but I thought I would give it a try anyways, since it had good reviews. It contains vitamin c at a concentration of 5%. It's very mild compared to other vitamin c products I have used. Let's see if it works! Here are my thoughts on Dear Klairs Freshly Juiced Vitamin Drop!
My experience
This is a vitamin c essence. It comes in a 35 mL (1.18 fl. oz.) bottle with a dropper. Yes, that is a clear bottle that you see. The essence is lightweight and absorbs into the skin very well, but it leaves residue behind. It feels a little oily on my skin. After using it for 2 weeks (that's all I could do for this serum, keep reading!), I didn't see a brighter complexion or a reduction in acne scars. I didn't see any changes in my skin. There was no difference at all. I stopped using it because of this and mainly for other reasons. I don't like products that leave residue on my skin or make my skin feel oily. It irritates my skin and can cause breakouts. I've noticed that my skin reacts to products that leave a film behind on my skin. It's better to safe than sorry. The vitamin c essence comes in a clear bottle. I tried to like it, but I couldn't. It's best to purchase vitamin c products in dark bottles just to be safe (even though they claim that this vitamin c contains stabilized l-ascorbic acid). On the box of the product, it goes on to say to store the product in a cool, dry place away from sunlight in order to avoid discoloration. That pure vitamin c may be responsive to oxidation. Um, yeah. Also, this vitamin c has a long list of ingredients. It has a lot of extracts and a few essential oils. I think that's too much for me. I would much prefer a vitamin c essence or serum that is minimal. Something that is more simple. I stopped using it because of those reasons. It didn't live up to my expectations. It's just not the vitamin c product for me.
Pros & Cons
✅ Pros
Contains ascorbic acid even though it's at a low concentration (5%)
Gentle on the skin
❌ Cons
Didn't brighten the skin
Didn't fade acne scars
Clear bottle
Leaves residue after application
Feels a bit oily on the skin
Conclusion
I really wanted to like Dear Klairs Freshly Juiced Vitamin Drop. There were a few aspects about it that I didn't like. It came in a clear bottle, but I just had to try it out because it's been talked about so much. haha! Well, as for results, it didn't do anything for my skin (face). My skin didn't look brighter. My acne scars didn't fade. Nothing. Maybe I have to use it much longer to see results. BUT I did continue to use it on my body, and I didn't see any results either. No brightening effect. Rubbed it into a few scars to see if it works. Haven't noticed a difference. It's been almost 4 months using it too. I'm just trying to use it up at this point. After finishing it, I most likely won't purchase again. But on the bright side, my bottle hasn't darken. I did place my Dear Klairs Freshly Juiced Vitamin Drop in a dark area away from sunlight. Also, mine has lasted for 4 months. And it looks like it'll last for a few more months too. I'm using it every day. I think this vitamin c product would work better for someone with normal or dry skin if they don't mind the clear bottle and if they see results from it. It feels a bit oily on the skin.