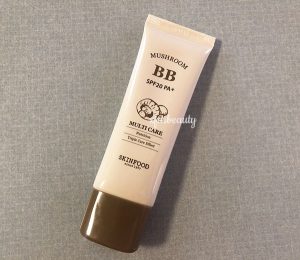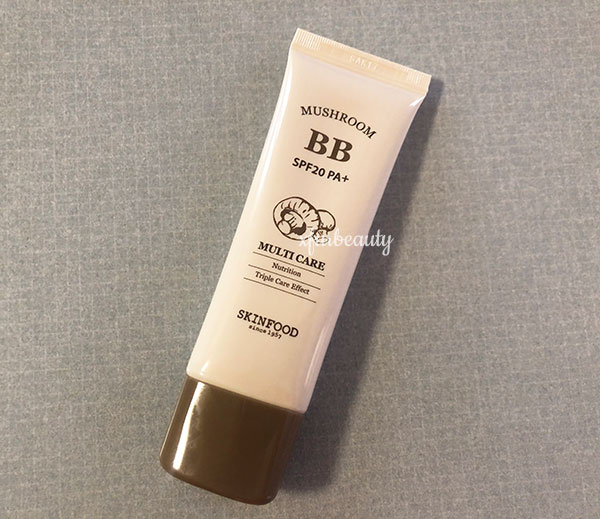 I've been makeup-free for a while now after discontinuing Purito Cica Clearing BB Cream, and I rarely (never, lol) use MAC Blot Pressed Powder. Don't forget to check out my reviews on these products! 😁 As for my skin, it's been doing so much better without these makeup products. I'm not going to stick to any makeup product. It has to be one that I really like and truly works on my skin. So I've been on the search for another makeup foundation. In my case, a bb cream, since I have a preference for bb creams. During my search, I stumbled upon Skinfood Mushroom Multi Care BB Cream SPF 20 PA+. I've used this bb cream before, and I have fond memories of it. I'm not sure if it's still the same. If it still works the same. But, I have good feelings about it. I didn't think it would still exist today. Some of the other bb creams I've used years ago have been discontinued. 😢 Shockingly, Skinfood Mushroom Multi Care BB Cream is still available. This bb cream contains mushroom and chamomile extracts to hydrate the skin. It's also a wrinkle-care product with firming and whitening properties. Sounds good. Here's my experience with this bb cream years later after trying it again! I hope this review is helpful! 🙂
My experience
This bb cream is soft and creamy. It doesn't feel like heavy silicones like my previous bb creams. When applied to the skin, it feels more like a thicker lotion yet feels lightweight on the skin at the same time. It's very easy to blend into the skin. I didn't have any issues with the application of this bb cream. If you have dry skin, it accentuates fine lines and wrinkles. Settles into those dry patches but also creases. This bb cream isn't good at smoothing out fine lines and wrinkles if that's what you're looking for. I was pretty much turned off by the texture and the way it made my skin looked. My skin's more on the dry side (oily at times) right now, and it just made my skin look worse. I didn't like the results at all. I don't remember this bb cream being this way, but I guess that's just how it is now. lol. So this bb cream is more drying rather than moisturizing. As for coverage, it provides very light coverage. I thought the coverage was very poor. It didn't matter how many layers of this bb cream I applied to my skin. It was never enough. Coverage isn't buildable either.
I have the shade in #02 Natural Skin. The shade of this bb cream is pretty dark on my complexion. It looks like a medium, tan shade. It has neutral-pink undertones. It made my skin appear more dull. Even though it contains whitening ingredients (arbutin, mushroom), I haven't noticed any brightening effects from it. The sun protection is nice, but it is pretty low compared to other bb creams that are available. It's also lower compared to the sunscreen I use on a daily basis. I guess a little sun protection is better than nothing. So I had to stop using this bb cream. The reason why is because I started to notice clogged pores on my chin. I didn't think it was the bb cream at first, so I kept using it. But I realized it was the cause of my new breakouts. I stopped using it, and my breakouts went away. Honestly, I don't remember breaking out from this bb cream when I tried it the first time. I finished the whole tube of it too. This time, this product seems very different. It's not the same anymore. Also, I can't stand the fragrance in this product. It's too irritating and strong.
Here's a swatch of #02 Natural Skin. It looks lighter and brighter in the photo. In person, it's actually much darker.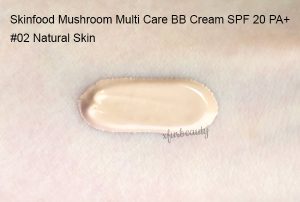 And the bb cream comes sealed. 😊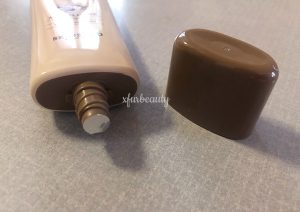 Pros & Cons
✅ Pros
Contains arbutin, aloe, chamomile, mushroom (50mg)
Contains SPF
❌ Cons
Low SPF (SPF 20 PA+)
Accentuates fine lines and wrinkles
Gave me chin breakouts
Shade was too dark on my skin (could work for others)
Drying
Annoying fragrance
Poor coverage
Conclusion
Here's another bb cream that I wanted to work but failed on me. I think I'm done searching right now until something good pops up. I don't want to keep spending on bb creams that don't work. I really thought this would work again (hoping that it would!), but I guess not. I'm very disappointed in the outcome. I didn't like this bb cream, so I can't recommend it. It's not good.
Go here for more reviews on Skinfood beauty products 👈🏻
Go here for more reviews on bb creams 👈🏻
Categories:
Tags:

Arbutin, BB Cream, Beauty, Blemish Balm, Brightening, Makeup, Multi Care, Mushroom BB Cream, Review, Skinfood, Skinfood Mushroom Multi Care BB Cream SPF 20 PA+, SPF, Whitening
Here's another iUNIK skin care product! It's iUNIK Black Snail Restore Serum. 🐌 In the beginning, when I was using iUNIK Propolis Vitamin Synergy Serum, I was very impressed with that serum that I went out and purchased the Black Snail Restore Serum. Don't forget to check out my full review on the Propolis Vitamin Synergy Serum! Also, my review on iUNIK Propolis Vitamin Eye Cream! 👈🏻 So the purpose of this serum is to nourish, brighten, fight wrinkles, restore moisture, and lift. Lift? I'm guessing some sort of face lift. But, that seems too drastic for a facial serum. Anyways, haha, I've had this serum for half a year. Here are my thoughts on it!
My experience
This serum is clear. It feels sticky upon touch. It is a snail mucin product after all. In other words, it's snail slime. Snail products are always sticky. Some are stickier than others. In my opinion, iUNIK Black Snail Restore Serum is a lot stickier compared to Cosrx Advanced Snail 96 Mucin Power Essence. When the serum is first applied to the skin, it has a sticky texture to it, but that sticky feeling disappears within a few minutes. Just pat the serum into the skin. It sinks into the skin nicely and feels lightweight on the skin. It's not heavy at all. Didn't leave a weird film or residue behind after application. Doesn't pill. It works well with other skin care products in my routine and also underneath sunscreen. No issues here. What stands out the most about this serum is that it is very moisturizing. It leaves the skin feeling super hydrated. It left my skin feeling soft and supple, especially the skin around the eyes. Smooths out those dry areas very well. It helped to diminish some fine lines and wrinkles too due to the hydration that it provides. This serum is all about restoring moisture (as the product states). And it does just that.
So I really liked the way it left my skin feeling, looking softer and smoother from the hydration, but it didn't do much for skin brightening. I haven't noticed a brightening effect from using it. It feels like it's just a very hydrating serum that helps with a few fine lines and wrinkles. Nothing drastic with the wrinkles. I wasn't too enthusiastic about the results. After months of using this serum, unfortunately, it didn't work out in the end. It clogged my pores. Much worse than the Propolis Vitamin Synergy Serum. Let's check out the ingredients…
Looking at the ingredients, it does contain beneficial ingredients, such as centella asiatica leaf water, niacinamide, sodium hyaluronate, rice extract, licorice, and so much more! But it also contain ingredients that aren't compatible with my skin, such as ferment extracts (my skin can't stand them! breakouts galore!) and methylpropanediol (more breakouts!). Perhaps, 1,2-hexanediol too. My skin seems to have issues with those ingredients. Plus, it's a snail product. I haven't had success with any snail product yet. I had to stop using Cosrx Advanced Snail 96 Mucin Power Essence. 👈🏻 Go here for more details!! So, I might have to stay away from skin care products with these ingredients and snail products. They seem to break me out so far (from the products I've used). Last but not least, did it lift my skin? Uh, no, as I expected, lol. I've used so many skin care products that I haven't noticed any lifting from any one of them. I mean, skin care products can do so much. But, I wish it would happen one day. Maybe somewhere in the near future when skin care gets more advanced than it is now. HAHA. But this is just a serum that provides a lot of moisture. Since I developed breakouts from it, I stopped using it.
This is what the serum looks like…
Pros & Cons
✅ Pros
Moisturizing
Contains centella asiatica leaf water, niacinamide, sodium hyaluronate…
Smooths out some fine lines and wrinkles, hydrating
❌ Cons
Breakouts
Didn't lift the skin, lol.
Feels sticky but it is snail mucin
Conclusion
iUNIK Black Snail Restore Serum didn't do much for my skin besides moisturizing. That's what I noticed most about it. It did help smooth out some fine lines and wrinkles, but it wasn't anything major. Any skin care product that moisturizes the skin would do the same. Overall, I didn't see anything special about it. I was hoping it would brighten my skin, but that didn't happen. Also, in the end, it clogged my pores. Seems like this serum is way too moisturizing for my skin type. Plus it contains ingredients that my skin doesn't seem to like. Here goes another iUNIK serum that didn't work on my skin! Moving on…
Go here for more reviews on iUNIK skin care products