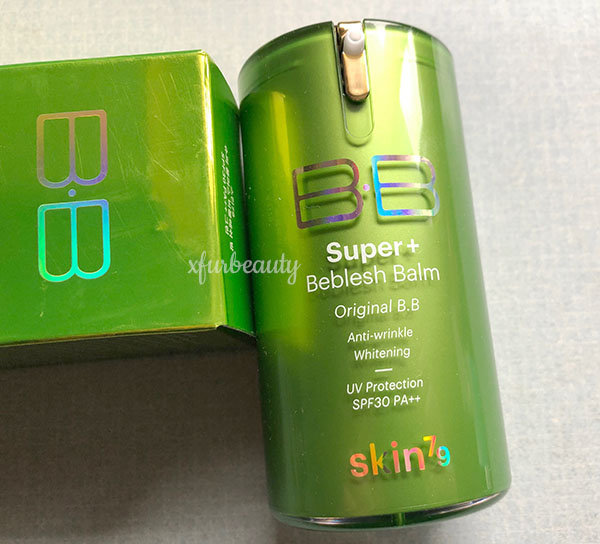 Here's my review on Skin79 Super+ Beblesh Balm Green! 🙂
I must admit. I love BB Creams. 🙂 It's the skincare + makeup combination that makes it so much better compared to a regular foundation that's just for 'makeup'. Also, the texture of BB Creams tend to work in my favor. I like it. It's smooth and thick. Fills in fine lines and wrinkles. It gives the skin a dewy, flawless, youthful appearance. Yeah, yeah, I was complaining about it weeks ago. It's one of those things that 'you don't know what you have until it's gone'. haha. Coverage with a BB Cream is much better than a regular foundation. Instead of rambling on about how BB Creams are way better. This is what I think about Skin79 Super+ Beblesh Balm Green! My third BB Cream from the Skin79 collection. The other ones I have tried are Pink and Orange.
Shade: I've read reviews where people say that the shade is very light in color. Well, it worked for me. Here's a swatch of the BB Cream. I think the color was a little bit darker. I still liked it because it adjusted to my complexion.
Texture: It's a soft cream.
Finish: Works great on oily skin! It's a matte finish.
Coverage: Very little coverage. You would have to have perfect skin for this to work. It makes me thrive for 'clear, perfect' skin. haha.
Fragrance: It has fragrance, but it's not overwhelming.
SPF?: SPF 30 PA++! Yass!! Much lower than the Orange one…
Breakouts?: None as of yet.
Final Thoughts:
The shade of this BB Cream is way better compared to the Orange and Pink (for me). Orange was too yellow. I'm starting to question if my undertone is even yellow. Every time I wear yellow-based makeup, my skin looks more yellow. I think I may be neutral with some yellow. So, the shade/color of this BB Cream is good.
I love that it has anti-wrinkle and skin whitening benefits. That 'could' help with acne marks and uneven skin tone. I think I rather have that instead of nothing at all. Better to try than not try at all. I love the SPF in this BB Cream. It's not the highest. It's something. I'm having trouble finding a sunblock that works for acne-prone skin. I know it's not good to rely on makeup for SPF, but it works for now as I go about finding a sunblock that is suitable for my skin type. Most sunblocks break me out. That includes the ones that claim to be made for oily, acne-prone skin.
The only downside to this BB Cream would be the coverage. It doesn't provide much coverage. Be aware of that. If the condition of your skin is not near perfect, I suggest trying a different BB Cream to try. Layering on this BB Cream to achieve good coverage isn't something you want to do. It'll take hours. Overall, I don't think this BB Cream is too bad. It hasn't caused my skin to breakout in acne or clog my pores (yet). I hope it doesn't. I'll make an update if anything happens.
What's your favorite BB Cream?
Love, Jen