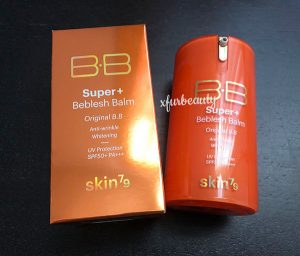 I've used Skin79 Super+ Beblesh Balm Orange for so many years. It must've been over 6 years by now. Perhaps longer. It's been my all-time favorite bb cream for so many years. I honestly can't believe I've been using it for this many years. It's insane. I have a bunch of other bb creams but for some reason I always come back to this one. It simply works. But lately, I've been searching for new bb cream since it's not doing what it's supposed to do anymore. It's not living up to my expectations. I'm quite sadden and disappointed about this, since this has been my to-go-to bb cream for so many years, and it didn't cause my skin any problems. This was out of the blue and so weird. It just stopped working. So what happened??!! Keeping reading. 🙂 It's time for me to share my thoughts on Skin79 Super+ Beblesh Balm Orange!
My experience
Skin79 Super+ Beblesh Balm Orange is a light-medium beige with strong yellow undertones. On my skin, it makes my skin appear more yellow. It seems to work just fine once it melts and blends into the skin. I'm not too bothered by the coloring of this product. The texture of the bb cream feels soft and creamy. It glides onto the skin smoothly. It has a soft and elegant feel to it. It leaves the skin feeling moisturized upon application. The bb cream blends into the skin well and helps to smooth over imperfections like acne marks, but it doesn't provide full coverage. The coverage of this bb cream is medium. The coverage is buildable, but it leaves the skin looking dry, cakey, and unnatural when too much is applied. Since it doesn't cover acne marks completely, I use a concealer for extra coverage, which works out just fine. A little or enough of this bb cream makes the skin look pretty and dewy. Gives the skin that lovely, soft, glass skin effect that I really like, especially when I have oily skin. My skin doesn't appear more oily. It's the perfect balance.
This bb cream contains SPF 50+ PA+++ for sun protection. It contains arbutin and ascorbyl tetraisopalmitate to brighten the skin while licorice root extract to (brighten) and soothe the skin. It also contains antioxidants and extracts to improve and protect the skin. That's why I love bb creams so much and would never go back to traditional foundations. It's just so much better for the skin! Even with the positives of this bb cream, sadly, I had to stop using this bb cream for good reasons. It stopped working for me. All of a sudden, after years of use, it's not jiving with my skin any longer. At times, I noticed that it would leave parts of my face looking and feeling dry. It settled into fine lines and wrinkles. Made them appear more prominent. And the most unfortunate of them all, it clogged my pores. Since I'm not using a lot of products in my routine, I can pinpoint what's causing breakouts and what's not. I tried using the bb cream for 2 days (after not wearing any foundation), and I ended up with whiteheads and hard sebum within my pores. Just using this bb cream two times gave me acne! My pores looked larger. My skin went downhill from there. Once I stopped using it, my skin went back to normal after a few days. Since it breaks me out and isn't living up to my expectations anymore, I'm pretty much done with it.
Here's a swatch of the bb cream.
Pros & Cons
✅ Pros
Contains SPF 50+ PA+++ (Ethylhexyl Methoxycinnamate, Zinc Oxide, Isoamyl p-Methoxycinnamate)
Makes the skin look soft and dewy
Feels lightweight but provides good coverage
Provides medium coverage that is buildable
❌ Cons
Breakouts (cysts, closed comedones)
Dries out the skin
Conclusion
It looks like my time is up with Skin79 Super+ Beblesh Balm Orange. It's been such a long time using this bb cream. It's disappointing, but it is what it is. There's something in this bb cream that my skin doesn't like. It's not the same anymore. Every time I use it, my skin goes nuts and breakouts out right after using it. I was in denial for a bit because it was something I've used for so many years. One day I just stopped using it, and the breakouts stopped. My skin looked clearer. Since then, I finally dropped this bb cream from my HG products and moved on to something new, better for my skin. My skin hasn't had an explosion of cystic acne and closed comedones since (from a bb cream, like this bb cream did to me). So would I recommend this bb cream? It didn't work for me, but it could work for you. I'm not going to purchase it again. Now I can just reminisce the good memories and move on with my life. haha. It was good while it lasted.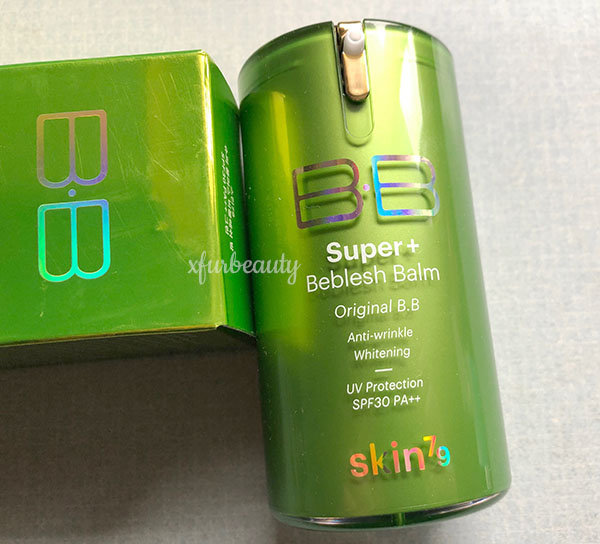 I decided to bring back a Skin79 BB Cream (the green one). From what I remember, the color of this BB Cream was suitable for my pale complexion. Contains SPF + skin care benefits. Coverage was not good, from what I remember. Anywho…I wanted to see if it'll work now…since my skin is looking better compared to when I first tried it. I've used it a couple of times already to do a quick review.
The shade of this BB Cream is very nice if you have pale skin. The cream has a fragrance to it. It fades away after a few hours. The texture is soft and creamy. It blends into the skin very well. I love the SPF that it contains. Good for those hot summer months. 🙂 Since my skin is nearly flawless and smooth, I thought I would give it another chance. Unfortunately, it didn't work out. Love the color. Love the skincare benefits. Love the SPF. But, this BB Cream melts off the face. Provides absolutely no coverage. It also gave me blackheads and hard comedones. Ugh. I stopped using it ASAP. The only BB Cream that works for me is Dr Jart+ Silver Label BB Cream. I'm not going to bother with anything else anymore. I'm done. haha.
Read more on Skin79 Beblesh Balm (Green) :
My New BB Cream: Skin79 Super+ Beblesh Balm (Green)
Updated Review: Skin79 Super+ Beblesh Balm Green
Categories: Tags: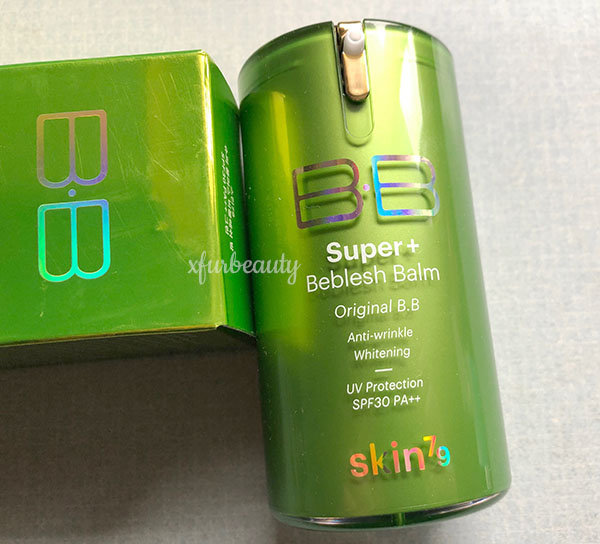 Shade: I still like the color, since it matches my skin very well compared to a lot of foundations I have used.
Texture: Soft and creamy. It feels nice, but it's not my favorite. I prefer silky, smooth formulas.
Finish: Matte-finish. It's good for oily skin.
Coverage: Low coverage. Don't even bother! You have no clue how many times I had to reapply throughout the day. =/
Fragrance: The fragrance eventually started to bother me. It lingers on the skin.
SPF?: SPF 30 PA++
Breakouts?: Read my final thoughts.
Final Thoughts: Here's an update on Skin79 Super+ Beblesh Balm Green. I wish this BB Cream worked for me, but it didn't. I love the color. It matches my skin much better compared to the other Skin79 BB Creams. Unfortunately, the texture and coverage didn't work well on my skin. It made my skin look dried out. You really do need flawless skin to wear this BB Cream. It accentuates every bump and pore. Just awful. I avoided using this BB Cream around my eyes because it would settle into fine lines and wrinkles. The coverage and lasting power was so poor. I had to reapply the BB Cream often during the day. It got old real quick. I don't see the purpose of BB Cream. What's the point? I would much rather use something else that stays on my skin and has all of the benefits that I want. I'm done with it. It's time to kick it to the curb! Don't waste your money on this. I don't think Skin79 is that great when it comes to BB Creams. The texture and coverage is lacking. There are better BB Creams out there. The packaging is clunky too. Meh. Over it. Next!
Other posts on Skin79 Super+ Beblesh Balm Green:
My New BB Cream: Skin79 Super+ Beblesh Balm (Green)
Review: Skin79 Super+ Beblesh Balm Green
Love, Jen
Categories: Tags: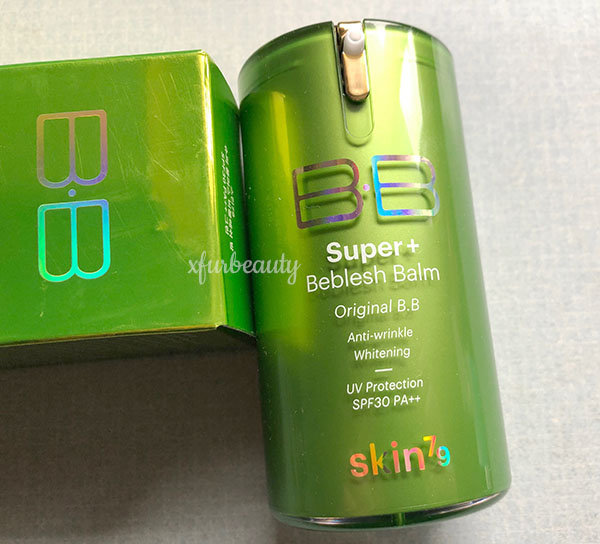 Here's my review on Skin79 Super+ Beblesh Balm Green! 🙂
I must admit. I love BB Creams. 🙂 It's the skincare + makeup combination that makes it so much better compared to a regular foundation that's just for 'makeup'. Also, the texture of BB Creams tend to work in my favor. I like it. It's smooth and thick. Fills in fine lines and wrinkles. It gives the skin a dewy, flawless, youthful appearance. Yeah, yeah, I was complaining about it weeks ago. It's one of those things that 'you don't know what you have until it's gone'. haha. Coverage with a BB Cream is much better than a regular foundation. Instead of rambling on about how BB Creams are way better. This is what I think about Skin79 Super+ Beblesh Balm Green! My third BB Cream from the Skin79 collection. The other ones I have tried are Pink and Orange.
Shade: I've read reviews where people say that the shade is very light in color. Well, it worked for me. Here's a swatch of the BB Cream. I think the color was a little bit darker. I still liked it because it adjusted to my complexion.
Texture: It's a soft cream.
Finish: Works great on oily skin! It's a matte finish.
Coverage: Very little coverage. You would have to have perfect skin for this to work. It makes me thrive for 'clear, perfect' skin. haha.
Fragrance: It has fragrance, but it's not overwhelming.
SPF?: SPF 30 PA++! Yass!! Much lower than the Orange one…
Breakouts?: None as of yet.
Final Thoughts:
The shade of this BB Cream is way better compared to the Orange and Pink (for me). Orange was too yellow. I'm starting to question if my undertone is even yellow. Every time I wear yellow-based makeup, my skin looks more yellow. I think I may be neutral with some yellow. So, the shade/color of this BB Cream is good.
I love that it has anti-wrinkle and skin whitening benefits. That 'could' help with acne marks and uneven skin tone. I think I rather have that instead of nothing at all. Better to try than not try at all. I love the SPF in this BB Cream. It's not the highest. It's something. I'm having trouble finding a sunblock that works for acne-prone skin. I know it's not good to rely on makeup for SPF, but it works for now as I go about finding a sunblock that is suitable for my skin type. Most sunblocks break me out. That includes the ones that claim to be made for oily, acne-prone skin.
The only downside to this BB Cream would be the coverage. It doesn't provide much coverage. Be aware of that. If the condition of your skin is not near perfect, I suggest trying a different BB Cream to try. Layering on this BB Cream to achieve good coverage isn't something you want to do. It'll take hours. Overall, I don't think this BB Cream is too bad. It hasn't caused my skin to breakout in acne or clog my pores (yet). I hope it doesn't. I'll make an update if anything happens.
What's your favorite BB Cream?
Love, Jen
I have a new BB Cream! It's called Skin79 Super+ Beblesh Balm. I chose the green one this time because the orange (what I used before) was a little dark for me. Green is supposedly the lightest shade.
BB Cream Benefits:
SPF 30 PA++
Lightly adheres to the skin to express smooth and bright skin
Silky fitting formula helps enhance skin adhesion to maintain long-lasting smooth skin
Contains fine porous powder to maintain refreshing and powdery skin
That's exactly what it says on the packaging as shown below with the ingredients. I hope this is helpful to anyone curious about what the ingredients are in this BB Cream. 🙂
Sometimes I miss the texture of Dr Jart+ Silver Label BB Cream, but I wanted to try something new. Something that gives me skin care benefits and matches (at least close) with my complexion. SPF 30 is better than no SPF at all.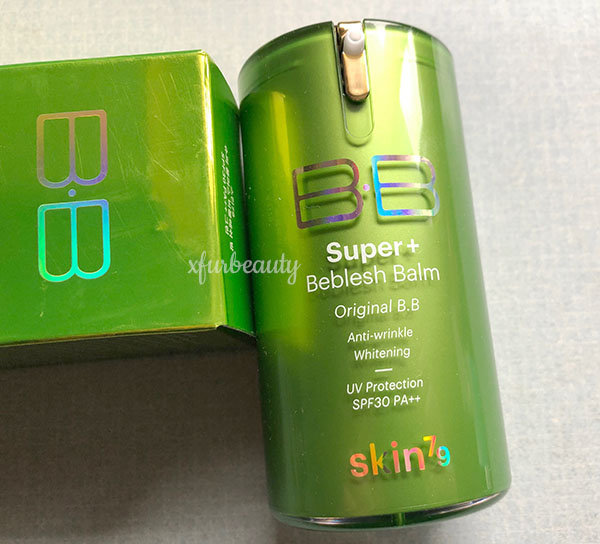 The BB Cream container is just like the 'orange' version. I'm not a big fan of this green packaging color, but it's very different. I guess different can be a good thing. What's more important is the product/cream itself. We'll see how this BB Cream goes. I'm having high hopes. I'm just glad I'm trying something new to see if it works or not. :]
What's your favorite BB Cream?
Love, Jen