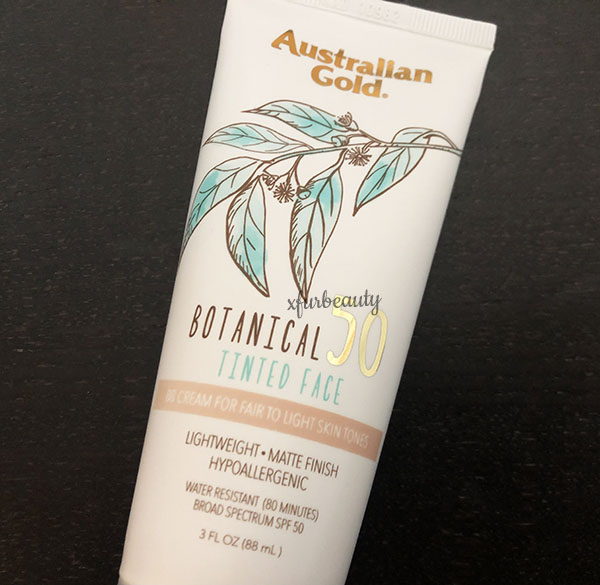 I picked up Australian Gold Botanical SPF 50 Tinted Face Sunscreen Lotion in Fair-Light. I've been hearing about this sunscreen for so many years. I thought, maybe I should just try it out. What put me off from trying this sunscreen out in the first place is that it contains red algae (Porphyra Umbilicalis Extract). And my experience with algae in general in skin care products have not been good. It clogs my pores. But, anything can clog anyone's pores. It really depends on how the person's skin reacts to the ingredients/overall formulation of the product. So, I've read so many reviews raving about this product! Am I missing out on something?? Hmmm! Now, here I am, with a tube of this stuff. Here are my thoughts on it!
My Experience with Australian Gold Botanical SPF 50 Tinted Face Sunscreen Lotion!
Texture & Application
The texture of this sunscreen is a mousse-cream. It's a very different type of texture and consistency that I didn't expect from a bb cream/tinted lotion. It's soft, lightweight, and souffle-like. It glides over the skin very easily and smoothly. It was very easy to use this product. Very easy to blend into the skin without tugging at the skin. I didn't have any problems with application. It was a simple process that didn't take a lot of time. I loved using it around my eyes. It didn't burn my eyes. But, the sunscreen looks a little greasy and shiny upon application at first. I used the required amount for sunscreen too, which is a lot of product. After about 30 minutes, the product looked matte on the skin. The next 15 more minutes, my skin looked even more matte. It is truly a matte sunscreen as it states on the bottle (matte finish).
Fragrance-Free?
The product is fragrance-free, but it does have smell to it. When I first opened it and sniffed it, I thought it smelled like tanning lotion. After smelling it again just now, it smells like plant extracts. Maybe a combo of both? I'm not too fond of the scent, but it didn't bother me too much.
Shade (Fair-Light Skin Tones)
I wasn't impressed with the shade of this product. It says it's for fair to light skin tones. The color of this product is literally orange when dispensed from the tube. On my skin, it was orange if I used too much. 🍊😂 I didn't like that at all. 👎🏻 If I use it as a makeup product rather than my main sunscreen, it works out pretty well. It doesn't turn my skin extremely orange, but there is an orange tint to the skin. That tint eventually fades away a little bit, so it wasn't too bad. There is no coverage. It seems to work very well as a makeup primer. It seems to coat my eyelashes too. Eyelash primer as well? lol. So this product works out if you're searching for a mineral sunscreen that is tinted (no white cast). I actually used it on top of my mineral sunscreen (that gives a white cast) to eliminate the white cast. Worked very well. Cast begone! 👋🏻
Great for oily skin!
Since the sunscreen is matte, it works amazingly on oily skin. I have very oily skin, and this sunscreen was perfect on my skin when it comes to taming excess oil. It makes my face appear very clean compared to the dewy, oily look, haha. If you have dry skin, you might want to apply a good moisturizer underneath. This sunscreen is definitely aimed towards people with oily skin. I'm not saying it won't work for dry skin. It's truly a matte lotion sunscreen. I didn't think it was drying at all on my skin.
It stays in place.
Most sunscreens swish around my face when I reapply. That might be the reason why I was developing more freckles! When I went in for a reapplication, I can feel that this sunscreen did not shift at all on my face. It stayed in place. Reapplying was not a pleasant experience since it felt like I was applying on top of more product. The sunscreen feels lightweight when applying, but it leaves a layer, film of product on the skin. I can feel that there's product sitting on my skin. It's quite annoying.
Breakouts? Clogged pores?
I was dreading using this sunscreen on my face because of the red algae. The other ingredient, shea butter, is a hit or miss on my skin. I thought this sunscreen was a tad too rich on my skin, which is odd because I thought it would be drying (from the reviews I've read). It leaves a sticky residue on my skin and just feels too moisturizing. I noticed closed comedones, some blackheads, and milia in my breakout-prone areas. That's when I stopped using it. Could it be the red algae? Shea butter? Who knows. My skin didn't like it. It feels very occlusive on the skin, especially when reapplied. By the way, I started noticing breakouts by day 2, but I didn't stop by day 3. By day 3, it became more obvious that my pores were getting clogged.
How to remove.
This is one of the most difficult sunscreen products to remove from the skin. It does not come off by simply cleansing with a face wash. To remove this product, oil cleanse (leave on for a few minutes) and wash with a facial cleanser. I do have a facial brush too to help remove the sunscreen off of the skin. If the product does not budge, oil cleanse, oil cleanse, oil cleanse some more. Just make sure the sunscreen is all off. If you do not remove the sunscreen off properly, you'll in up with residue on your face, which can lead to clogged pores. I removed the sunscreen off properly and made sure my skin was squeaky clean, so my breakouts were from the ingredients in the product. It's not compatible with my skin type.
Final Thoughts
I was so excited to try this sunscreen out. It's affordable, comes in a 3 fl. oz. tube, has SPF 50, and it's a mineral sunscreen (4% Zinc Oxide, 4% Titanium Dioxide). The smell of the product isn't too bad. I got used to it after a few uses. The shade of the product could be better. I wish it wasn't orange. 😂 Fair to light isn't fair to light. I could see the drastic difference in my skin color when using this sunscreen. Too bad that it clogged my pores too. I wished my skin didn't react the way it did, but it did. *sigh* I wanted it to work. It would've work well for outdoor workouts, hikes, pool days, and going to the beach. It sticks to the skin like crazy. If you want a sunscreen that stays on your skin, this will do it. For everyday use? It's not for my skin type. Like I said before, it feels too heavy, sticky on the skin. It's weird because the sunscreen feels lightweight when applied to the skin. After a few hours, it takes on this sticky texture, film that I dislike. I don't like it and my skin doesn't like it. It gets in my hair. It's difficult to remove. The breakouts killed it for me. All in all, I won't repurchase. This sunscreen has been hyped up so much that I thought it would be amazing. It's a nope for me.
What Australian Gold Botanical SPF 50 Tinted Face Sunscreen Lotion in Fair-Light looks like:
It looks more orange in person. It has a whipped-mousse texture to it.
This sunscreen was sealed when I purchased it. 👌🏻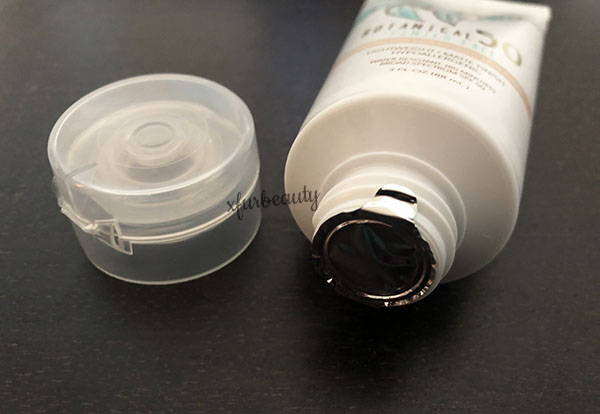 Categories:
Tags:

Acne, Acne Prone Skin, Acne Skin, Anti-Aging, Australian Gold, Australian Gold Botanical SPF 50 Tinted Face Sunscreen Lotion, Australian Gold Botanical Sunscreen Tinted Face BB Cream SPF 50, BB Cream, Beauty, Cruelty-Free, Dermatologist Tested, Experience, Fair, Fair-Light, Fragrance Free, Fragrance-Free, Hypoallergenic, Lifestyle, Light, Mineral, Mineral Sunscreen, Non-Nano, Oxybenzone Free, Reef Friendly, Review, Skin Care, Skincare, SPF 50, Sunblock, Sunscreen, Tinted BB Cream, Vegan, Wrinkles, Zinc Oxide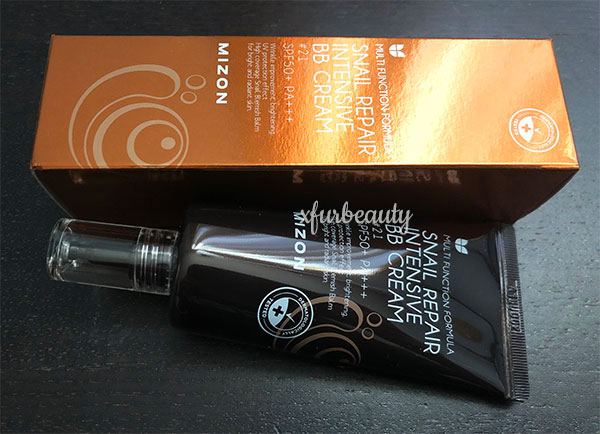 I tried Mizon Snail Repair Intense BB Cream SPF 50+ PA+++ again. I was sorting out my beauty items (bb creams) and noticed noticed that I still had nearly a full tube of this bb cream! Wow! I haven't used it since…was it last year??? So I decided to try it again this morning. Here's my previous review on this bb cream if you missed out:
Review: Mizon Snail Repair Intense BB Cream SPF 50+ PA+++
I last gave up this bb cream due to it being drying, irritating my skin, and causing breakouts. Sounds terrible, right? Why would I ever try something like this again? Well, since my skin is doing so much better now, I wanted to see if it'll work this time around. Sometimes things may work out after a while. Who knows. I've had products that didn't work at some point in time in my life, but after a good amount of time passes by, it worked great! Hopefully this bb cream is a success this time around!
So this bb cream is a multi-function bb cream. It's supposed to help with wrinkle improvement, brightening, provide UV protection (SPF 50+ PA+++), high coverage, makes the skin brighter and more radiant. That sounds nice and all, but let's get into my experience with this bb cream!
My Thoughts on Mizon Snail Repair Intense BB Cream SPF 50+ PA+++!
Honestly, I was pretty excited to try this bb cream again. My current bb cream looked very grey and much darker on my skin. I liked the texture and finish of it (dewy), but it obviously made my skin appear more dull. The only reason why I keep using it is because I like the way it looks on my skin (minus the grey coloring). It also contains SPF but not as high as Mizon Snail Repair Intense BB Cream (what I'm reviewing today).
The shade I have is #21. It's the lightest shade out of the bunch. This shade has some yellow undertones but leaning towards neutral. It's not too yellow on the skin. The shade adjusts to my skin tone just fine when applied. The texture of the bb cream is super soft and creamy. It feels like a dream come true. Before I applied this bb cream onto my face, I made sure to heavily moisturize my skin beforehand. It was really easy to use this bb cream. It moved across my face nicely without tugging at my skin. I finished the application by patting and pressing the bb cream to blend it into my skin much better.
After the application, my skin was left semi-matte. I had some oily areas. Maybe it's due to the moisturizers that I used. I fixed that by using a pressed powder to absorb excess oil. Wonderful! It worked! My results this time was a little different from before. The bb cream can make the skin appear drier if not moisturized properly beforehand. I'm glad I have richer, heavier moisturizers now to fix some of my dry skin issues (from acne treatments). My skin would've looked terrible with dry skin accentuated almost everywhere. I didn't have that much of an issue with the bb cream making fine lines and wrinkles more obvious this time. Take note that I didn't apply this bb cream around my eyes. My eyes are an ultra-dry area of my face. I used another moisturizing makeup product for that area.
This bb cream does contain ethanol in it, which is at the end of the ingredient list. That is a negative in my book. I prefer products without drying alcohols regardless where it is on the list. Fortunately, I didn't experience any negative side effects. It didn't burn my skin or dry it out to the extreme. Nothing like that. Since it does contain mineral sunscreens, it did accentuate some dry patches of skin. Mostly around my chin area, but that's it. Every other area of my face looked good to go.
Even though it contains alcohol in the ingredients list, it also contains other beneficial skin care ingredients in it as well, such as snail secretion filtrate, arbutin, sodium hyaluronate, adenosine, vitamin e, and even papaya fruit extract. This bb cream is supposedly fragranced. I didn't even notice that it had one. Lastly, coverage is pretty darn good. It's medium-full coverage. Not light-medium as I thought it was before. Since I don't have any major acne issues right now, the bb cream smoothed over my skin, provided enough coverage, and brightened my skin up! Breakouts? Not one in sight after a day of use. It looks like it worked out well minus some flaky skin on my chin (most likely from my acne treatments) and that it contains ethanol.
Will I buy it again? Probably not. I still prefer my makeup and skin care products without drying alcohols. That's just a preference of mine. I guess I'll go back to being grey. 😂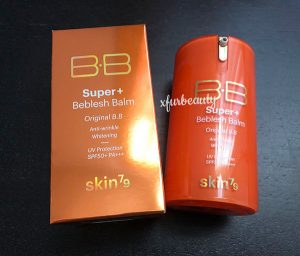 It's time for an update on Skin79 Super+ Beblesh Balm Orange! It's been 1 month of using this bb cream. I didn't use it every day, but I used it pretty often. This is what I think about it now! Here are my results! 🙂
I have a long history with this bb cream. It was my HG for so long that I was disappointed that it stopped working all of a sudden out of the blue. But I took the chance and decided to try it out again. Did it work this time? Did I break out from it? Did it clog my pores? What happened? So the first day of using it went well. I didn't have any issues with it in terms of breakouts. I think that's what I was most worried about. I didn't want to develop cystic acne or blackheads after trying it again. After using it for the first time again, I was ecstatic that I didn't notice any breakouts. My skin looked pretty good. There were no issues that bothered me too much besides how this bb cream is highly perfumed. I just can't get over the smell. I honestly don't remember if it smelled this way before. Who knows! So, overall, it all went well. Much better than I expected. This time, I really thought the bb cream was working for me again, since I loved how it contains a high SPF (SPF 50+ PA+++!!). It also provided good coverage while feeling somewhat lightweight on the skin. It didn't feel thick or heavy like other foundations I've used before. Also, it made my skin look flawless and just so much brighter and healthier looking! I wanted it to work, but…
Unfortunately, it didn't work for me this time. Not anymore. 😢 I started noticing blackheads on my forehead and some pimples on other parts of my face after using it. I didn't think it was this product but it is. I kept on getting random breakouts whenever I used it. I noticed the breakouts after removing my makeup at the end of the day. *sigh* I think this bb cream is just too heavy for my skin now even though it doesn't feel heavy on my skin. The texture and consistency feels much thicker than it is when it's on the skin. If that makes any sense, lol. It was one of the perfect bb creams I've used. I mean, I've used it for so many years until now. The bb cream made my skin appear dry sometimes too. I noticed dead skin on my face appearing more obvious. And it leaves my skin feeling and looking chalky and ashy due to the dryness. It's great at controlling oil but may be a little too much. Well, it looks like it didn't work out this time. I'm not going to try it again, haha. I think it's time to move on to something else or something new. After this, I'm pretty much over it. I still have a ton of product left too. This bb cream just isn't the same anymore. What really happened… 🤷🏻‍♀️
For more posts on Skin79 Super+ Beblesh Balm Orange…
Review: Skin79 Super+ Beblesh Balm Orange
Trying Skin79 Super+ Beblesh Balm Orange Again!
Categories:
Tags:

1 Month Update, Acne, Acne Prone Skin, Acne Skin, Anti-Aging, BB Cream, Beauty, Beblesh Balm, Blemish Balm, Cosmetics, Experience, Face Makeup, Foundation, Lifestyle, Makeup, Makeup Products, Oily Skin, Orange, Results, Review, Skin Care, Skin79 Super Plus Beblesh Balm Triple Function Orange BB Cream, Skincare, Sunscreen, Triple Functions, Update, Updated Review, UV Protection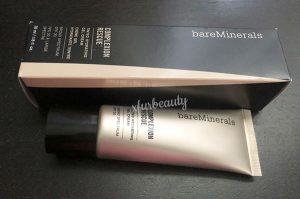 I've had this tinted moisturizer for a while. It's the Bare Minerals Complexion Rescue Tinted Hydrating Gel Cream SPF 30. I was looking for a new bb cream to try when I first picked it up. I know, it's not a bb cream. It's a tinted moisturizer. I feel like bb creams and tinted moisturizers can overlap sometimes. They are pretty similar from my experience. It really depends on the product itself. First, here's more about Bare Minerals Complexion Rescue Tinted Hydrating Gel Cream SPF 30!
This product contains skincare benefits infused with naturally radiant color in one easy step. It's lightweight, multi-tasking, skin-quenching, smooths on effortlessly with just the right amount of coverage. Sheer-to-medium coverage. It reveals dewy, healthy-looking glow to the skin instantly. Marine botanicals help hydrate and replenish thirsty skin. Antioxidants help to defend skin's appearance against environmental stressors.
Contains non-chemical broad spectrum SPF 30. Clinically tested. Dermatologist tested. Hypoallergenic. No oils, silicones, parabens, fragrance.
By looking at the benefits of this product, it seems like something I would like. I think that's why I purchased it in the first place. It had good reviews on it too. Now after trying the product out, here are my thoughts!
My Experience With Bare Minerals Complexion Rescue Tinted Hydrating Gel Cream Spf 30 for the First Time!
This is a gel-cream tinted moisturizer. It comes in a 1.18 fl. oz. (35 mL) tube. The product feels soft, gel-like, and creamy. I have the shade Opal 01 (for very fair cool skin with a pink hue). That's what it says on their website. It's the lightest shade of the twenty shades that are available, so they do have quite a good selection of shades to choose from for all skin tones. Awesome! From my experience, tinted moisturizers don't provide the skin much color, so I just chose the lightest shade, and it seems to be working just fine. The shade blends and adjusts to my natural skin tone after a few minutes. Shade-wise, it's good to go, and I'm on the pale side of the spectrum. Sometimes I can use foundation with cool undertones. This tinted moisturizer glides on the skin nicely and blends into the skin well. It isn't streaky and doesn't leave the skin looking made up. It definitely falls under the more natural-looking side.
One thing that I noticed while wearing this tinted moisturizer is that it tends to grab onto dry skin, so make sure to moisturize beforehand. Yeah, there goes the skin-quenching and replenishing thirsty skin claims. I didn't think it was that moisturizing on my skin. A good moisturizer underneath this tinted moisturizer is a must! Since it wasn't too moisturizing, it seemed to work great on my oily skin. It helped to absorbed excess sebum. Along with that, yep, accentuates dry skin at the same time. It didn't make my skin feel or look greasy. It feels very lightweight for daily use. As I mentioned before, it looks very natural on the skin. A little too natural for me. lol. I prefer to have a little bit more coverage when wearing any kind of face makeup/foundation. Medium coverage? More like light-medium but leaning towards light. It looks sheer once it settles in. It didn't help cover any acne scars or dark under eye circles. But maybe I just have it worse. haha.
This is what the product looks like…
I tried using this tinted moisturizer alone, but I didn't like the results. It just didn't cover all of the imperfections that I didn't want to see (haha!). I thought it was a little too drying even with a moisturizer too. But when I did use the tinted moisturizer alone before applying other makeup products on top, it gave me a nice subtle dewy glow to my skin. It's weird how a product can make the skin feel dry but make the skin look all smooth, glossy, and glowy all at the same time. This is one of those products.
So I stopped using this tinted moisturizer at one point because I didn't like the way it looked on my skin. This was when I had really bad acne. It accentuated every single little flaw on my face and felt really gross on the skin. I don't recommend it if you have bad skin. It'll just make you feel bad about the condition of your skin. Just wait until your skin clears up to try it out if you want. Me, I think it's an ok tinted moisturizer so far. I didn't notice any breakouts after using it, which is odd when it contains ingredients that my skin usually don't like or causes me skin issues.
As for SPF, it contains SPF 30 (6.2% Titanium Dioxide). It is a mineral sunscreen. No wonder why it dried my skin out and accentuated flaky skin. Mineral sunscreens tend to do that to me. If that happens to you too, be aware of that. After trying it again, I wasn't too impressed, but I don't dislike the product. I just don't think it's the right product for my skin. I need more coverage, and I'm not liking how it accentuates dry skin. Maybe I'll try it again in the summer when it's warmer and when my face is ten times more oily.
I hoped this review helped! Have a nice day! 🙂
Click here for more reviews on bb creams and tinted moisturizers!
Categories:
Tags:

Acne, Acne Skin, Anti-Aging, Bare Minerals, Bare Minerals Complexion Rescue Tinted Hydrating Gel Cream SPF 30, BB Cream, Beauty, Experience, Makeup, Mineral, Review, SPF, Sunscreen, Tinted Moisturizer, Wrinkles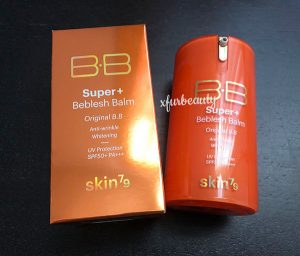 I'm testing out my previous skin care and makeup products again after leaving veganism. I have some products I'm still curious about. You know, the ones that I've used for 10+ years and all of a sudden stopped working out of the blue. I wanted to see if it was caused by the health issues I developed and experienced when I was vegan. So the last product I tried was a skin care product called Benton Fermentation Essence. You can read more about my experience with this product right here:
I Used Benton Fermentation Essence Last Night. This Is What Happened.
An Update on Benton Fermentation Essence. Did It Clog My Pores??
👆🏻 To find out what happened to my skin, feel free to click on the links!
Now on to this bb cream that has been one of my HG bb creams for so many years. I've used it for so long that I was extremely shocked that it caused breakouts. It was such a weird reaction. Now let's see if it still works or not. It should, right? How can something I've been using for so many years just stop working or change all of a sudden? The ingredients are the same as it was before! Has anyone experienced this? Anyways, so the bb cream I'm talking about today is Skin79 Super Plus Beblesh Balm Triple Function Orange BB Cream or what I call Skin79 Super+ Beblesh Balm Orange. Yes, I shortened the name of the product because the full name of the product was just way too lengthy, and I didn't want to keep saying it over and over (if I had to). Now on to my first time experience using this bb cream for a day!
My Experience Using Skin79 Super+ Beblesh Balm Orange for the First Time Again
The first day of using this bb cream felt very different and exciting. I haven't used it in so long that I can only recall how wonderful it used to be. How it provided good coverage, gave my skin a flawless look, and how it protected my skin from the sun because it contains a high SPF. This bb cream contains SPF 50+ PA+++!! That is on the high side of the spectrum for a bb cream and makeup product. No wonder why I always chose this bb cream over the rest that I had throughout the years. It's just that awesome. And it never broke me out. Really, it never did. I was so surprised a product like this worked on my skin since it does contain some comedogenic ingredients in it. But it worked and my skin was ok with it because it never clogged my pores. Sometimes it's not the individual ingredients alone that matters but the overall formulation of the product that matters if it'll work on your skin or not. Just gotta try it out to see if it works or not for yourself!
So this bb cream comes in an orange clunky pump bottle. It's rather big, but that never bothered me because it was an affordable and effective foundation for me over the years. I liked it. The product is only 1.35 fl. oz. (40 mL), but it seems to last for a very long time from my experience. I only purchased 1 bottle per year. Sometimes it'll last even longer than a year. The product when dispensed from the bottle is a light-medium beige color with strong yellow undertones. I wasn't bothered by the coloring of this bb cream. I mean, it's a little darker than my skin tone, but it's not that big of a deal. It blends into my skin just fine and the shade adjusts to my natural skin tone as it settles into the skin. The texture of the bb cream is soft, smooth, and creamy. It glides and smooths over my skin very nicely. Blends into the skin well and provides a lot more coverage compared to what I've been using! I would say it's medium coverage, but it's buildable.
With this bb cream, it did help cover up my dark under circles, some acne marks, and smoothed out the texture of my skin. Last time I used it, I experienced skin dryness, but I didn't experience dry skin this time. It actually helped to control excess sebum on my skin. Worked well on my oily skin! Even though it didn't dry out my skin, it did accentuate flaky skin. Oops, I think I just needed to exfoliate before using this bb cream, lol. Otherwise, my skin looked pretty good with the coverage that it gave me. The finish of this bb cream was dewy, semi-matte, not oily. It didn't accentuate fine lines and wrinkles like it did before. It gave my skin this flawless appearance to it. I love it! I'm very happy that my experience with this bb cream is very different this time. Also, I didn't break out after wearing it for only a day either. But who knows, it's only been a day. I think I'm going to keep using this bb cream and see how it goes. Everything is going well so far, except for this, which is the fragrance. It contains fragrance that smells like perfume, and it's pretty overwhelming.
That's my first day experience of using Skin79 Super+ Beblesh Balm Orange!! A new update coming up within a week or so!
Take a peek at my previous review if you wish ~ Skin79 Super+ Beblesh Balm Orange
Categories:
Tags:

Acne, Acne Prone Skin, Acne Skin, Anti-Aging, BB Cream, Beauty, Beblesh Balm, Blemish Balm, Cosmetics, Experience, Face Makeup, Foundation, Lifestyle, Makeup, Makeup Products, Oily Skin, Review, Skin Care, Skin79 Super Plus Beblesh Balm Triple Function Orange BB Cream, Skincare, Sunscreen, Triple Functions, Update, UV Protection