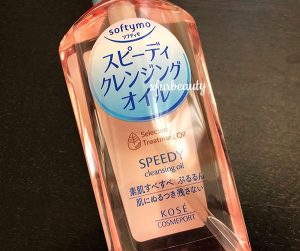 I finally finished my last bottle of Kose Softymo Deep Cleansing Oil! 👈🏻 Don't forget to check out my review on it! Just click the link! 🙂 So now I'm using Kose Softymo Speedy Cleansing Oil. I actually purchased this one first, but I eventually fell in love with the Deep Cleansing Oil. It just felt more moisturizing on my skin, and I really liked it! Since I haven't purchased a new bottle of the Deep Cleansing Oil, I'll just use the Speedy Cleansing Oil in the meantime. The purpose of the Speedy Cleansing Oil is very similar to the Deep Cleansing Oil. It helps to dissolve makeup. Gently and quickly lifts away makeup and pore-clogging impurities. Rinses away without leaving any residue behind. Sounds good. Just like other cleansing oil…but read on to learn more about my experience and this product! 😊
My experience
The Speedy Cleansing Oil is the same size as the Deep Cleansing Oil. They're both 230 mL pump bottles. It's very easy to use. I use about 2-3 pumps depending on how much I think my skin needs. Also, I make sure that the oil glides across my face without tugging at my skin. I use enough oil but not too much (waste of product, lol). Fortunately, this cleansing oil is super affordable compared to the other cleansing oils I have tried. You can purchase refillable pouches of this oil too instead of buying the plastic bottle again. On to the product itself…
The cleansing oil is soft in texture. A little bit runny. It moves across the skin nicely. Feels like an oil (like it should be, it is oil, haha). It's great at removing face makeup. But, darn! I can't seem to find a cleansing oil that removes my eye makeup well. This one had trouble breaking down my eyeliner and mascara. I tried letting the oil sit on my skin for just a little bit, and it didn't work. Sometimes I add a little bit of organic hemp oil to help with makeup removal. I don't want to pull at the skin around my eyes, which are very delicate! Be careful around that area. It's very sensitive and thin!
Besides doing a poor job at removing my eye makeup, I didn't think it was too bad for a cleansing oil. It rinses off much better, since the oil feels thinner (compared to the Deep Cleansing Oil). It feels more lightweight on the skin too. If you have acne-prone skin, remember to follow-up with your favorite facial cleanser. I wouldn't use this cleansing oil as a face wash. In my opinion, cleansing oils shouldn't be used alone as a face wash. It leaves a thin layer of oil on the skin, which could lead to breakouts.
Pros & Cons
✅ Pros
Lightweight oil
Gentle on the skin
Moisturizing but not as moisturizing as the Deep Cleansing Oil
Removes face makeup just fine
Affordable
❌ Cons
Doesn't remove eye makeup (mascara, eyeliner) properly
Conclusion
This is a simple cleansing oil. I like it. Looking at the ingredients, it does contain mineral oil as the first ingredient, but I don't think it's that bad. It does what it should do (except not remove my eye makeup properly, but what cleansing oil does??? *sigh*). It's lightweight, gentle on the skin, inexpensive, and works for what it is. I think it's called SPEEDY because the cleansing oil doesn't feel thick on the skin and rinses off well. It's a good cleansing oil, but I prefer the Deep Cleansing Oil a little more. It feels more moisturizing on my skin. Both are good. I think it's just preference.