Sep. 18, 2019
I have sheet masks! This one is called Avarelle Herbal Infusion Rosehip Extract Sheet Mask. It came in a 12 pack.
Fresh blend of notes of roseship and calendula enriched with ceramide for deep moisturizing effects
Rosehip Seed Extract effective at acne and skin troubles such as redness and inflammation
Reduces the visible signs of aging and stress
Not tested on animals
Paraben free
SLS free
Silicone free
Safe to use
Directions:
Gently unfold mask and apply to clean skin
Adjust around eyes, nose, and mouth then smooth to fit the curves of the face
Relax for 10 minutes
Remove mask and dispose
Ingredients:
Water, dipropylene glycol, glycerin, propanediol, peg-75, hydroxyacetophenone, 1,2-hexanediol, peg-60 hydrogenated castor oil, xanthan gum, disodium edta, fragrance, rosehip seed oil, calendula (calendula officinalis) flower extract, sunflower (helianthus annuus) seed oil, caprrylic/capric triglyceride, hydrogenated lecithin, ceramide np, cholesterol
First Impression:
I've used 4 sheet masks already. Here are my thoughts. 🙂
This sheet mask is soaked in essence. That's the first thing I noticed when I opened a packet. I had to use the excess on the rest of my neck, chest, and body. The sheet mask is white (the usual). I thought the sheet mask was a little bit small. The mouth area was small, lol. That didn't bother me that much, but it was funny. The instructions says to unfold mask and apply to clean skin, adjust to fit to the curves of the face, relax for 10 minutes. That's what I did. Once time was up, I removed the mask and tossed it out.
What are the results of using this sheet mask? My skin was left feeling moisturized. The essence didn't absorb too quickly into the skin. I waited a few minutes for it to sink into my skin before I go about my skin care routine. It also felt lightweight and not sticky. I really liked that. Looking at the ingredients, it contains a couple of oils, which hasn't broken me out. Yay! I will continue to use it. I will only use 1-3 sheet masks per week depending on my schedule. I think 2 is more than enough for my skin type. Too much moisture can be disasterous (clogged pores, breakouts, irritated skin). I'm looking forward to the results! Stay tuned for an update!
What's your favorite sheet mask? Share in the comment section! 🙂
Love, Jen
Categories:
Tags:

Acne, Acne Marks, Acne Prone Skin, Acne Scars, Aging, Avarelle, Avarelle Herbal Infusion Rosehip Extract Sheet Mask, Beauty, Beauty Tips, Calendula, Ceramide, Herbal Fusion, Hydrating, Hydrating Mask, Lifestyle, Mask, Moisturizing, Paraben Free, Review, Rosehip Seed Extract, Roseship, Sheet Mask, Silicone Free, Skin Care, Skin Care Products, Skin Care Routine, Skincare, Skincare Tips, SLS Free, Stress, Thoughts, Trouble Skin, xfurbeauty, xfurbeauty blog
Sep. 18, 2019
Leave a comment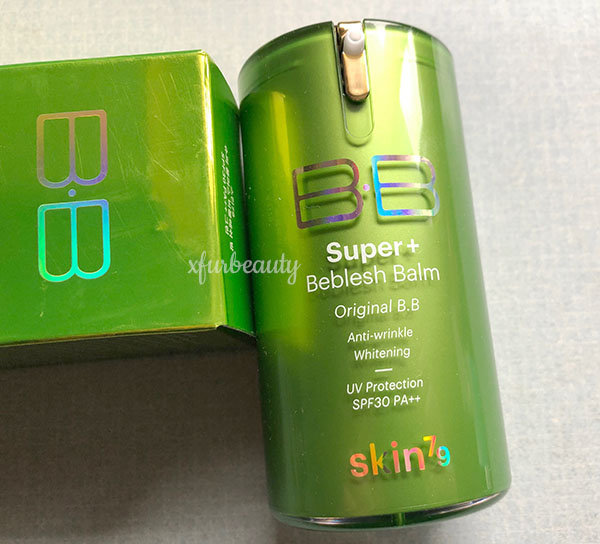 Here's my review on Skin79 Super+ Beblesh Balm Green! 🙂
I must admit. I love BB Creams. 🙂 It's the skincare + makeup combination that makes it so much better compared to a regular foundation that's just for 'makeup'. Also, the texture of BB Creams tend to work in my favor. I like it. It's smooth and thick. Fills in fine lines and wrinkles. It gives the skin a dewy, flawless, youthful appearance. Yeah, yeah, I was complaining about it weeks ago. It's one of those things that 'you don't know what you have until it's gone'. haha. Coverage with a BB Cream is much better than a regular foundation. Instead of rambling on about how BB Creams are way better. This is what I think about Skin79 Super+ Beblesh Balm Green! My third BB Cream from the Skin79 collection. The other ones I have tried are Pink and Orange.
Shade: I've read reviews where people say that the shade is very light in color. Well, it worked for me. Here's a swatch of the BB Cream. I think the color was a little bit darker. I still liked it because it adjusted to my complexion.
Texture: It's a soft cream.
Finish: Works great on oily skin! It's a matte finish.
Coverage: Very little coverage. You would have to have perfect skin for this to work. It makes me thrive for 'clear, perfect' skin. haha.
Fragrance: It has fragrance, but it's not overwhelming.
SPF?: SPF 30 PA++! Yass!! Much lower than the Orange one…
Breakouts?: None as of yet.
Final Thoughts:
The shade of this BB Cream is way better compared to the Orange and Pink (for me). Orange was too yellow. I'm starting to question if my undertone is even yellow. Every time I wear yellow-based makeup, my skin looks more yellow. I think I may be neutral with some yellow. So, the shade/color of this BB Cream is good.
I love that it has anti-wrinkle and skin whitening benefits. That 'could' help with acne marks and uneven skin tone. I think I rather have that instead of nothing at all. Better to try than not try at all. I love the SPF in this BB Cream. It's not the highest. It's something. I'm having trouble finding a sunblock that works for acne-prone skin. I know it's not good to rely on makeup for SPF, but it works for now as I go about finding a sunblock that is suitable for my skin type. Most sunblocks break me out. That includes the ones that claim to be made for oily, acne-prone skin.
The only downside to this BB Cream would be the coverage. It doesn't provide much coverage. Be aware of that. If the condition of your skin is not near perfect, I suggest trying a different BB Cream to try. Layering on this BB Cream to achieve good coverage isn't something you want to do. It'll take hours. Overall, I don't think this BB Cream is too bad. It hasn't caused my skin to breakout in acne or clog my pores (yet). I hope it doesn't. I'll make an update if anything happens.
What's your favorite BB Cream?
Love, Jen
Categories:
Tags:

Acne Marks, Acne Prone Skin, Acne Scars, Acne Skin, Anti Wrinkle, Asian Makeup, BB Cream, Beauty, Beauty Tips, Blemish Balm, Brightening, Clear Skin, Makeup, Makeup Tips, Oily, Oily Skin, Skin Care, Skin Care Tips, Skin79, Skin79 BB Cream, Skin79 Makeup, Skin79 Super Beblesh Balm Green, Skincare, SPF, Sun Protection, Super Bleblesh Balm, Tips, UV Protection, Whitening, xfurbeauty, xfurbeauty blog