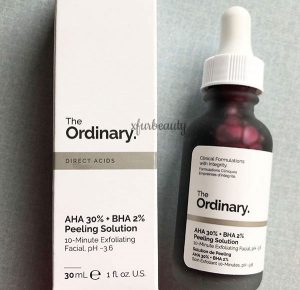 When I first started using The Ordinary skin care products, this was one of the first products that I tried. It's the AHA 30% BHA 2% Peeling Solution. It had really good reviews, and I wanted to see if it works or not. So this peeling solution is made for normal, combination, and oily skin. It's for blemishes, fine lines, wrinkles, skin dullness, and uneven skin texture. It helps to exfoliate (with glycolic acid, lactic acid, salicylic acid) the skin to help fight blemishes. Improves skin texture and radiance. It's sulfate-free (SLS and SLES), paraben-free, formaldehyde-free, phthalate-free. No mineral oil, retinyl palmitate, oxybenzone, coal tar, hydroquinone, triclosan, triclocarban. Contains less than 1% of synthetic fragrances. Vegan. Cruelty-free. Gluten-free. I've been using this peeling solution for a couple of years. Here's my experience on it!
My experience
I was really excited to use this peel. I had some breakouts to get rid of, and I absolutely love peels. They're very effective on my acne. I just haven't found one that I liked for long-term use. The Ordinary AHA 30% BHA 2% Peeling solution utilizes glycolic acid, salicylic acid, and lactic acid to exfoliate the skin. The pH of the solution is ~3.6. Perfect! This peeling solution is a bloody red color. It looks very interesting and fun to use. The instructions says to apply to a clean, dry face. Leave the solution on for 10 minutes then rinse with lukewarm water. That's what I did. After using it at night (should be used only ats night and no more than twice a week), I didn't see any results. My skin looked a bit shiny. I had some tingling going on when I had the peel on. There was no redness or itchy skin. I wasn't stunned with the results after using it for the first time. But that was only after the first day of using the peel.
The instructions also states not to use on wet skin. Don't leave it on longer than 10 minutes. If persistent irritation occurs, discontinue use and consult physician.
I continued to use the peel for several months and for years on and off too. My skin never improved on it. My experience for months to years was just like the first time using it. Maybe my skin is too thick? The peel isn't strong enough? The formulation of the product contains other ingredients too. Here's the ingredient list if you're interested. This isn't an up-to-date ingredient list, but this is what it was when I used the peel…
It just seems like my skin didn't respond to the peel. I didn't see an improvement in my acne or skin texture. Nothing. The tingling sensation disappears when I use it more often. I think that's pretty normal. It just means that my skin got used to the product over time. I was hoping that it'll help unclog some closed comedones, fade some acne marks, and improve my overall skin texture, but it didn't do anything for my skin at all. My skin looked the same right after. lol. I still have almost full bottles of the peel, but I haven't touched them since. It looks like one of those products I'll use up but won't repurchase ever again. Honestly, it didn't do anything for my skin. 🤷🏻‍♀️
Pros & Cons
✅ Pros
Affordable
Contains glycolic acid, salicylic acid, and lactic acid to exfoliate the skin
pH ~3.6
❌ Cons
Doesn't work, no exfoliation, no results
Conclusion
On my skin, this peel wasn't effective. It contains 30% glycolic acid and 2% salicylic acid, but I didn't see any improvements in my skin. It could possibly be the formulation of the product. Or, it could be that The Ordinary skin products just don't work on my skin, haha! This isn't the first. Would I recommend? It didn't work for me. I'm not sure if it'll work on someone else's skin. I would say no from my experience with it. But give it a try if you're still curious about it! 😊
For more reviews on The Ordinary skin care products go here!! 👈🏻
Categories:
Tags:

Acne, Acne Skin, AHA, Alpha Hydroxy Acid, BHA, Blemishes, Exfolaint, Experience, Peel, Peeling Solution, Review, Skin Care, Skincare, The Ordinary, The Ordinary AHA 30% BHA 2% Peeling Solution, The Ordinary Skin Care Products