Sep. 17, 2020
Alright everyone! ☺ I have a new (not really new) facial sunscreen! I thought I would give Differin Oil Absorbing Moisturizer SPF 30 a go once again! I've been having trouble finding one that is suitable for my skin type. This time around, my skin is looking so much better. 🙌🏻 I thought, maybe this could work?? More about this sunscreen before I share my experience on it…
Broad spectrum UVA/UVB SPF 30 protection in an oil free, lightweight, formula that won't clog pores
Micropearl technology absorbs surface oil for a matte finish
For people with oily skin
Not greasy
Non-comedogenic
Hypoallergenic
Fragrance free
Review:
This is not my first time using Differin Oil Absorbing Moisturizer SPF 30 (as mentioned earlier). I have a few experiences with this sunscreen. Mostly bad? haha. Don't think I'm weird for trying it out again. lol. Sometimes, it might work. And sometimes, it doesn't work. After Acure Radically Rejuvenating SPF Day Cream failed on me, I'm happy that I gave Differin Oil Absorbing Moisturizer SPF 30 another chance! Read on! 🙂
Since my skin is on the drier side as of late (due to being on an acne treatment), this sunscreen has been doing a great job at moisturizing my skin but also protecting it! It's truly a 2-in-1 skin care product. My skin feels hydrated throughout the day when I have it on. It feels like a lightweight lotion. Nothing heavy. I like that. It comes in a 4 fl. oz bottle instead of a 1.7 oz (Acure). When I apply the sunscreen to my skin, I can be very generous and reapply as needed (when I'm not wearing makeup). This sunscreen absorbs into the skin pretty well. It doesn't leave a sticky residue behind. My makeup goes over it nicely without the sunscreen balling up. Fortunately, it has not broken me out as of yet. 🙂🙂 I really hope it stays that way. Even though it states that it is an 'oil-absorbing' moisturizer, I can't tell if it is. My skin needs all the moisture it can get right now. With continued use, I'll be sure to make an update on that. This has been working for me so far…
Check out my Tretinoin Journey:
My Tretinoin Journey: Week 1 Results
My Tretinoin Journey: Week 2 Results
Categories:
Tags:

Acne, Acne Skin, Differin, Differin Oil Absorbing Moisturizer, Differin Sunblock, Life, Lifestyle, Oil Absorbing, Oily Skin, Review, Skin Care, Skincare, SPF, SPF 30, Sun Protection, Sunscreen, Thoughts, Won't Clog Pores, xfurbeauty, xfurbeauty blog
Sep. 16, 2020
Leave a comment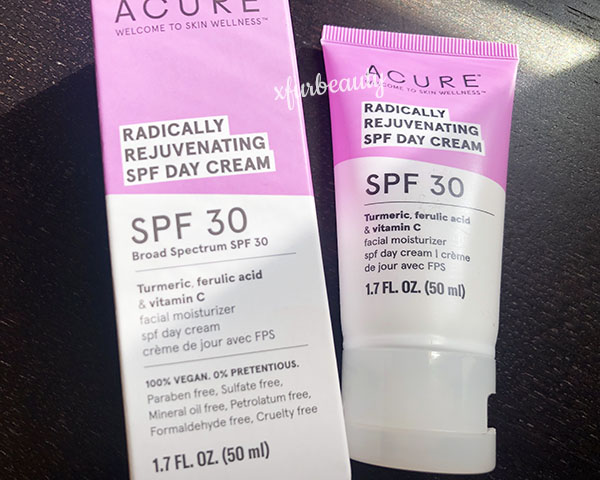 Here's my updated review on the Acure Radically Rejuvenating SPF Day Cream! I needed a sunblock, so I thought I would try the Acure Radically Rejuvenating SPF Day Cream out! It's vegan and cruelty-free. It contains beneficial skin care ingredients, such as turmeric, ferulic acid, argan oil, and vitamin c plus SPF 30…
So my thoughts have changed about this sunblock. I still like the fact that it contains zinc for protection, but I'm not a huge fan of the texture. It's so weird when I dispense it out of the tube. It looks like the contents have not been properly mixed. I even tried shaking the tube with the same results. Bad batch? I don't know. All I know is that I don't like what I see. Even though this zinc sunblock is much easier to apply compared to others I have tried, it's still not the best. It feels like I have to put so much effort into applying it to my face, which is very terrible. I don't want to tug on my facial skin and cause wrinkles. Also, it leaves a sticky residue behind. It literally sits on top of my face. At the same time, it doesn't keep the skin feeling moisturized. On the tube, it says 'facial moisturizer'. I thought it would be a good moisturizer. lol. Turns out it's not. 🙁 This sunblock/cream left my skin feeling dry throughout the day. When I reapply it, it just feels gross and sticky. I don't like the way it feels under my makeup either (when I wear makeup).
As for breakouts, it did contribute to acne. Unfortunately, the formula is not suitable for my skin type. Ahem, cococnut oil and shea butter. It's most likely the coconut oil. It clogs my pores. I wish it worked on my skin. I really needed an SPF to protect my skin from the harsh UVA and UVB rays. Well, that's too bad. Would I recommend this sunblock? It's not for oily, acne-prone skin. Skip it. Doesn't matter how 'nourishing' the ingredients are..
Read more about Acure Skin Care Products:
Acure Brightening Cleansing Gel + Review
Acure Brightening Day Cream + Review
Acure Brightening Glowing Serum + Review
Categories:
Tags:

Acne Skin, Acne Skin Care, Acure, Acure Radically Rejuvenating SPF Day Cream, Anti Aging, Day Cream, Ferulic Acid, Oily Skin Care, Rejuvenating, Review, Reviews, Skin Care, Skin Care Routine, Skincare, Skincare Routine, SPF, Sun Care, Sun Protection, Thoughts, Turmeric, Vegan Skin Care Products, Vitamin C, xfurbeauty, xfurbeauty blog