Jun. 24, 2020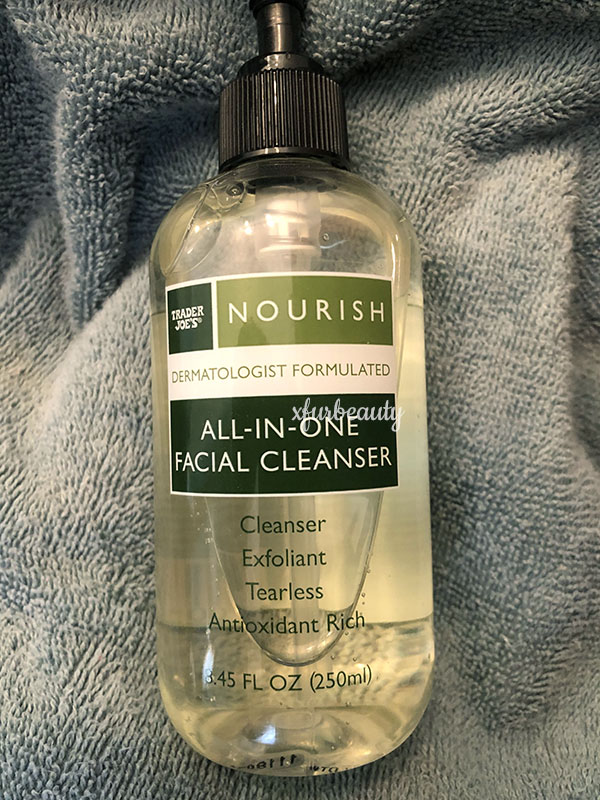 I have a new face wash!!!! 🙂 It's because the Trader Joe's Tea Tree Face Wash made my skin tingle and dried it out a bit. I needed something more gentle, especially when I'm on Tretinoin. So I picked up Trader Joe's Nourish All-in-One Facial Cleanser. More about this face wash:
All-in-One dermatologist formulated
Leaves skin feeling clean, smooth, and cared for
Gently washes away impurities
Antioxidant rich
Tearless
Exfoliant
Review:
I've been using this face wash ever since my skin became extremely dry and itchy. It's a gel cleanser. All you need is a single pump to cover the whole face. A single pump is a lot of product. It lathers up and rinses clean. It doesn't burn the eyes. Soft and gentle. Right now, this face wash feels good on my irritated, sensitive skin. I like it. But, I'll make an update in the near future. 🙂
Check out My Tretinoin Journey:
Beginning My Tretinoin Journey 🙂
My Tretinoin Journey: 1 Week Results!!
My Tretinoin Journey: 2 Weeks In!
My Tretinoin Journey: 3 Weeks Results
Categories:
Tags:

Acne, All in One Facial Cleanser, Antioxidants, Beauty, Cleanser, Cruelty Free, Exfoliant, Face Wash, Facial Cleanser, First Impression, No Animal Testing, Oily Skin, Review, Sensitive Skin, Skin Care, Tearless, Trader Joe's, Tretinoin, Vegan
Jun. 18, 2020
Leave a comment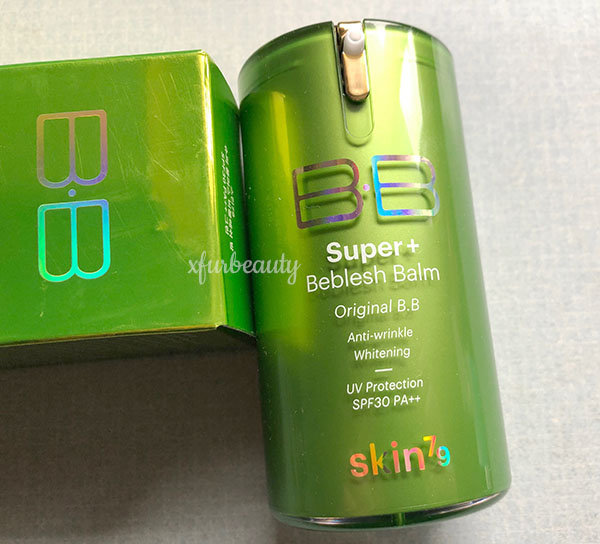 I decided to bring back a Skin79 BB Cream (the green one). From what I remember, the color of this BB Cream was suitable for my pale complexion. Contains SPF + skin care benefits. Coverage was not good, from what I remember. Anywho…I wanted to see if it'll work now…since my skin is looking better compared to when I first tried it. I've used it a couple of times already to do a quick review.
The shade of this BB Cream is very nice if you have pale skin. The cream has a fragrance to it. It fades away after a few hours. The texture is soft and creamy. It blends into the skin very well. I love the SPF that it contains. Good for those hot summer months. 🙂 Since my skin is nearly flawless and smooth, I thought I would give it another chance. Unfortunately, it didn't work out. Love the color. Love the skincare benefits. Love the SPF. But, this BB Cream melts off the face. Provides absolutely no coverage. It also gave me blackheads and hard comedones. Ugh. I stopped using it ASAP. The only BB Cream that works for me is Dr Jart+ Silver Label BB Cream. I'm not going to bother with anything else anymore. I'm done. haha.
Read more on Skin79 Beblesh Balm (Green) :
My New BB Cream: Skin79 Super+ Beblesh Balm (Green)
Updated Review: Skin79 Super+ Beblesh Balm Green
Categories:
Tags:

Anti Aging, Anti Wrinkle, Asian BB Creams, BB Cream, Beauty Blog, Beauty Tips, Beblesh Balm, Green, Healthy Skin, Ingredents, Lifestyle, Makeup, Makeup Products, Skin Care, Skin Care Blog, Skin Care Tips, Skin79, Skin79 Green BB Cream, SPF, Super Beblesh Balm, Thoughts, UV Protection, Whitening, xfurbeauty, xfurbeauty blog, Younger Looking Makeup, Younger Looking Skin