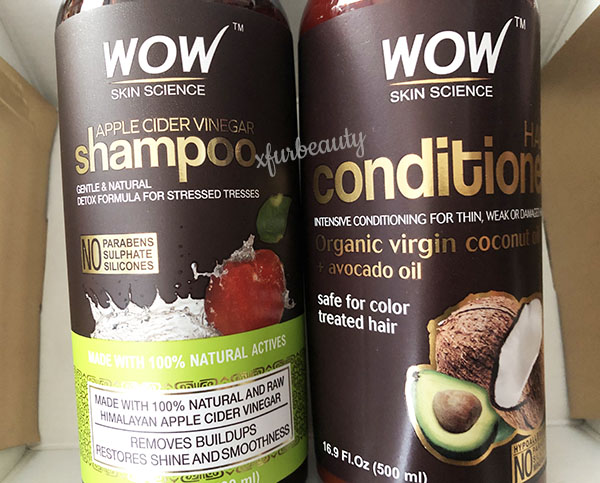 It's time for a review on WOW Skin Science Apple Cider Vinegar Shampoo & Conditioner! I've been using it for over a month. This is what I think about it! ?
So I switched over to these hair care products after using Natural Riches Argan Oil Shampoo & Conditioner. My experience with Natural Riches was not good. Let's just say…I had a lot of issues with it. It wasn't compatible with my hair type. My experience with WOW Skin Science ACV Shampoo & Conditioner was…let me explain…
The shampoo claims to be good for 'stressed tresses', removes buildup, and restores shine and smoothness, while the conditioner is for thin, weak, damaged hair. The shampoo was actually very drying on my hair. After every wash, my hair appeared limp and lifeless. My hair didn't appear shiny and smooth. It was just bleh. No volume, no moisture, no nothing. I also had more hair fallout because of it. ? And I don't use conditioner near my scalp because it'll just make my hair flat and oily. What gives???!! I thought the conditioner would be more hydrating, but it wasn't. I've used other conditioners that were more 'conditioning'. This conditioner was very average. The combo of the two wasn't that great. I honestly thought it would be better due to the ingredients that it contains (coconut oil, avocado oil, raw himalayan apple cider vinegar). From this experience, I won't repurchase again.
Have you tried WOW Skin Science Apple Cider Vinegar Shampoo & Conditioner? I've never heard of it before too until I stumbled upon it and decided to try it out! Leave your thoughts in the comments. 🙂