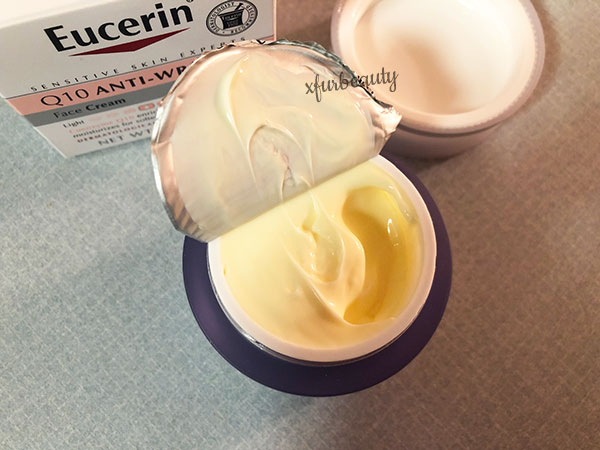 I did an update not too long ago, but here's my current routine. I change it up every time when necessary, haha.
*My New Skin Care Routine*
Face Wash: Neutrogena Hydro Boost Hydrating Cleansing Gel with Hyaluronic Acid Fragrance-Free
I've been using this face wash for quite some time. It's still working. It feels a little bit drying sometimes. It hasn't clogged my pores or caused any skin irritation. Maybe I should stick with it. It is what it is for now. I haven't ventured to any other face wash since. I just don't feel like looking anymore. If it works, it works until it gets discontinued, LOL. RIP my past facial cleanser. It was good while it lasted.
Eye Care: Eucerin Q10 Anti-Wrinkle Face Cream
I started using Eucerin Q10 Anti-Wrinkle Face Cream again. I only use it for the skin around my eyes. It dried out pretty badly without it. So it seems like the cream is keeping my skin moisturized. It's also extremely affordable. That's why I decided to stick with it. It's an inexpensive, pretty effective cream that works for me. It's good for now.
Skin Treatments: Neutrogena Stubborn Acne AM Treatment
I stopped using Paula's Choice 2% BHA Liquid. It was great at first, but I noticed that it was making my skin very oily. I also noticed new breakouts out of nowhere. This used to be a HG for me. I don't know what happened. Well! That means fewer products in my routine. Yay! I'm happy about that. I'm trying to keep things to a minimum anyway. I am still using Neutrogena Stubborn Acne AM Treatment. I use it whenever my skin gets oily and when I notice new breakouts. It's still good at preventing acne and fighting acne.
Sunscreen: Cetaphil Sheer Mineral Face Liquid Sunscreen SPF 50
It took me a while to pick out a sunscreen to use. I finally settled on Cetaphil Sheer Mineral Liquid Sunscreen SPF 50. Remember Vanicream Mineral Facial Moisturizer Broad Spectrum SPF 30?? That sunscreen felt thick and was supposed to moisturize the skin. It didn't. It dried my skin out like crazy. My skin looked so wrinkled when using it. I stopped using it anywhere near my face. Even though Cetaphil Sheer Mineral Liquid Sunscreen SPF 50 is not a true mineral sunscreen, it's working for me. I haven't had any irritation, or breakouts using it. Maybe that one time when I was using it was a fluke. It's working now, haha. Some quick thoughts on this sunscreen: Wish it was 100% mineral, leaves a white cast but brightens my skin, can accentuate dry skin if the skin is flaking off or dry, smooths out the skin (silicones!), makes my makeup and skin look better due to the silkiness of the product, runny but easy to apply, doesn't look cakey on the skin, SPF 50. It's a good sunscreen for now. Winter is coming soon and I'm hardly ever outdoors anyways. It's better than nothing.
A new update when it changes. 🙂
Categories:

Acne, Beauty, Eye Cream, Face Wash, Moisturizer, Skin Care, Sunblock
Tags:

Acne Treatment, Benzoyl Peroxide, Cetaphil, Cetaphil Sheer Mineral Face Liquid Sunscreen SPF 50, Cleanser, Eucerin, Eucerin Q10 Anti-Wrinkle Face Cream, Eye Cream, Face Wash, Hydro Boost, Mineral Sunscreen, Neutrogena, Neutrogena Hydro Boost Hydrating Cleansing Gel with Hyaluronic Acid Fragrance-Free, Neutrogena Stubborn Acne AM Treatment, Skin Care, Skin Care Routine, SPF 50