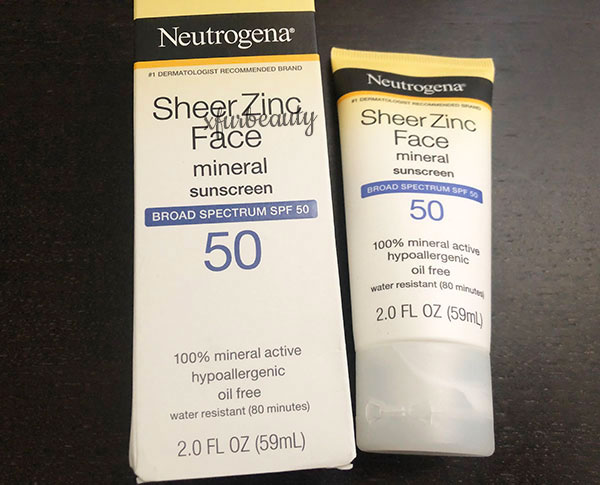 I used Neutrogena Sheer Zinc Face Mineral Sunscreen SPF 50 this week in place of Cetaphil Sheer Mineral Face Liquid Sunscreen SPF 50. Here's my experience…
Neutrogena Sheer Zinc Face Mineral Sunscreen SPF 50 is a zinc, mineral-based sunscreen. It contains 21.6% zinc oxide. It's a pure mineral sunscreen. The texture of the sunscreen was sticky and became easier to apply each time. Still, sticky. It doesn't irritate the skin or dry the skin out. It does accentuate dry patches on the skin if there are any. I noticed that I had some dry patches on the skin along my jawline and forehead. Even with the dry patches of skin, the sunscreen left my skin feeling moisturized. It was the combination of moisturized skin and dry patches of skin coming to light when applied to the skin.
The stickiness of the sunscreen bothered me. My makeup products had a difficult time setting on my skin. It smeared and didn't look good. The sunscreen made my face appear shiny and weird-looking. I didn't like it. There was also an obvious white cast that I couldn't tame. Every makeup product I applied appeared lighter than it was supposed to. That's something I didn't like either. But it is a pure mineral sunscreen that I'm willing to put up with.
Fortunately, I didn't break out when using it. It felt like it could clog my pores, but it didn't. I didn't use it every day, but I used it most of the week. All went well when it came to developing breakouts or not. This sunscreen worked for me. I'm still not sure if I can keep using it on my face. The stickiness, and shininess of the product really get to me. If I can't find anything else, I might just try my best to make it work. It's a non-chemical sunscreen that's non-drying. I can't seem to find any other mineral sunscreen that's moisturizing and doesn't cause breakouts. This one should work for now. I'm not sure what the future will hold for it. We'll have to see, haha. So far, it's been alright.
Categories:
Tags:

Acne, Acne Skin, Mineral Sunscreen, Neutrogena, Neutrogena Sheer Zinc Face Mineral Sunscreen SPF 50, Review, Skin Care, Skincare, SPF 50, Update, Zinc